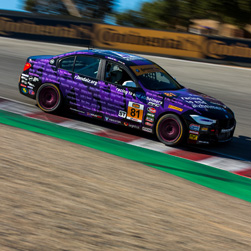 The BimmerWorld Racing team fulfilled an important goal this past weekend at the legendary WeatherTech Raceway Laguna Seca circuit in the IMSA Continental Tire SportsCar Challenge race with a pole and win for their special entry to support the fight again Alzheimer's.
Nick Galante, of Greenfield, Mass., qualified the BimmerWorld Racing No. 81 Veristor/Legistics BMW 328i (F30 chassis) and captured the team's eighth ST class pole in nine races with a time of 1:39.831 at 80.704, his fifth pole this season. He and teammate Devin Jones, of Mooresville, N.C., maneuvered their Bimmer to a near perfect WeatherTech Raceway Laguna Seca 120 two-hour race and straight to the Winner's Circle. Additionally, they depart Monterey, Calif. with a large points lead in the ST class 2018 points championship with one race remaining.
The highlight of the race was putting the No. 81 BMW 328i into Winner's Circle as they lead a strong effort this season to fight Alzheimer's. Their car has carried a special "Racing to End Alzheimer's" color scheme on the front fenders all season, but this weekend the team elevated their awareness campaign. In place of corporate sponsors, fans and viewers saw the names of people affected by Alzheimer's in a tribute generously provided by donors to the 'Racing to End Alzheimer's' foundation. With 100 percent of the funds they collected being donated to Alzheimer's-related organizations and a special bonus from the foundation's sponsors who generously agreed to match every donation, a victory was the icing on the cake.
The sister car, the No. 82 OPTIMA Batteries BMW M4 GT4 of team owner/driver James Clay, of Blacksburg, Va., and Tyler Cooke, of Fort Lauderdale, Fla., started tenth and finished just one position lower, in 11th place. The unpredictable race saw two competitors run out of fuel on the final lap of the 70-lap race.
The Continental Tire race started under sunny conditions and with a 36-car field on the 2.238-mile, 11-turn road course. Clay was the starting driver of the No. 82 BMW M4 GT4 from the 10th place in the GS class while Galante had the enviable pole-sitter position in ST in the No. 81 BMW 328i.
Both drivers had a strong start with Clay climbing into ninth place on the first lap and Galante holding his lead from a pack of hungry ST competitors. Both drivers turned their fastest laps of the race in the opening round. Galante's fastest lap came on Lap 3 with a time of 1:40.863, while Clay's fastest was on Lap 4 with a time of 1:34.835.
On lap 25, Clay pitted for tires and fuel with no driver change while under caution and 51 minutes into the two-hour race. Galante then pitted on Lap 27 for tires, fuel, and driver change to Jones before the track went green one lap later. He went out in fifth position but quickly moved up to third by Lap 33 and second place one lap later, but having pitted before the halfway point, had to diligently work to save fuel for the majority of the race.
Clay had advanced to fifth in the competitive GS class before pitting on Lap 36 with 54 minutes remaining in the competition. The rules stipulate that each driver must drive for a minimum of 45-minutes, so pit stop timing is always critical in IMSA competition. Cooke entered in 16th position and had to go straight to battle.
Jones continued his fight with a MINI in front and a Porsche behind until Lap 60 when he pushed his BMW 328i past the MINI to take back the ST class lead, which he held to the checkered flag and had a 9.221-second margin of victory. Cooke slowly climbed up the leaderboard as he passed the GS field that was spread out due to second pit stops, and eventually crossed the finish line in 11th place. Both cars managed critical fuel strategy of preserving fuel while maintaining race pace.
Galante and Jones continue their ST class points lead with only one race remaining. They have a strong lead with 292 points (unofficially) with the second place point holder, Mat Pombo, with 276 and third-place, Jason Rabe/Max Faulkner, with 269 points. Clay and Cooke are unofficially in fourth place in the GS class with 217 points to the leaders' 261.
The finale for the 2018 season will be the Fox Factory 120 at Road Atlanta on Friday, October 12.
The WeatherTech Laguna Seca 120 race will air on FOX Sports 1 on Sunday, September 16 from 7:00 – 9:00 a.m. Eastern time.
Devin Jones, Mooresville, N.C., driver, No. 81 Veristor/Legistics BMW 328i (F30 chassis):
"It was a really wild race. It just came down right to the end and trying to save as much fuel as I could to keep pace with the cars around me. Nick did a great job in the opening stint, keeping our position. Once that happened, it was just a matter of saving as much as we could. I started the stint about four minutes down on fuel, so it was nerve-racking right down to the end. I didn't know if we were going to make it, but I'm just really happy it worked out, especially for 'Racing to End Alzheimer's' and all the names on the car. It's just really special to win here and especially in Nick's hometown. This is a big deal for us."
Nick Galante, Greenfield, Mass., driver, No. 81 Veristor/Legistics BMW 328i (F30 chassis):
"So, it's my first win here at WeatherTech Raceway Laguna Seca. It all came down to the strategy. Trent Brown did an awesome job on the strategy call. We would have been lost without him. We would have run out of fuel halfway through the race if we just left it to ourselves. So, he did great, keeping us calm and pacing ourselves. The true winners of the race are the 'Race to End Alzheimer's' family members who are on our car that we've raced over the past seven months. Over 100 names have been nominated on, and we raised over a $100,000 with 100% of the proceeds going straight to the charity, so that's awesome. Points wise for the championship, we're looking pretty good. We have a nice lead here, and we should be able to pull it off."
James Clay, Blacksburg, Va., team owner and driver, No. 82 OPTIMA Batteries BMW M4 GT4: 

"It was a challenging weekend for us. We had an issue that we resolved on test day, but it doesn't really matter because Laguna is always challenging because of the surface and total lack of grip. We had a very frustrating day yesterday in practice. We threw a lot at the car and we were not able to get it to work. We thought on it overnight and put a whole new set up on the car and made it happen and today was a much better day, but it still wasn't a great day. I think that we got what we could get out of the car. If you drove a BMW, this just wasn't your day in GS.
"For the ST guys, it was an awesome race to watch, and I was glad to be on the stand for the last half of the race to watch it unfold. Devin and Nick just killed it with another pole and another win. These guys are really running like a championship team and have almost locked down the championship, and I'm so proud of them."
Tyler Cooke, Fort Lauderdale, Fla., driver, No. 82 OPTIMA Batteries BMW M4 GT4: 

"The frustrating part about this weekend was the end of the race. We set the car up to be good at the end of the race. We can't help that we can't make it on fuel like the rest of the guys. The other GS BMW team pitted at the same time as some of the cars that finished in the top ten, and he had to come in about five laps before the end for more fuel. We just don't have the needed fuel capacity in the BMW to run the strategy that the winner did, and you can't save 5 laps of fuel. The teams are doing a great job. It's a bittersweet thing because we definitely needed the points here if we were to stand a chance for the title. Going into Road Atlanta, hopefully we can end with a win and go off with a high note."
FOLLOW BIMMERWORLD AT: https://www.facebook.com/bimmerworld
STAY UP TO DATE WITH BIMMERWORLD NEWS AT: http://www.bimmerworldracing.com
ABOUT: BimmerWorld is renowned as a leader in BMW aftermarket and tuning expertise. It competes in the IMSA Continental Tire SportsCar Challenge series in both the Grand Sport (GS) class with a brand-new BMW Motorsport M4 GT4 and in the Street Tuner (ST) class with a turbocharged BMW 328i (F30 chassis), where the Virginia-based outfit has become a routine winner and championship contender.