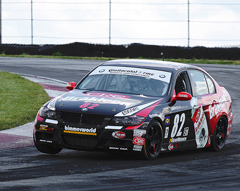 With an expanded four-car roster ready to vie for the 2014 Continental Tire Series Street Tuner Championship, the Virginia-based BMW experts at BimmerWorld have secured an impressive array of commercial backing and technical support to bring their goals closer to reality.
Team owner/driver James Clay discussed many of the companies whose branding will be carried next season, including some that have become synonymous with BimmerWorld's striking fleet of BMWs.
"This will be the third year CRC has joined us as a primary sponsor," said Clay. "Beyond general branding and promotional work, BimmerWorld will also be the racing industry partner program supplier for CRC Brakleen®,as well as for their full product range this year through our CRCMotorsportSupply.com venture. We have been partnered with CRC for ten years now, and we are proud to take the next step forward with supplying the premium CRC product line to teams in our paddock as well as those in a variety of other racing series."
"Our partnership with Johnstone Supply is important to us because they are like family," Clay continued. "Johnstone's support of BimmerWorld Racing, through their stores in Texas and Louisiana, adds a strong B2B partner to our network, as well as good friends and mentoring as our operation continues to grow and succeed."
BimmerWorld's reputation as an elite BMW aftermarket and tuning specialist has been amplified through relationships with numerous technical partners. Each company Clay has assembled within the BimmerWorld fold has brought unparalleled cornering, braking, and acceleration performance to the professional team and BimmerWorld performance customers alike.
"With the change in suspension regulations this year, we are once again able to align ourselves with the staff of Motion Control Suspension (MCS) with whom we have worked since 2003," Clay explained. "Their new MCS brand and product line is the next evolution of their premium race-winning damper designs and we are excited to be able to use the same products we have been selling to our customers and using on our other program cars in our professional program. This renewed technical partnership is a tremendous asset as we prepare to fight for the 2014 Championship.
"Our BMWs have always been standouts under braking. We have used Performance Friction brakes exclusively since 2005 when we first tested with them, and we credit PFC with this major team strength. We test new products every year but we always come back with the same result and proudly wear the PFC logos on our car and sell their products as our premium line in our BimmerWorld store. With new pad compounds released this year, we continue to have the best options for friction on our cars."
Packed race tracks with grids of 60 or more cars can present significant engine cooling problems, which BimmerWorld continues to address and overcome with help from Red Line Oil and C&R Racing.
"Red Line Oil has been in our cars since day one at BimmerWorld Racing," Clay noted. "We have always been happy with the results in a variety of applications, and with the challenging temperatures in our new turbo-engined BMW F30, Red Line gives us critical durability and protection in a very challenging environment.
"And C&R Racing, armed with new exchanger core technology, has developed a new cooling system for both our E90 and F30 racecars to keep them operating at optimal temperatures, even with the tight drafting and prolonged stressed operation in our series."
Producing horsepower, torque and transmitting that energy to the ground has been entrusted to two BimmerWorld staples.
"Diffsonline continues to be a strong technical partner," Clay remarked. "Focused on our non-engine driveline, they have provided our engineers with the tools to continue to improve our cars' performance, and helped reduce critical driveline failures. With the release of the F30 last season and continuing work this year, Diffsonline continues to develop new solutions as needed for this new platform.
"Also, Eric at Electronspeed, along with CRD engines, has done a tremendous amount of work on our new F30 engine and management system over the last several months, and without their support we would still be fighting to get this car on track. We have a long development road ahead of us, but we have the best team on the job to make rapid progress."
Known for sharing close quarters and trading paint throughout each race, Bassen Autobody will once again keep BimmerWorld's Continental Tire Series cars smooth and sparkling.
"The Bassen Autobody team will have more work than ever with four BimmerWorld cars to keep on track, but we can sleep knowing that when the unexpected pops up, we have capable partners like Bassen to handle it," said Clay.
In addition to the partners listed above, BimmerWorld will also represent BimmerForums, Chin Motorsports, LaminX, Miller Welders, Racetech, Rays, Rogue Engineering and Sparco in 2014.
Next up or BimmerWorld is this weekend's Roar Before The 24 test at Daytona International Speedway, a precursor to the season-opening Continental Tire Series race on January 24 at Daytona.
Follow the team as it prepares for the new season by visiting www.BimmerWorldRacing.com