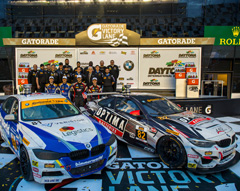 What a race for BMW at Daytona International Speedway! The BimmerWorld Racing team from Dublin, Va., had a near perfect weekend, collecting the pole and victory in the Street Tuner (ST) class of the IMSA Continental Tire SportsCar Challenge (ICTSC) series on Friday, as well as second place in the Grand Sport (GS) class.
The BMW Endurance Challenge race, a part of the 56th annual Rolex 24 At Daytona race, was a four-hour enduro with its fair share of cautions.
Polesitter Devin Jones of Mooresville, N.C. and teammate Nick Galante of Greenfield, Mass. dominated the race in the ST class in their No. 81 BMW 328i (F30 chassis), never putting a wheel wrong, and it paid off in a proud victory for the duo. It was also the first victory for the F30 328i in the ST class, after multiple podiums. Devin, who collected his first IMSA Continental Tire victory today, drove the first 85 laps before changing to teammate Galante.
BimmerWorld team owner James Clay of Blacksburg, Va. and Tyler Cooke of Ft. Lauderdale, Fla. started from the 18th position in the GS class in their international GT4-spec No. 82 OPTIMA Batteries BMW M4 GT4. Qualifying and starting driver Clay charged into the Top 10 and even led one lap (lap 17) in a convincing run to the podium in the inaugural Continental Tire race. Clay drove for the first 67 of 106 laps before Cooke came in fresh and continued the gallant charge for their first podium of the season.
Driver Quotes:
James Clay, Blacksburg, Va., team owner and driver, No. 82 BimmerWorld Racing OPTIMA Batteries BMW M4 GT4:
"My stint was awesome! I knew I had some traffic to work through and I'm just happy we got through Turn One together safely, and then it was just a matter of picking it off. I knew we had a car with pace. The key today was avoiding incidents and somehow we did. There were some really close calls. I worked my way up to lead at one point. A win in ST and the debut of the GT4 car with a P2 finish feels great. We knew we had an awesome car under us, despite a bad qualifying, and sure enough, we did. What a fantastic machine and teamwork from the guys, and what a fantastic weekend overall!"
Tyler Cooke, Fort Lauderdale, Fla., driver, No. 82 BimmerWorld Racing OPTIMA Batteries BMW M4 GT4:
"Gosh, it was quite a race. The BMW guys never gave up on us. They really put a lot of effort in and it showed today. We were running on a liter and it was a good battle at the end with the Mustang, and the Mercedes was there. Hat's off to the BMW 2-4 finish (second and fourth place). It's setting the tone for the year and I'm really proud to be in the BMW, and I'm proud to have them joining us. The BimmerWorld guys work their tails off and I'm just happy we can take home a piece of hardware for them and they can enjoy it. Now I'm looking forward to Sebring."
Nick Galante, Greenfield, Mass., driver, No. 81 BimmerWorld Racing Veristor/Legistics BMW 328i (F30 chassis):
"Devin drove the first three hours and 58 minutes, I think. I'm kidding, of course, but I only felt like I was in the car for a minute. Devin did a great job of putting the BMW on pole and setting the car up. The BimmerWorld team did most of the hard work getting this car where it needed to be. Hats off to the team and the strategy. Unbelievable job on the strategy by Trent, our engineer. He nailed it perfectly, and Devin drove a great first stint and got the pole, which is awesome. My job was easy, he did all the hard work."
Devin Jones, Mooresville, N.C., driver, No. 81 BimmerWorld Racing Veristor/Legistics BMW 328i (F30 chassis):
"It was definitely a great start to the year. It can't get much better than a pole and a win at Daytona; it's huge. It's been a massive day for us and the whole BimmerWorld team with a second place for their GS car, too. I just have to thank Veristor and everyone that supports this car. It's really a dream to win here, and I'm just going to absorb it all.
"I grew up watching races here and always being a fan. My dad and I came here in 2004 to race a go-kart, and to see where we've come since then is amazing. To win at Daytona is really a dream and it's all because of these BimmerWorld guys. It's going to be a great season and what a way to start it."
FOLLOW BIMMERWORLD AT: https://www.facebook.com/bimmerworld
STAY UP TO DATE WITH BIMMERWORLD NEWS AT: http://www.bimmerworldracing.com
ABOUT: BimmerWorld is renowned as a leader in BMW aftermarket and tuning expertise. It competes in the IMSA Continental Tire SportsCar Challenge series in both the Grand Sport (GS) class with a brand-new BMW Motorsport M4 GT4 and in the Street Tuner (ST) class with a turbocharged BMW 328i (F30 chassis), where the Virginia-based outfit has become a routine winner and championship contender.