BimmerWorld Racing Returns to IMSA with Michelin Pilot Challenge Program for 2019
December 22nd, 2018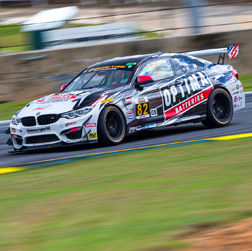 The fan-favorite BimmerWorld Racing team will return to IMSA competition in 2019 with a strong championship effort. The winner of the final race of the 2018 IMSA Continental Tire SportsCar Challenge series at Road Atlanta in October, and third place in the year-end GS class championship, will compete in the newly named IMSA Michelin Pilot Challenge series. Team owner James Clay will return to the driver's seat in the Grand Sport (GS) class, paired with Devin Jones of Mooresville, N.C.
"A pillar of our expanded 2019 BimmerWorld Racing program will be the IMSA Michelin Pilot Challenge series with our BMW M4 GT4 again vying for the championship," said Clay of Blacksburg, Va. "I'm looking forward to running with Devin this year. He was awesome in our BimmerWorld ST car last year, and we have shared momentum moving into this year. We may run a second car in GS as well, but we're still waiting for the right driver combination that can also contend for the championship."
"We really had a great year with BimmerWorld in 2018," Jones continued. "Nick (Galante) and I won four races, had nine podiums, and won the ST championship in its final year. That was a big deal to us and for my career. I enjoyed working with James and the whole BimmerWorld staff and wanted to come back for 2019 and drive the BMW M4 GT4 and try for another championship. I can't wait to get back on track."
OPTIMA Batteries will return as a primary sponsor, along with Veristor, and Red Line Oil, Performance Friction, Lifeline Fire and Safety Systems, and Johnstone Supply will continue as team and technical partners for the IMSA effort. Clay and Jones will compete with the car number 82 once again for 2019.
"We're still finalizing details of our other initiatives for 2019, but we're going to be quite busy in 2019," explains Clay. "IMSA has been our home for almost a decade and this GS program is important to me, and I think the best racing in the country currently. But these BMW M4 GT4 cars can be raced anywhere in the world, and we've just picked up some new M240i Racing cars as well, and of course, the monster Pikes Peak car we've been building for over a year, as well as several customer programs. We've spent the winter recharging and preparing, and everyone here is fired up to get the season fired up at Daytona!"
The No. 82 BimmerWorld BMW M4 GT4 will be on track at Daytona International Speedway during the Roar Before the 24 test days, January 4-6 and then for Round 1 of the Michelin Pilot Challenge series for the BMW Endurance Challenge 4-hour race on Friday, January 25.
FOLLOW BIMMERWORLD AT: https://www.facebook.com/bimmerworld
STAY UP TO DATE WITH BIMMERWORLD NEWS AT: http://www.bimmerworldracing.com
ABOUT: BimmerWorld is renowned as a leader in BMW aftermarket and tuning expertise. It competes in the IMSA Michelin Pilot Challenge series in the Grand Sport (GS) class with a BMW Motorsport M4 GT4, where the Virginia-based outfit has become a routine winner and championship contender, as well as the 2018 ST class champion.
Tags