BimmerWorld Racing Charges to Podium in MICHELIN Pilot Challenge Race at Sebring
March 17th, 2019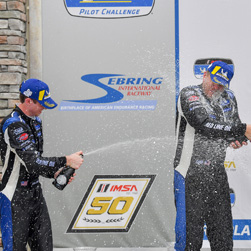 BimmerWorld Racing executed its game plan to near perfection today, and it almost paid off with a victory in the second round of the IMSA MICHELIN Pilot Challenge series at Sebring International Speedway.
James Clay, of Blacksburg, Va., and Devin Jones, of Mooresville, N.C., drove their No. 82 OPTIMA Batteries/Veristor BMW M4 GT4 to a second-place finish in the Alan Jay Automotive Network 120 race, just 7.750 seconds out of first place.
Qualifying driver James Clay started from the seventh position in the two-hour race on the 3.47-mile, 17-turn circuit in Central Florida and made a dash to the front, quickly battling in the top three.
On the first of two cautions, Clay pitted for fuel and tires and handed the driving duties to Jones. Although it was a bit earlier than their planned pit stop, tire wear under the 80-plus degree Fahrenheit conditions required it. Jones kept the BMW M4 GT4 in the top three and soon elevated himself to the second place. When a second caution flag was thrown a few laps from the end of the 49-lap race, Devin dashed into second place and nearly grabbed the lead from eventual winner Jeff Westphal in an Audi R8. During his hard charge, Jones, the reigning IMSA ST class champion, set the fastest lap of the race with a time of 2:11.945 and a speed of 100.964 mph.
Clay and Jones are unofficially tied for first place in the GS class points standings after two rounds.
Friday's race will be shown on NBCSN from 3 p.m. to 5 p.m. Eastern on Thursday, March 28.
This race supported the Mobil 1 Twelve Hours of Sebring. The next event will be the Mid-Ohio 120 held at the Mid-Ohio Sports Car Course in Lexington, Ohio on May 3-4.
Post-race quotes follow:
James Clay, Blacksburg, Va., team owner and driver, No. 82 OPTIMA Batteries/Veristor BMW M4 GT4:
"It was a great day—an almost perfect day. We had a good car over a long run. We knew we had a good car. Devin put it at the top of the charts in one of the practice sessions, which is not necessarily what we focus on, and we weren't at the top of qualifying, but we knew we had a race car under us that was going to move forward, especially as the hot surface wore out the tires. I was proud of my stint, and I'm obviously super proud of Devin. What a teammate! What an awesome job. The guys executed fantastic pitstops, and it was a really good day."
Devin Jones, Mooresville, N.C., driver, No. 82 OPTIMA Batteries/Veristor BMW M4 GT4:
"This was an awesome race. James did such a good job in the beginning keeping the car up in the top three. He moved up really quickly from seventh and got us in a great spot. The driver change went really well. All the pitstops were good. We got shuffled back a little bit in the last caution just with differing strategies, but overall, I'm really happy. This is a good result for us. It's nice to be on the podium at Sebring."
FOLLOW BIMMERWORLD AT: https://www.facebook.com/bimmerworld
STAY UP TO DATE WITH BIMMERWORLD NEWS AT: http://www.bimmerworldracing.com
ABOUT: BimmerWorld is renowned as a leader in BMW aftermarket and tuning expertise. It competes in the IMSA MICHELIN Pilot Challenge series in the Grand Sport (GS) class with a BMW Motorsport M4 GT4, where the Virginia-based outfit has become a winner and championship contender. It was also the Street Tuner champion of that series in 2018. 2019 also marks BimmerWorld Racing's return to the SRO TC America Championship in the Touring Car (TC) class with two BMW Motorsport M240i Racing cars.
Tags