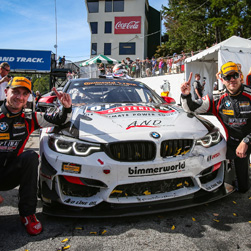 BimmerWorld Racing saved the best for last.
After three previous podium finishes in the Grand Sport (GS) class this year, including two second-place finishes in which they came very close to the overall victory, BimmerWorld Racing co-drivers James Clay and Tyler Cooke were victorious in the season finale for the IMSA Continental Tire SportsCar Challenge series on Friday at Road Atlanta. Not only did they win, but their OPTIMA Batteries BMW M4 GT4 was a whopping 8.999 seconds ahead of the second-place McLaren after two hours of grueling competition in the Fox Factory 120.
The team's entry in the Street Tuner (ST) class, the BimmerWorld Racing No. 81 Veristor/Legistics BMW 328i (F30 chassis), was in the spotlight too. Nick Galante grabbed the team's ninth ST class pole, he and co-driver Devin Jones led most of the race, and they ended up on the podium in third place to seal the drivers' and team championship for that division, which ended with the running of this race. The BimmerWorld pair was the one to beat all season, as Galante, of Greenfield, Mass. and Jones, of Mooresville, N.C. had nine podium finishes in the 10-race series that started with the first of their four victories at Daytona in January.
Two other ST cars led 11 laps total, but the BimmerWorld No. 81 truly dominated, as either Galante or Jones were in front for an incredible 60 laps. Galante was in the lead when he handed the car off to Jones during a pit stop on lap 28. Jones maintained the lead, but with just 6:19 minutes left in the race, the No. 81 was forced to pit for a splash of fuel, which allowed a MINI and a Porsche to sneak ahead. Still, Jones was just 0.686 behind the second-place car at the checkered.
In GS, team owner/driver Clay started sixth. The Blacksburg, Va.-based driver maintained fourth place for most of his stint, trying to conserve both his car and his tires. He turned the car over to Cooke, of Fort Lauderdale, Fla., under yellow on lap 26. Cooke took the lead for the first time on lap 40 with about 50 minutes remaining, but he had to make a final pit stop about 10 minutes later for left-side tires and fuel. The Dublin, Va.-based team's stop was timed to perfection, as Cooke got out of the pits faster than many of his rivals and before some of them even made their final stop. He was fourth after the stop but he regained the lead on lap 55 with 26:33 remaining and then left everyone behind him as he powered around the 2.54-mile, 12-turn road course.
With the hard-earned victory, Clay and Cook advanced one spot to tie for third in the GS drivers' championship out of 93 drivers who earned points this season. BimmerWorld also finished third in the team standings in GS.
In the next-to-last race of the year in September in Salinas, Calif., the BimmerWorld cars bore the names of hundreds of supporters and people affected by Alzheimer's disease in a tribute generously provided by donors to the "Racing to End Alzheimer's Foundation." That effort continued at Road Atlanta and was notably successful in raising both money and awareness for the fight to end that debilitating disease.
The FOX Factory 120 race will air on FOX Sports 1 on Sunday, Oct. 21 from 10 a.m. to noon Eastern time.
James Clay, Blacksburg, Va., team owner and driver, No. 82 OPTIMA Batteries BMW M4 GT4:
"I'm super excited for our first win! We had a good car all weekend. We qualified sixth, which I believe matches our best qualifying. That typically means we're going to have a solid race, and race to the front. I was pumped with my drive and thrilled with Tyler's. I was waiting for the trouble to happen and it never did. What a great team behind us, and what a great finish to the season!
"It's been really special to take the ST points championship in the final year of the class. That's the class we entered when we sprouted our roots in IMSA, and to close it out with a championship after so many years of hard work is very special."
Tyler Cooke, Fort Lauderdale, Fla., driver, No. 82 OPTIMA Batteries BMW M4 GT4:
"It was an awesome race! The team did a flawless job, and we've been there all year. Finally, finally, we get that win! It was quite special and a very emotional win. The last time we got a win, my dad was still alive, and I remember getting that phone call from him right after the race with him just screaming and excited. So it's been tough for the memories, but I'm glad to get that win for him and for the team, James, and BMW Motorsport. BMW gave us a great car out of the box, and we proved that at Daytona. I'm looking forward to celebrating. I think James and I have a lot to celebrate!
"Hats off to the ST guys; they deserve that championship. I'm happy for them and happy for James and me for winning the last Continental Tire race of the year."
Devin Jones, Mooresville, N.C., driver, No. 81 Veristor/Legistics BMW 328i (F30 chassis):
"Nick got another pole, which is just incredible how many poles we've gotten this year. That was a huge deal. The race started out great and he did a fantastic job maintaining it up front. We were in a great position, just like we've been in almost every race this year. He kept it up front and kept it clean.
"I got in the car and cautions fell at bad times like we've had in some of the previous races this season, and we struggled a bit. We were about 10 minutes short [for fuel] when I got in the car. I can save fuel, but I can't quite save 10 minutes. We went from saving, to just go for it and hope some other guys run out, too. We had to go in and do a splash-and-go while leading, so it was definitely a little bit of a disappointment to not end the season with a win, because I know we were capable of doing it. The season as a whole has been incredible. This team has come together really well. It's been a pleasure to drive with Nick and race this car. It's been just an incredible season.
"I have to thank the 'Racing to End Alzheimer's' campaign. It's been a big deal, and we had the names on the car again at Road Atlanta with even added more since the Laguna race. Obviously, I have to thank Veristor too. This is their home race, so a lot of their employees came out from Atlanta, and it's just really great to have the support from two great companies."
Nick Galante, Greenfield, Mass., driver, No. 81 Veristor/Legistics BMW 328i (F30 chassis):
"It was a good opening stint. Right at the start, I was getting pressure from Max Faulkner in the Bodymotion car. He put on a great outside pass into Turn 1 and passed me for the lead, but I found a good opportunity a couple laps later on the restart after a caution. We got him going into Turn 10 and repassed him for the lead. We maintained the lead for most of the stint and then the track got rather slick out there, but the Continental tires held up well. It was just really tough spacing for the cautions, and we were just maybe a gallon short on gas and had to stop for a splash which really cost us the win here. But we wrapped up the ST drivers' championship, which was our main goal. I'm a little disappointed we couldn't get the manufacturers' championship for BMW, but it was really close and a really fun weekend.
"I want to thank Phil Frengs from Legistics who created the 'Racing to End Alzheimer's Foundation,' the guys at Veristor, who have been with us all season, and everyone at BimmerWorld – James Clay, Tyler Cooke, the whole entire team, Trent Brown, Wayne Yawn, Jason Marks, Dave Simpkins. The entire team is amazing."
FOLLOW BIMMERWORLD AT: https://www.facebook.com/bimmerworld
STAY UP TO DATE WITH BIMMERWORLD NEWS AT: http://www.bimmerworldracing.com
ABOUT: BimmerWorld is renowned as a leader in BMW aftermarket and tuning expertise. It competes in the IMSA Continental Tire SportsCar Challenge series in both the Grand Sport (GS) class with a brand-new BMW Motorsport M4 GT4 and in the Street Tuner (ST) class with a turbocharged BMW 328i (F30 chassis), where the Virginia-based outfit has become a routine winner and championship contender.