BimmerWorld's Street Tuner BMW 328i Victorious at Canadian Tire Motorsport Park
July 10th, 2018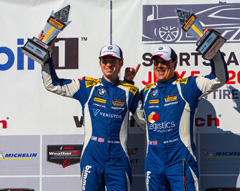 BimmerWorld Racing's Devin Jones and Nick Galante catapulted to the top of the Street Tuner (ST) point standings of the IMSA Continental Tire SportsCar Challenge series with their second victory of the season on Saturday at Canadian Tire Motorsport Park. Their No. 81 Veristor/Legistics BMW 328i (F30 chassis) also leads the class's VP Fuels Front Runner Award standings at the season's halfway point.
James Clay, owner of the Dublin, Va.-based team, and his co-driver, Tyler Cooke, finished eighth in the Grand Sport (GS) class Saturday. They are second in that division's point standings, just six points out of the lead, with their No. 82 OPTIMA Batteries BMW M4 GT4.
Jones, of Mooresville, N.C., won the ST class pole Saturday with a time of 1:31.378, setting a new track record. He immediately broke away from the pack, building up as much as a 40-second lead during the first half of the two-hour race. Jones also set the class's fastest race lap on lap seven with a time of 1:32.944.
But the victory was not certain for the BMW team until the very end of the race, as a full-course caution on lap 46 obliterated its huge lead. Galante was second until he took the lead for the final time just six laps from the end when the leading MINI stopped off course due to mechanical issues after contact. The race stayed green as the MINI was removed, and that sealed the victory for the BMW squad. Galante took the checkered flag with a 5.205-seconds margin of victory over the runner-up.
Clay, of Blacksburg, Va., qualified 13th in the GS category with a time of 1:25.228 on the flowing, 2.459-mile, 10-turn road course. He broke into the top 10 just 44 minutes into the race by passing Dillon Machavern in the point-leading Porsche and was still in that position when he pitted under green flag to hand the car over to Cooke about 10 minutes later. A limping ST car stopped at the exit of Turn 5 with about 51 minutes remaining, bringing out the only caution of the race, and regrouping the field. The pits roared to life as multiple GS drivers pitted under that yellow to top off with fuel, including Cooke. The Fort Lauderdale, Fla. driver dropped to 12th as other GS cars gambled with fuel strategy but had raced back in the top 10 with 39 minutes remaining.
Cooke battled with Eric Foss for ninth place as the pair swapped that position several times. Cooke's hard driving finally awarded him the spot with 24 minutes remaining in the race, about the same time that one of the entry's main title contenders made an unscheduled pit stop for brake issues. In a multi-lap chess match, including a lapped car and fellow BMW driver Greg Liefooghe, Cooke snuck past Paul Holton to snare eighth place with 15 minutes remaining in the race, where he ultimately finished.
This race will air on FOX Sports 1 from 11:30 a.m. to 1:30 p.m. Eastern time on Sunday, July 15. The season continues with Round 6 on July 20-21 at Lime Rock Park in Lakeville, Conn.
Devin Jones, Mooresville, N.C., driver, No. 81 Veristor/Legistics BMW 328i (F30 chassis):
"First, I have to thank BimmerWorld and all the guys who got the cars turned over in time to race here at Mosport. It's always a quick turn-around, so I have to thank those guys. We had speed all weekend and were really fast right off the trailer. It made my job pretty easy. I was able to just go out there and get a pretty big gap. We were hoping it would stay green, but a caution came out there at the end and still we were able to pull it off. It's just a huge win and really good points day for us, and we're really looking forward to Lime Rock."
Nick Galante, Greenfield, Mass., driver, No. 81 Veristor/Legistics BMW 328i (F30 chassis):
"It was a perfect weekend. Devin did most of the hard work there with the pole position and new track record and the gap in the field that he managed. I think it was a 40-second gap when he handed me the car, which was awesome. I got in the car and thought I had a comfortable lead, but Mark Pombo came and started breathing down the back of my car. I had nothing for him in the first quarter of my stint, and then I started reeling him back in. I think he had some trouble after some contact, which is unfortunate, and I hope those guys recover and can fight us the rest of the season. The BimmerWorld team did an awesome job. We were sorting out some gremlins after the second practice session. We had a loose motor mount, and the guys spotted that perfectly. Trent Brown did an awesome job on the box in the pits with the fuel and the strategy. My wife and I are going to go home now and relax for a week before Lime Rock."
James Clay, Blacksburg, Va., team owner and driver, No. 82 OPTIMA Batteries BMW M4 GT4:
"It was a fair day for us on the track. I feel very comfortable saying we gave it everything we had out there. I was happy with my stint. Tyler drove great again. The BMW stayed under us. It wasn't a Mustang today, and it seemed like that's what you needed. I'm super proud of my teammates in the No. 81 ST for their second win of the year. We'll be back at Lime Rock and maybe things will be a little different there."
Tyler Cooke, Fort Lauderdale, Fla., driver, No. 82 OPTIMA Batteries BMW M4 GT4:
"It wasn't a bad race for us. There was a lot of hard battling and some battling that was harder than it should have been. We really have nothing for the Mustangs right now. We don't know what can happen for us [as far as Balance of Performance changes] going into Lime Rock, but hopefully we're able to be more competitive. Wayne [the team's engineer] made a great call changing the car overnight, and he gave us a rocket ship. We had a car that would have been in pretty good contention, but it definitely wasn't a podium contender here. I'm looking forward to Lime Rock. I love Lime Rock. It's one of my favorite tracks."
FOLLOW BIMMERWORLD AT: https://www.facebook.com/bimmerworld
STAY UP TO DATE WITH BIMMERWORLD NEWS AT: http://www.bimmerworldracing.com
ABOUT: BimmerWorld is renowned as a leader in BMW aftermarket and tuning expertise. It competes in the IMSA Continental Tire SportsCar Challenge series in both the Grand Sport (GS) class with a brand-new BMW Motorsport M4 GT4 and in the Street Tuner (ST) class with a turbocharged BMW 328i (F30 chassis), where the Virginia-based outfit has become a routine winner and championship contender.
Tags