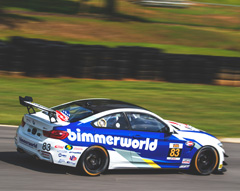 BimmerWorld Racing owner James Clay announced today that he will compete in this weekend's Pirelli World Challenge doubleheader at Road America in Elkhart Lake, Wis. He will drive his No. 83 BimmerWorld M4 GT4, the same platform that he and co-driver Tyler Cooke are using in the IMSA Continental Tire SportsCar Challenge Series, where they are currently second in the top Grand Sport class, only three points out of the championship point lead.
The Pirelli World Challenge (PWC) series supports IndyCar at Road America, and a large crowd is expected to be on hand at the 4.048-mile, 14-turn road course near both Chicago and Milwaukee. Clay will compete in the GTS class in the doubleheader at 4:35 p.m. Saturday and 2:45 p.m. Sunday (Central Daylight time). There are 25 entries in his class and 40 overall.
OPTIMA Batteries, Red Line Oil, Performance Friction Brakes, Lifeline Fire and Safety Systems, and Powerflex sponsor the Blacksburg, Va.-based driver's car.
"This is the weekend before the start of the hectic portion of our IMSA schedule, but this BMW M4 GT4 is such a capable platform, and extremely universal, so I couldn't resist a visit to one of my favorite places on earth," Clay said. "I think it is really cool to be able to run multiple series or events with just minimal adjustments to one car. I'm excited to revisit the sprint format after over eight years focusing on endurance racing. The early years of my pro career and our team's formative years were so much fun, and I look forward to revisiting the same this weekend without the pressure of our championship pursuit in IMSA. It will be great to see all my friends in Wisconsin — including our friends and guests from our primary sponsor, OPTIMA Batteries, which is headquartered slightly to the south in Milwaukee."
Clay is no stranger to PWC, and he's excited to return to one of his favorite tracks.
"The Balance of Performance is different in Pirelli World Challenge for all cars, but I look forward to seeing how we'll fare," he said. "This is our first Pirelli World Challenge event since the end of the 2009 season after running Touring Car since 2002 in E36, E46, and finally E90-chassis cars.
"This is also approximately 10 years after my first pro victory, which came in World Challenge at Road America in August of 2008, so the track will always hold a special place in my heart."
Practice sessions will be held on Friday at noon and 6:45 p.m. and 8:45 a.m. on Saturday before Clay's qualifying session at 9:40 a.m. Saturday. All times are local.
The GTS/GTSA competition will be highlighted at 9 p.m. Eastern on Wednesday, July 11 on the CBS Sports Network. The races will also be streamed live on SiriusXM satellite radio. Live timing and scoring will be available through links on the series' Web site at world-challenge.com.
FOLLOW BIMMERWORLD AT: https://www.facebook.com/bimmerworld
STAY UP TO DATE WITH BIMMERWORLD NEWS AT: http://www.bimmerworldracing.com
ABOUT: BimmerWorld is renowned as a leader in BMW aftermarket and tuning expertise. It competes in multiple series in both the brand-new BMW Motorsport M4 GT4 and a turbocharged BMW 328i (F30 chassis). The racing arm of the Virginia-based outfit has become a routine winner and championship contender, which provides both proof of concept and valuable experience to support the company's parts business and the customers it serves.