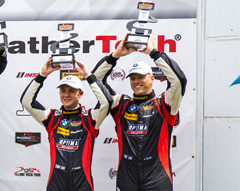 BimmerWorld Racing owner James Clay and co-driver Tyler Cooke recorded their best finish of the IMSA Continental Tire Sportscar Challenge series so far this year when they placed third in the Street Tuner (ST class) Saturday at Lime Rock Park with their BimmerWorld Racing No. 84 OPTIMA Batteries turbocharged BMW 328i (F30 chassis).
Ari Balogh and Greg Liefooghe also had an excellent result in the two-hour contest, as they placed sixth in a similar car fielded by the Dublin, Va.-based team, the No. 81 Powerflex BMW, to duplicate their best result of the season to date.
Clay, of Blacksburg, Va., qualified fourth, just 0.360 of a second off the pole-winning time for the 1.53-mile, seven-turn road course about 100 miles from New York City. He set the car's fastest lap of the race on lap four and remained in fourth place throughout his stint until he led four laps around the halfway mark when the top three cars pitted under green. He pitted shortly thereafter for fuel, fresh Continental tires, and to turn the car over to teammate Cooke, of Matthews, N.C.
Cooke was back in fourth place only seven laps later. He advanced to third on lap 102 with about 14:20 remaining when the drivers who had been second and third tangled in front of him. The one who had been third got the worse end of that tussle and ended up in a tire barrier, and a little later Cooke brought his BMW home for the final podium position.
Balogh, of Menlo Park, Calif., qualified 16th but he'd advanced to ninth before most of his rivals began their pit stops, and he was fourth when he pitted under green to turn his BMW over to Liefooghe, of San Francisco. The latter was ninth at the halfway point before rising to sixth at the finish despite a track that was getting more slippery by the minute.
The race will be shown on FOX Sports 1 on Sunday, July 30 from 11:30 a.m. to 1:30 p.m. Eastern. The next event is Aug. 3-6 at Road America in Elkhart Lake, Wis. More information is available at imsa.com.
James Clay, Blacksburg, Va., team owner and driver, No. 84 OPTIMA Batteries BMW 328i (F30 chassis):
"I think we probably got what we could have gotten today, and maybe a little bit more. We definitely didn't have the pace of the MX-5s on the track, but we had a good pace. We had two consistent cars. We were more consistent than I thought we'd be. The car didn't fall off, and that was one of our biggest concerns. We were able to gap everybody behind us and keep the car in a good position to turn it over to Tyler. Tyler had a heck of a drive, and we're pretty happy."
Tyler Cooke, Matthews, N.C., driver, No. 84 OPTIMA Batteries BMW 328i (F30 chassis):
"Not bad. Finishing third at Lime Rock is like a win for pretty much any car in the field. It was a great race. The track really fell off at the end, but we were running a consistent pace. We held it in fourth and then moved into third.
"The guys did an amazing job. We had a short time period to get this car ready, but they nailed it. Hats off to BimmerWorld, all the sponsors, and BMW North America."
Greg Liefooghe, San Francisco, driver, No. 81 Powerflex BMW 328i (F30 chassis), which he shares with Ari Balogh of Menlo Park, Calif.:
"The car was good. We didn't have the pace in qualifying but in the race, we were really good. I think we can be happy with the results. The car ran really well. We found some speed this weekend. I'm pretty happy. Ari drove the first stint very well, and the car was really good.
"I think Road America is going to be a good track for us. We're a little bit more of a power car than a handling car, so we might have a little bit of an advantage there so we're looking forward to that."
FOLLOW BIMMERWORLD AT: https://www.facebook.com/bimmerworld
STAY UP TO DATE WITH BIMMERWORLD NEWS AT: http://www.bimmerworldracing.com
ABOUT: BimmerWorld is renowned as a leader in BMW aftermarket and tuning expertise and competes in the IMSA Continental Tire Sportscar Challenge series with a pair of BMW 328is (F30), where the Virginia-based outfit has become a routine winner and championship contender.