BimmerWorld on the Prowl for Points at Watkins Glen
June 26th, 2013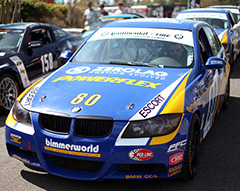 The BimmerWorld Racing team heads to upstate New York this weekend with its usual high expectations for its three-car GRAND-AM Continental Tire Series team, but with the 2013 season now entering its second phase, big picture items are moving to the forefront at each race.
Coming off its most challenging event of the year at the Mid-Ohio Sports Car Course, the Virginia-based BMW tuning and aftermarket specialists want nothing more than to bank solid points and run at the front of the packed Street Tuner division—a 'reset' of sorts as the second half of the championship kicks into high gear.
"Certainly Watkins Glen is more the type of track that suits our car, especially with the current weight penalty we have to lug around," said team owner/driver James Clay, referring to the fast and sprawling Watkins Glen road course.
"The flowing corners connect longer straights that allow us to reach our legs, both of which offset the tight corner performance and torque off the corner of the FWD and turbo cars.  We have done well in New York historically and I am hoping for the same this year."
Clay, a race-winning driver in the Street Tuner class, has spent the season concentrating on managing the team and, in concert with his 2012 teammate John Capestro-Dubets (JCD), has been overseeing development of the brand-new BMW 3 Series (F30 chassis) BimmerWorld has in the pipeline for ST.
But with driver Connor Bloum, co-driver of the No. 80 BimmerWorld entry, suffering a leg injury between rounds, Clay will step into the cockpit with Bloum's teammate, Greg Strelzoff, for the Watkins round.
"The new F30 that BimmerWorld is developing for JCD and I to drive is due to come out this summer and both of us are excited to be in the new machine," said Clay. "I am not wild about the circumstances that find me in a car at Watkins, but I look forward to being back in the No. 80 and driving with Greg for this event.  It is unfortunate to not have Connor with us this weekend, but we are hoping for a speedy recovery that will have him back for the next round in Indy."
Tyler Cooke, who shares the No. 81 BimmerWorld BMW 328i with Gregory Liefooghe, is looking to move up in the standings after Watkins Glen, but says that pure aggression alone won't get the job done.
"I think it will take a little bit of both aggressiveness and being conservative, because both can be awarding," he said. "Watkins is very fast, so you can be aggressive, but if you cross that line it can be very costly to damaging the car. Being conservative will make sure it's a good points day, but you won't always earn the finish you could have gotten if you'd pushed harder. If you can find the middle of both, you will have a good race."
Seth Thomas, who pilots the No. 82 CRC BRAKLEEN® BMW 328i with Dan Rogers, has been in the tin-top wars for years and knows plenty about championship pursuits. He's also looking to the Watkins race to secure more points, but isn't quite ready to play things conservatively.
"With six races still left on the schedule, there is a lot of time to think championships," he explained. "We still have a shot at the drivers' championship but in order to make this happen we need to push.  So at Watkins, we will be pushing hard to close the points gap to the cars in front of us.  This will make us more aggressive than if we were the points leaders.
"Watkins is a great track for us to drive aggressively and with the long green flag runs we have had the past few races I feel we will be gaining points. So from here until we are in the points lead we will be pushing, being as aggressive as we can to bring home solid points for No. 82 CRC BRAKLEEN® BMW entry."
Follow all the action with the BimmerWorld Racing team this weekend from Watkins Glen at www.BimmerworldRacing.com.
Tags