BimmerWorld Racing Has High Hopes For Saturday's CTSCC Race at The Glen
June 27th, 2018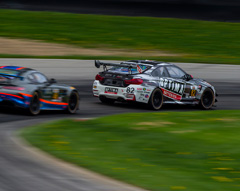 Success breeds added confidence. Although it's a long season, one of the BimmerWorld Racing BMWs is second in the Grand Sport (GS) point standings and the team's Street Tuner (ST) entry is third in that championship heading into Saturday's four-hour IMSA Continental SportsCar Challenge race at Watkins Glen International in Watkins Glen, N.Y.
It's an important time for the team to try to be at the top of its game, as The Glen begins a stretch of five events in only eight weeks. Saturday's race, which is scheduled to get the green flag at 1:55 p.m., is the fourth of 10 events on the schedule, while the fifth one is the following weekend, July 7, at Canadian Tire Motorsport Park in Bowmanville, Ontario.
Team owner James Clay of Blacksburg, Va., and his co-driver, Tyler Cooke of Fort Lauderdale, Fla., drive the Dublin, Va.-based team's GS entry, the brand-new No. 82 OPTIMA Batteries BMW M4 GT4. Nick Galante of Greenfield, Mass., and Devin Jones of Mooresville, N.C., share the team's ST entry, the No. 81 Veristor/Legistics BMW 328i (F30 chassis).
Practice at The Glen begins with one session on Thursday at 2:05 p.m. and two more on Friday at 8 a.m. and 12:25 p.m. Qualifying will be held later Friday afternoon, with the ST cars going under the timing beacons at 12:50 p.m. and the GS field doing the same 20 minutes later.
Live video coverage and live timing and scoring of the race will be offered on imsa.tv and imsa.com, respectively. The race will also air on FOX Sports 1 on Sunday, July 8 at 7:30 a.m. All times are Eastern.
Watkins Glen is one of only two four-hour races on the 2018 schedule, and BimmerWorld did terrific in the first one, with the two of you finishing second in GS and the ST winning at Daytona. What will it take to do that well again at Watkins Glen?
James Clay, Blacksburg, Va., team owner and driver, No. 82 OPTIMA Batteries BMW M4 GT4:
"The keys to success in racing are pretty standard — bring a good car, run it with a talented crew and driver team, and stay on your toes and execute well. We had a great race at Daytona, and we have dug in to fine-tune the team for the coming stretch of three races in four weekends. If we did our homework, I think we have a great package for both this 4-Hour and the races immediately following."
Tyler Cooke, Fort Lauderdale, Fla., driver, No. 82 OPTIMA Batteries BMW M4 GT4:
"It takes planning the right strategy, which Wayne Yawn does very well. We have to make sure the car is there at the end. That's something James and I did well at Daytona. We managed our pace until the end when I got to push towards the front."
Watkins Glen is one of only two four-hour races on the 2018 schedule, and BimmerWorld did terrific with you guys winning the ST class at Daytona. What will it take to repeat that at Watkins Glen?
Nick Galante, Greenfield, Mass., driver, No. 81 Veristor/Legistics BMW 328i (F30 chassis):
"It's going to be tough, but it's something I think we are well prepared for as a team. I feel the longer the races are, the more variables get factored in. It's important to have a solid team, and we may very well have the best out there this week."
Devin Jones, Mooresville, N.C., driver, No. 81 Veristor/Legistics BMW 328i (F30 chassis):
"The longer the race, the more you have to focus on execution, and the BimmerWorld guys always do a great job with that. A four-hour race also means more pit stops. Nick and I are going to really focus on making our driver changes flawless and making sure our stops are as quick as possible. I enjoy these four-hour races because a lot can happen, and to have one of the two longer-distance events at a track like Watkins Glen is a big plus. It's one of my favorite tracks."
Do you think the BimmerWorld team, or your BMW car, is especially well suited for races longer than two hours? As a driver, do you prefer two-hour or four-hour races?
James Clay: "Our BimmerWorld-built F30-platform ST cars haven't always been smooth sailing, but in recent years with a lot of work and development from our partners at Roush Engines and Electonspeed, I think we've tamed the beast and we have just fantastic BMW race cars. And, of course, the M4 GT4 comes from BMW ready for us to dial it in and race it, and it has proven to be such a stable platform. Equipment-wise, we're good either way, but longer races play to our reliability. Additionally, we have two extremely solid driver teams this year, and the longer the races go, the more our consistently fast pace pays off."
Tyler Cooke: "I think our car is just great at the end of a run; that's where we start to really shine. I don't prefer one or the other. I just love to race!"
Do you think your team, or your BMW car, is especially well suited for the longer races?

Nick Galante: "With this team, I'm excited about the longer races. This team is so organized and prepared, more than I've seen on other teams. There's this one guy on our team that kind of creeps me out with the level of focus and detail he brings to the team. It's weird, but I bet that'll help us win races!"
Devin Jones: "I think our team and the car are suited for any situation or race distance. However, the longer the race, the more strategy and pit work come into play, which should give us an advantage this weekend. On the driving side, I personally live for these longer races, especially looking at the weather forecast for this weekend with temps in the mid-90s on race day. I work really hard on my fitness for weekends like this. I want to be ready in case I have to drive a double stint in hot and humid weather. I think the heat will play a role in driver fatigue during the course of this four-hour race."
What is one of the most challenging parts of the Watkins Glen circuit?
Tyler Cooke: "The uphill esses look intimidating from outside the car but being in the car and threading the needle on used tires takes your breath away. Any error will be a big hit, but you have to take the chance of running that fine line and getting every little bit."
What do you enjoy most about the Watkins Glen fans?
Nick Galante: "If there's anything I know about fans at Watkins Glen, it's that they know a lot more than me! I love talking to them; you can learn a lot about the track that way. I was talking to this one guy about The Boot last year, and he has been sitting and watching that turn at every race for the past 20-plus years. The level of detail he went into surprised me."
Is there anything competitors and fans don't realize or don't take into account fully about racing at Watkins Glen?
Devin Jones: "Watkins Glen is a high-speed track with little room for error, but one thing fans may not realize is drivers have to be mindful to not exceed track limits in certain corners. This is especially true in qualifying. If you go outside track limits on a fast lap, officials will disallow your time."
You're coming off a race at Road America in another series last weekend. Tell us about your run in the BMW at Road America.

James Clay: "I love Road America — the track, the people and area, and it always suits a BMW well. This was a great opportunity to run our spare car and have some fun in the process! The car was a bit of a tractor in the spec we ran, but it was still quite capable with all the weight and higher ride height. I'm looking forward to getting back there in a bit over a month in IMSA trim!
If you were advising a fan where to watch this race from, where would you suggest they go and why?
Tyler Cooke: "The Bus Stop or the second-to-last corner. Both are good areas to see some fast speeds and good battles."
Devin Jones: "The Bus Stop is an awesome place to watch; seeing the cars bouncing around, hopping curbs is a sight you don't want to miss. Honestly, there isn't a bad place to watch from anywhere around Watkins Glen; every corner is unique."
What do you think about the famous Watkins Glen Bus Stop corner?
Nick Galante: "I've always wanted to watch the cars coming at me as they enter the Bus Stop. I think it's such a fascinating section of the course. Most Bus Stops have straights before and after them. This one at Watkins Glen is unique; you have a significant turn immediately after you exit. You have to be planning for the long right after the Bus Stop before you enter."
If you could go back in time, which driver who has raced at Watkins Glen in the past that you never met would you most like to meet and/or compete against?
Tyler Cooke: "Jackie Stewart would be an awesome guy to have raced against."
Nick Galante: "There is so much rich history at the Glen, it's a tough choice to pick just one. The F1 drivers from the late sixties were so commendable. I can't imagine tossing those cars around this track back then. If I had to pick just one driver it would have to be the great Scot, Jim Clark. The way he would artfully carve some tracks was truly admirable."
Devin Jones: "I grew up watching NASCAR and seeing Jeff Gordon dominate at Watkins Glen, so I would have loved to race with him at The Glen. Although I still wish NASCAR would run the Boot!"
FOLLOW BIMMERWORLD AT: https://www.facebook.com/bimmerworld
STAY UP TO DATE WITH BIMMERWORLD NEWS AT: http://www.bimmerworldracing.com
ABOUT: BimmerWorld is renowned as a leader in BMW aftermarket and tuning expertise. It competes in the IMSA Continental Tire SportsCar Challenge series in both the Grand Sport (GS) class with a brand-new BMW Motorsport M4 GT4 and in the Street Tuner (ST) class with a turbocharged BMW 328i (F30 chassis), where the Virginia-based outfit has become a routine winner and championship contender.
Tags