Both BimmerWorld BMWs Finish on the Podium at the Glen with the GS Car Now Tied for First in Championship
July 2nd, 2018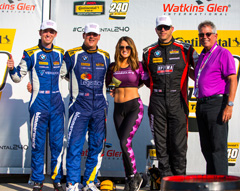 Both of BimmerWorld Racing's BMWs finished on the second step of the podium in the four-hour IMSA Continental Tire SportsCar Challenge race Saturday at Watkins Glen International in Watkins Glen, N.Y. The double runner-up finishes vaulted the Dublin, Va.-based team's Grand Sport (GS) entry into a two-way tie for first in its overall championship, while its Street Tuner (ST) car rose from third to second in that division's point standings heading into the next event this Saturday at Canadian Tire Motorsport Park in Bowmanville, Ontario, Canada.
Team owner James Clay of Blacksburg, Va., did his best to keep the No. 82 OPTIMA Batteries BMW M4 GT4 in contention in the GS division while protecting it so his co-driver, Tyler Cooke of Fort Lauderdale, Fla., could mount a charge at the end. Their strategy worked well. There were 18 GS cars on the lead lap after the four-hour slugfest, and Cooke took the checkered only 7.938 seconds behind the winning Ford Mustang.
The strategy was different but the results were the same for the team's ST entry, the No. 81 Veristor/Legistics BMW 328i (F30 chassis). Devin Jones of Mooresville, N.C. captured the class pole and then dominated the race lead for most of the first half and built up a healthy lead before turning the car over to his co-driver, Nick Galante of Greenfield, Mass.
Clay qualified eighth, avoided a multi-car wreck in the esses on the first lap, and stayed in the top 10 during his double stint. He had several good battles, particularly with Kyle Marcelli and Dillon Machavern, and on lap 19 he was hit by Andy Lally, who struggled with handling problems all weekend with his Mustang. Clay survived it all. He was seventh at the halfway point and third due to pit stops by others when he pitted too and turned the car over to Cooke with about 1:47 remaining in the race.
Cooke started his stint in tenth. He broke into the top five with 1:15 remaining on lap 73, passed Al Carter for fourth six minutes later and rose to third with 56 minutes remaining when a lot of his rivals pitted. He pitted himself on the following lap with 55 minutes remaining under a full-course caution, and he was fifth for the restart with 45 minutes remaining. While the BMW M4 has air-conditioning, it was primarily turned off fo conserve every last horsepower, making the sealed cockpit even hotter as the track temperatures registered 128 degrees.
After another yellow, Cooke passed Eric Foss for fourth on a restart with 31:20 left. After another battle with Marcelli that saw them side by side for almost a full lap, Cooke wrestled third away from him on lap 90, only to have Marcelli regain the spot with 26 minutes left. Cooke passed Marcelli back on the following lap, however, and with 23 minutes remaining he was 4.5 seconds behind the second-place driver, Owen Trinkler, who ended up fifth at the end. Cooke was able to methodically cut that distance down and he passed Trinkler for second with 16:47 remaining. He set the entry's fastest lap of the race on lap 99 while trying to catch the eventual winner, Chad McCumbee. That proved impossible, but he was able to hold off Marcelli's Mustang by 0.912 to finish second with 106 laps completed in the time span.
In ST, the BimmerWorld entry led the most laps by far, heading the field for 65 of the 101 laps the class's three podium finishers completed in the four-hour time span. Jones led the first 28 laps, gave the lead up when he pitted, and then led again from laps 34 through 56 before pitting to let Galante take over. The latter started his stint in fourth but led laps 65 through 78 before he had to make another pit stop.
While pitting for tires and a final fuel fill, disaster struck as a hose broke on the team's fuel rig, leaving Galante sitting in the pits waiting for fuel that wasn't flowing. Through some quick calls and crisis management from the BimmerWorld team, the car was sent out to stay on the lead lap, the fuel rig repaired, and the fuel cell filled the next time by which enabled the 81 to start at the tail end of the lead lap, which gave a fighting chance for a podium finish with 55 minutes left. With 23 minutes left he was third, only 0.430 behind the second-place driver, Mat Pombo. He set the car's fastest race lap on lap 89 while in third and moved into second place with 9:57 left on lap 100 to seal the runner-up finish.
The race will air in the U.S. on FOX Sports 1 on Sunday, July 8 at 7:30 a.m.
This coming Saturday's Continental Tire Challenge race at Canadian Tire Motorsport Park (aka Mosport) will be half as long as the Watkins Glen race. Three practice sessions will precede it at 1:45 p.m. and 5:25 p.m. Friday and 9:50 a.m. Saturday. Qualifying is at 10:15 a.m. Saturday for the ST class and 10:35 a.m. for GS. The race is slated to get the green flag at 3:05 p.m. that afternoon.
Live video coverage of the race will be available on imsa.tv from 2:55 p.m. to 5:05 p.m., with live timing and scoring on imsa.com. That race will air on FOX Sports 1 from 11:30 a.m. to 1:30 p.m. on Sunday, July 15. All times are Eastern.
Post-Watkins Glen quotes:
James Clay, Blacksburg, Va., team owner and driver, No. 82 OPTIMA Batteries BMW M4 GT4:
"Awesome race! We were watching the weather and it was going to be a hot one, and we knew that. The biggest question was 'Is the car going to stay under us?' We got dinged a little bit with Balance of Performance [BoP], but we had a BMW and that counts for a lot.
"The heat was brutal. The track temperature was 120 degrees, but our Red Line fluids were up to the challenge. With a turbo engine and all the required coolers for both cars, heat management is critical to keep components from failing, or a car with factory electronics from going into a reduced output mode. Red Line has clearly dropped our temperatures and put us in a safer operational zone.
"I was pretty happy with my drive. Tyler just drove a stellar race. I'm thrilled about this result. To have two of our BimmerWorld BMWs on the podium as a team owner and to have cars that are all together, ready to go to the next round next week is fantastic. We're one step short, but I'm thrilled!"
Tyler Cooke, Fort Lauderdale, Fla., driver, No. 82 OPTIMA Batteries BMW M4 GT4:
"We had a good race at The Glen. If you had asked me at the beginning of the race if we were going to stand on the podium, I probably wouldn't have had that answer. The team worked really hard. Our race engineer, Wayne, made some great calls; James drove a great stint, and it was a great points weekend for us. I think we may have tied for the points lead. That was our main focus of the whole weekend, so we're leaving Watkins Glen happy as we move on to Mosport.
"James and I tend to be pretty good at Mosport. We think we have a good base set up for that, so we're looking forward to seeing what we can do. It should be quite a bit cooler than we experienced at Watkins Glen, which will be great. I'm ready to go."
Nick Galante, Greenfield, Mass., driver, No. 81 Veristor/Legistics BMW 328i (F30 chassis):
"Every time I get in the heat I notice that I'll start overdriving, and then I see the other drivers start overdriving. So you have to remind yourself that everybody is going through the same thing. You have to just take a deep breath, under drive just a hair, and let the pack come to you. It started to happen there at the end, but we got a couple of things wrong. It was so greasy out there [on track] that the Continental tires were hanging on as long as they could, but it was just so hot we couldn't do anything. Our tire pressures may have been too high for that middle stop. But I tell you, the BimmerWorld guys nailed this one. The pole position Devin 'Too Fast' Jones put in, his opening stint, gapping that field…it was all phenomenal. He did his part better than I could in the race. I was just hanging on; he was comfortable. The kid is fast.
"I know these BimmerWorld guys are going to polish these cars up and get them ready for Canada. They'll probably be ready the morning after the race, knowing the way these guys work. I think at Mosport we're going to have some speed. I think we can still hang on and fight for this championship, no problem. We're still in it and we're not even halfway through the season."
Devin Jones, Mooresville, N.C., driver, No. 81 Veristor/Legistics BMW 328i (F30 chassis):
"The BimmerWorld Racing guys did a great job preparing this car. It was fast all weekend. The heat played a little bit of a role today from the standpoint of track conditions. The track was a little greasier and there wasn't as much grip today for the race, so that caught everybody off a bit. We were chasing the rear end of the car a little bit during the first stint. We made a little tire pressure adjustment for the next stint and it seemed to help the car a lot. I really thought we had the car to win. We had an unfortunate little issue with fueling the car on our final pit stop which kind of set us back a little bit, but everybody rallied well. And we still came away with second, which is good for points and something to build on when we go to Canada this week. I just have to thank Veristor; Nick did an awesome job, and we're really looking forward to the rest of the season.
"I think we have some good momentum going into the Canadian Tire Motorsport Park race. We are hungry for a win and came pretty close at The Glen, but that just makes us want it even more this coming weekend in Canada."
Pre-race Q&A for Saturday's upcoming race at Canadian Tire Motorsport Park:
James, you and Tyler qualified just 0.154 off the pole and led the most laps in this race in ST last year, got hit twice, and still finished fifth. What do you think will happen this year, now that you're in GS and with a new car?
James Clay: "The best thing about IMSA racing and this insanely competitive class is that I have absolutely no idea how it will go — but it will be spectacular! The BMW M4 GT4 is a well-balanced car and BMWs are historically very good in the long, flowing turns there, and I know I love the track and level of commitment it requires. I feel good about it, but I wouldn't even stick my neck out very far at the green flag as to how we will fare."
Mosport has predominantly high-speed corners but is very easy on brakes. How will that benefit you and your BMWs?
James Clay: "It has very few significant hard-braking zones because it has primarily fast, flowing corners, but I think the braking performance of the car is more critical here than almost any track! The ability to slow the car down into Turn 8, but with a smooth release so the car will float through the corner at about 150 kilometers per hour is something our Performance Friction Brakes excel at. And braking into the steep hill into Turn 5 is the most pedal pressure we will throw at the car all year, and a critical area for speed. We hope we will have good straight-line speed, but with the fast flow of this track, the few braking areas are where we are going to have to make or defend our position."
How do you like back-to-back races? Are they exhausting, or do they really get your momentum going?
Tyler Cooke: "I love it; racing is my passion and I love to be in the seat racing wheel to wheel."
The Mosport track is treacherous in the rain. How do you prepare for a rain race/driving in the rain? Do you like it?
Tyler Cooke: "Rain racing is great. It's where you see some awesome racing and brings everyone to a level playing field. You prepare for it from years of doing it. If it's a rainy race, it will keep people on the edge of their seat."
James and Tyler have proved your car can be a real contender at CTMP. What are your thoughts going into this event?
Nick Galante: "I've been watching some videos of our car at that track and am really looking forward to it. This will be my third race there, and I'm finally comfortable at this beast of a track."
How do you like back-to-back races? Are they exhausting, or do they really get your momentum going?
Nick Galante: "I love being in the car as much as possible. I think I'm like a goldfish and forget a lot if there is too much down time in between races. I get excited for this busy part of the season. Also, my wife gets to come to most of these upcoming races, and she's a proven good luck charm."
Mosport has predominantly high-speed corners but is very easy on brakes. How will that benefit you and your BMW?
Nick Galante: "I'll be a little bummed not to be able to use those great brakes, but will have a lot of fun in the corners. Our car has been very predictable and stable thanks to our great engineers."
Historically, if you go off track at Mosport, the car is usually damaged. That usually leads to a number of cautions. How can you take advantage of that?
Devin Jones: "We just have to stay out of trouble and keep our nose clean through TCR and GS traffic. Hopefully the added cautions will help our current fuel situation with the car."
What does Canada have that is better than its counterpart in the United States?
Nick Galante: "I love the United States, but sadly this would be a long list. I'll keep it short and sweet. The top three: kindness, health care, and poutine."
Devin Jones: "Milk sold in a bag?!"
Do you have a memorable "Mosport Moment" that you can share?
James Clay: "One of my favorite memories involves a much younger BimmerWorld team from over 10 years ago and a series of events in a pair of rental vans that ended with us driving to the track and through the paddock with one side door open and a very questionable windshield — and parental supervision for the rest of the weekend. I blame the whole incident on Seth Thomas."
Tyler Cooke: "Mosport was my race first out of the U.S. and is where I met my girlfriend, so it's definitely memorable to me."
Nick Galante: "I guess I can share my not-so-great moment. My first time here was back in 2015 and I found out the hard way that this is one of the only road courses in the world where a downshift into Turn 1 will make things very interesting. I had a momentary lapse of judgment in the first practice and spun the car on my third lap around."
Devin Jones: "The best moment for me was 2015 when I got my first pole and the track record. It was unexpected and a fond memory from Mosport."
FOLLOW BIMMERWORLD AT: https://www.facebook.com/bimmerworld
STAY UP TO DATE WITH BIMMERWORLD NEWS AT: http://www.bimmerworldracing.com
ABOUT: BimmerWorld is renowned as a leader in BMW aftermarket and tuning expertise. It competes in the IMSA Continental Tire SportsCar Challenge series in both the Grand Sport (GS) class with a brand-new BMW Motorsport M4 GT4 and in the Street Tuner (ST) class with a turbocharged BMW 328i (F30 chassis), where the Virginia-based outfit has become a routine winner and championship contender.
Tags