Mixed Fortunes For BimmerWorld At Mid-Ohio GRAND-AM Event
June 18th, 2013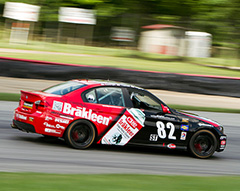 Tough weekend for the Virginia-based BMW tuning and aftermarket specialists sees the No. 82 CRC BRAKLEEN® BMW 328i driven by Seth Thomas and Dan Rogers lead the team home in 12th.
The BimmerWorld Racing team had designs on filling the GRAND-AM Continental Tire Series podium at Mid-Ohio with its trio of BMW 328is last weekend after the team's exhibition of speed at the last round in Atlanta.  But a rare occurrence played out in the Street Tuner class which saw the Nos. 80, 81 and 82 entries all finish outside the top 10.
Efforts by the team to use the talents of its drivers, effective race strategy from its engineers and rapid pit stops from its crew weren't enough to overcome a frustrating day of on-track activity.
Altogether, the Mid-Ohio event will be one team owner/driver James Clay and his team of BMW experts will look to put it behind them with shifting their focus to getting ready to race at Watkins Glen on June 28.
"A race like this isn't typical for our team and it doesn't sit well with anyone," said Clay. "Certainly we will look at what went wrong, but we are executing well this year and I feel it was mostly just a mix of bad luck, lack of a few redeeming opportunities, and on a track that wasn't great for our cars. I am definitely looking forward to the next race and opportunity."
Seth Thomas, who led the No. 82 CRC BRAKLEEN® BMW 328i home to a 12th-place finish with co-driver Dan Rogers, persevered on a day where winning was out of reach.
"Mid-Ohio proved to be our biggest nemesis so far this season," he said. "It was a track where we have always had great success but this year it was tough for us.  Our overall speed was a little off compared to our competition but we played the right strategy to put us in contention.  I made a mistake that cost us and moved us from the top 10 to outside the top 20, but fought back to 12th.  We'll take the points and move on to our next race at Watkins Glen where I know we will be running towards the front again."
Tyler Cooke, who shares the No. 81 BimmerWorld BMW 328i with Gregory Liefooghe, gained more experience during the race that will help him as his career continues to flourish.
"One of the things Mid-Ohio reinforces is that you can lose a lot in a race, more than just the ability to win, and it can affect your standing in the championship. Everybody is trying to win the championship, and you really have to look at earning every extra position, every extra point to help. Looking at the 'big picture' is really important."
A similar note came from Greg Strelzoff, who partners with Connor Bloum in the No. 80 BimmerWorld BMW 328i.
"There are a lot of lessons to come from Mid-Ohio; I had more in-race contact at this one race than all others combined and I have to continue to be used to this and not let it alter the way I drive," he said. "I am learning when it is appropriate to hold or give ground, and at the same time not compromising results in the process. Overall, it was not an easy race for me and I am very glad that we don't have a long break until the next round."
Follow the team's progress throughout the weekend atwww.BimmerworldRacing.com, and catch the Mid-Ohio race when it airs at 4 p.m. ET June 23rd on SPEED.
Tags