BimmerWorld Racing Celebrates Double Podium Finishes at Mid-Ohio
May 7th, 2018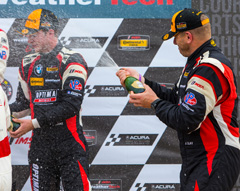 BimmerWorld Racing of Dublin, Va. finished third in both the Grand Sport (GS) and the Street Tuner (ST) classes on Saturday as the IMSA Continental Tire SportsCar Series staged a race at the Mid-Ohio Sports Car Course in Lexington, Ohio for the first time since June 2013.
Team owner James Clay of Blacksburg, Va. and his co-driver, Tyler Cooke of Fort Lauderdale, Fla., were in the hunt throughout the race with their GS entry, the new No. 82 OPTIMA Batteries BMW M4 GT4. Clay qualified seventh with a time of 1:28.397 and was second by lap 12. Their first pit stop for fuel under a full-course caution on lap 16 dropped the BimmerWorld M4 back to seventh, but Clay was able to advance into fourth place by lap 20. Due to pit stops, he was in second place again when he made his second pit stop on lap 38, handing the car over to Cooke with fresh tires and more fuel.
There were an unusual number of penalties in this race, and unfortunately, the No. 82 M4 received a drive-through penalty for excessive wheel rotation (wheel spin) during the second pit stop. Even after serving it, Cooke ran a strong fifth and advanced to fourth on lap 48 with about 41 minutes remaining. He slipped to fifth on lap 50 but regained fourth with 36 minutes left. He was the fastest of any driver in the top five on lap 54 and passed Hugh Plumb for third on lap 58 with 27:57 left in the race. Cooke set the car's fastest lap of the 77-lap race on lap 65 with a 1:28.663 and finished third even though he had to conserve fuel at the end.
The team's ST entry had an equally impressive run. Nick Galante of Greenfield, Mass., set a new ST track qualifying record with the BimmerWorld No. 81 Veristor/Legistics BMW 328i (F30 chassis) with a time of 1:34.309 to earn the class pole. He led the first 15 laps before pitting for fuel on lap 17 under the same early caution that Clay used to make his first pit stop. Galante dropped to fifth in class after the stop but battled back to third by lap 30. He set the car's fastest lap of the race with a 1:35.631 on lap 34, two laps before he charged into the lead again on lap 36. Galante led for five laps before pitting again to allow his co-driver, Devin Jones of Mooresville, N.C., to take over.
Despite never having seen Mid-Ohio before, Jones started his stint in fourth place and was able to advance to third when the second-place MINI of Derek Jones (no relation) pulled off into the infield with mechanical difficulties with about a half-hour remaining. Devin Jones was then able to keep his BMW in the final podium position until the end for another strong finish for BimmerWorld.
The race will air on FOX Sports 1 on Saturday, May 12 from 12:30 p.m. to 2:30 p.m. Eastern. The next event is June 28-July 1 at Watkins Glen, N.Y. More info is available on imsa.com.
James Clay, Blacksburg, Va., team owner and driver, No. 82 OPTIMA Batteries BMW M4 GT4:
"We had the best car we've had in this GT4. The setup was just perfect and we knew it in qualifying. Unfortunately red flags kept us from putting more qualifying laps down. We knew we had pace out there and a little help from the other competitors who got together, and we were able to stay clean. I had a great drive, one of the most fun in recent memory. Our early stop for fuel was a great call by the guys, and I handed the car off to Tyler with a short pit stop coming. Then we had a little bit of bad luck obviously with the ding in the pit stop, but Tyler drove great, and now we're here on the podium. We've had good pace for the last three rounds, and I think we're really starting to figure this car out, so I feel really good about what we have going on. We needed to do well here; it's a strong BMW track so the points are hugely valuable with less BMW-friendly tracks coming up. I love driving with Tyler. He's an excellent co-driver, and I think we have a great team, so I'm absolutely looking forward to the next one."
Tyler Cooke, Fort Lauderdale, Fla., driver, No. 82 OPTIMA Batteries BMW M4 GT4:
"The team gave us an awesome car. James gave us a hell of a stint to the front and ended up getting second, which gave us a really good boost. The fuel call was perfect on (Race Engineer) Wayne's part, and it really put us ahead. Our pit stop allowed us to jump the leader, but unfortunately, a little miscommunication in the pits resulted in us having to do a drive-through, which is kind of heartbreaking because we knew we had a car to go win it. But it was an amazing job by the team and by the guys on pit row. Without a team, you can't win, so hats off to them and hats off to everyone in the pits. I'm looking forward to Watkins Glen in about two months."
Nick Galante, Greenfield, Mass., driver, No. 81 Veristor/Legistics BMW 328i (F30 chassis):
"We ran well. We had a good opening stint, and we had good pace for the opening drivers. The car setup was great. We had a good strategy, but some of the cars on track didn't follow the correct yellow flag procedures and instead of starting with our ST pack on the restart, we were in the middle of a jumbled field and weren't able to build the gap we wanted, and that's ultimately what kind of got us. If we had a couple yellows, we could have battled for the lead since we had the same pace as the two cars in front of us, but we just couldn't gain on them. I think we have the car that can win; it just didn't go the way it's supposed to, and we can't control the other cars that aren't following the procedures in the rules. Sometimes it's a crapshoot and unpredictable, but we have some of the top guys working for us at BimmerWorld."
Devin Jones, Mooresville, N.C., driver, No. 81 Veristor/Legistics BMW 328i (F30 chassis):
"First off, Nick had a great first stint and great qualifying run. He had a lot of speed all weekend, which was awesome. Our car was great all weekend, too; just a few little minor adjustments were all we had to make. Nick opened up a pretty good gap, which we gave away to come in and get fuel. That kind of shuffled us back during the first stint. He was able to make up some ground, but we came in for the driver change under green in third, and we weren't able to make up the deficit. The MINI guys got on me a little bit when we had cold tires, but once we got some heat in the tires, we were able to keep pace with them. By then, the gap was already opened up. I want to thank Veristor, Legistics and everybody who supports us."
FOLLOW BIMMERWORLD AT: https://www.facebook.com/bimmerworld
STAY UP TO DATE WITH BIMMERWORLD NEWS AT: http://www.bimmerworldracing.com
ABOUT: BimmerWorld is renowned as a leader in BMW aftermarket and tuning expertise. It competes in the IMSA Continental Tire SportsCar Challenge series in both the Grand Sport (GS) class with a brand-new BMW Motorsport M4 GT4 and in the Street Tuner (ST) class with a turbocharged BMW 328i (F30 chassis), where the Virginia-based outfit has become a routine winner and championship contender.
Tags