BimmerWorld Racing Takes Top 10 in Mid-Ohio's MICHELIN Pilot Challenge Race
May 6th, 2019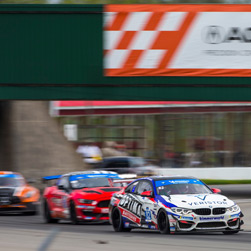 The Mid-Ohio 120 race for the IMSA MICHELIN Pilot Challenge series at the Mid-Ohio Sports Car Course in Lexington, Ohio brought about unpredictable weather conditions that challenged the teams, drivers and engineers. Leading the Grand Sports (GS) points coming into the race, the duo of James Clay, of Blacksburg, Va. and Devin Jones, of Mooresville, N.C., drove their No. 82 OPTIMA Batteries/Veristor BMW M4 GT4 to a ninth-place finish in the Lexington, Ohio two-hour race with mixed weather.
James Clay qualified in sixth position on race morning on a wet track with a constant drizzle. After the previous two days of on-and-off rain, the BimmerWorld team prepared for the afternoon race ready for any possible condition.
Although Round 3 of the MICHELIN Pilot Challenge race started with fairly dry conditions, radar showed rain coming mid-race. Clay lost a couple of positions on the race start when his row stalled before the start line, but he methodically worked his way forward into the second spot by the one-hour mark when the third caution of the race flew.
Windshield wipers were waving throughout the field and rain was falling around the 2.258-mile, 13-turn road course, leading the BimmerWorld team to make the defining call for their race. In the scheduled pit stop under yellow, the field pitted with several cars opting for rain tires, including the BimmerWorld No. 82 BMW M4 GT4 Grand Sport (GS) entry. At that time the team executed their driver change from Clay to Jones.
Jones pushed hard, but when the heavy rains didn't materialize for their rain tire strategy, speed was elusive. In the end, the team had to settle for a ninth-place GS class finish and 12th overall in the 37-car field.
The Mid-Ohio 120 race will be shown on NBCSN from 11 p.m. to 1 a.m. Eastern on Saturday, May 11.
The next event will be the Tioga Downs Casino Resort 240, a 4-hour endurance race, at Watkins Glen International in Watkins Glen, N.Y on Saturday, June 29.
Post-race quotes follow:
James Clay, Blacksburg, Va., team owner and driver, No. 82 OPTIMA Batteries/Veristor BMW M4 GT4:
"Things went great all weekend. We had a good practice on Thursday. We never really got to exercise the car on Friday, so I started race day so amped up. I love the track, and we had everything together this weekend. I just wanted to race all weekend. We finally got to race, and the car was fantastic. We definitely had a car to win the race this weekend. We made a pretty bold call in the pits with the (rain) tires. It wasn't the right one in retrospect, but at that moment, it wasn't the wrong one either. It played out, and we've seen the weather go all over the place this weekend. We had no idea, and Devin hung on to what we had and did a great job out there. It's not the finish we wanted, but it was a good race."
Devin Jones, Mooresville, N.C., driver, No. 82 OPTIMA Batteries/Veristor BMW M4 GT4:
"When I got in the car, we were banking on it raining harder than it was. Looking at the radar, we were hoping it was going to pick up and it never quite did. I was stuck out on rain tires with a few other guys. It was definitely interesting. It was like driving a street car out on the track for 40 minutes.
"James did incredibly well and had a great first stint. He was running up towards the front. I think if we would have put on dries (tires), or if the race would have been dry the whole way, we could've definitely had a shot at a podium. But that's how it is, especially at this track. They were really unpredictable conditions. We saw that all weekend with mixed track conditions and the weather was just super weird all weekend. We'll take ninth and move forward. I just want to thank everybody that supports us, and we'll look forward to Watkins Glen."
FOLLOW BIMMERWORLD AT: https://www.facebook.com/bimmerworld
STAY UP TO DATE WITH BIMMERWORLD NEWS AT: http://www.bimmerworldracing.com
ABOUT: BimmerWorld is renowned as a leader in BMW aftermarket and tuning expertise. It competes in the IMSA MICHELIN Pilot Challenge series in the Grand Sport (GS) class with a BMW Motorsport M4 GT4, where the Virginia-based outfit has become a winner and championship contender. It was also the Street Tuner champion of that series in 2018. 2019 also marks BimmerWorld Racing's return to the SRO TC America Championship in the Touring Car (TC) class with two BMW Motorsport M240i Racing cars.
Tags