Strong Results for Copart/BimmerWorld Racing at VIRginia International Raceway
May 3rd, 2019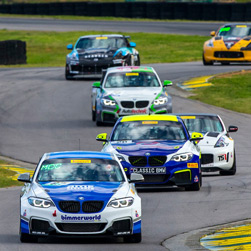 Copart/BimmerWorld Racing had a strong showing for Rounds 3 and 4 of the 2019 TC America series (formerly Pirelli World Challenge) at VIRginia International Raceway. The new team for 2019 had its best-ever finishes in their BMW M240i Racing entries.
The driver duo of Chandler Hull and Cameron Evans finished fourth and eighth respectively in Saturday's incident-filled sprint race. With unfinished business after Saturday's race, the duo finished career bests with second- and fourth-place finishes after Sunday's eventful 40-minute sprint race.
Multiple red flag conditions in qualifying resulted in very few completely laps, landing Hull in the sixth position and Evans in eighth, with Sunday's grid set by fast laps from Saturday's race.
As Race 1 unfolded, the first of many accidents allowed Hull to capitalize on contact at the front and jumped into the fourth position on Lap 1 before a red flag stopped the race. Evans was not as lucky, getting tagged from behind under braking by Moisey Uretsky in the No. 55 Murillo Racing BMW on Lap 2 and suffering wheel and hub damage. The David Wagener-led BimmerWorld squad quickly repaired the damage in the pits without losing a lap in the caution-shortened race, allowing Evans to finish eight in the No. 82 as the race never went back to green flag conditions.
Following Race 1, the SRO stewards had a busy time ahead of them sorting out incidents and subsequent penalties. The result was good for Hull, as Nissan's Paul Terry had his fast lap excluded and Hull would then start in the pole position for Sunday's race.
The Race 2 start had Chandler nearly sandwiched between crashing cars, losing his pole advantage but settling into second place behind eventual winner Johan Schwartz in the No. 80 Rooster Hall BMW. The rest of the 40-minute sprint saw Hull keeping up with Schwartz but unable to get by him as the tires on his No. 94 BMW started to drop off.
After gaining several positions by also avoiding incidents on the first lap, Evans dug in and caught the tail of the lead pack, battling for a podium finish with Uretsky's BMW to the final lap. In a final effort, Evans tried a late-braking maneuver into Turn 1 but was unable to make it stick.
As the checkered flag flew, Hull achieved his first-ever podium and sits fourth in the series point standings. Evans had the second fastest lap of the race and left Virginia eighth in points. The Copart/BimmerWorld team now sits sixth in team points in the SRO TC America Championship and takes this success onto the next round in Sonoma, California, June 7-9.
Post-race quotes follow:
Chandler Hull, Dallas, TX, driver, No. 94 Copart/BimmerWorld BMW M240iR:
"Race 1 was eventful. Fortunately, I was able to stay clear of the chaos and get a quick lap in before we finished under a safety car. I had a big off in Turn 10 and was fortunate to gather it up and not lose time. As I crossed the finish line, our engineer Dave Wagener said that I had run the second fastest lap of the race! It made a great feeling even better since I had just had my best finish of the year.
"To finish in second place on Sunday felt amazing, but more importantly it shows that our Copart/BimmerWorld cars are dialed in and we're ready to fight the rest of the season."
Cameron Evans, Ketchum, ID, driver, No. 82 Copart/BimmerWorld BMW M240iR:
"You need to start these weekends off at the front to have a great chance to win—I didn't do that and suffered for the rest of the weekend. But I was ready to pounce on Saturday after catching the field and was really proud of my drive on Sunday. These cars are dialed in for the conditions every weekend, and our guys are focused on all the right variables. Bring on Sonoma, we're prepared."
FOLLOW BIMMERWORLD AT: https://www.facebook.com/bimmerworld
STAY UP TO DATE WITH BIMMERWORLD NEWS AT: http://www.bimmerworldracing.com
ABOUT: BimmerWorld is renowned as a leader in BMW aftermarket and tuning expertise. It competes in the IMSA MICHELIN Pilot Challenge series in the Grand Sport (GS) class with a BMW Motorsport M4 GT4, where the Virginia-based outfit has become a winner and championship contender. It was also the Street Tuner champion of that series in 2018. 2019 also marks BimmerWorld Racing's return to the SRO TC America Championship in the Touring Car (TC) class with two Copart-sponsored BMW Motorsport M240i Racing cars. Additional sponsorship comes from Lund International, OZIUM Air Sanitizer, Cyclo Industries, Red Line Synthetic Oil, Lifeline Fire and Safety Systems, AMP Research, and Performance Friction Brakes.
Tags