BimmerWorld Racing Juggles IMSA and Pikes Peak next Weekend
June 19th, 2019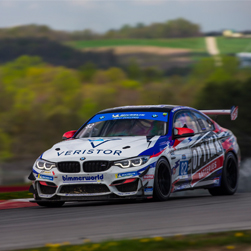 BimmerWorld Racing will be competing in dual events next weekend as they seek to close the points gap in the IMSA MICHELIN Pilot Challenge series in Watkins Glen, N.Y., while also racing in the legendary Pikes Peak International Hill Climb in Colorado.
Watkins Glen International will host round four of the 10-race series for the IMSA Michelin Pilot Challenge race on Saturday, June 29. The Tioga Downs Casino Resort 240 at The Glen will be a four-hour race at the 3.4-mile, 11-turn road course.
Team owner James Clay of Blacksburg, Va. and co-driver Devin Jones of Mooresville, Va. will pilot the BimmerWorld Racing No. 82 OPTIMA Batteries/Veristor BMW M4 GT4. Clay will have an intense travel schedule during the race weekend as he shuttles between Watkins Glen, N.Y. and Pikes Peak, Colo., where he will compete in the Pikes Peak Open class in the No. 36 BMW, a second M4 GT4 from the Bimmerworld Racing stable. This is the 97th annual running of the Pikes Peak International Hill Climb and Clay's second effort.
The Dublin, Va.-based BimmerWorld Racing team is just two points out of the points lead in the Grand Sport (GS) class after three rounds. The popular BMW team finished fourth at Daytona International Raceway in January, second at Sebring International Raceway, and most recently finished ninth at Mid-Ohio.
The Watkins Glen MICHELIN Pilot race is a three-day event with one practice session on Thursday at 2:05 p.m. Friday will feature two practice sessions, from 8:00-8:45 a.m. and from 12:40-12:55 p.m. This leads into qualifying at 1:25 p.m. for 15 minutes. The always-popular open-grid fan walk begins at 12:50 p.m. and the field will warm up its Michelin tires at 1:45 p.m. for formation laps with the race being scheduled to start at 1:55 p.m.
The event will be streamed live on imsa.tv, and there will be live timing and scoring on imsa.com. The race will be broadcast on NBCSN on Thursday, July 11 from 6:00-8:00 p.m. All times are Eastern.
Pre-race quotes follow
James Clay, Blacksburg, Va., team owner and driver, No. 82 OPTIMA Batteries/Veristor BMW M4 GT4:
Tell us about your schedule this week with competing in both the IMSA race and at Pikes Peak.
"Pikes Peak is a very difficult event on its own, but combine the run up the mountain to the over 14,115′ summit with the logistics of practicing on the mountain all week, then flying 1,700 miles for our IMSA race on Saturday, then back for an early morning race up Pikes, and I will be pushed pretty hard this year."
You and Devin seem to have found a good connection this year as teammates. How are you two similar and how are you different?
"I think we've merged very quickly into a very effective driver pair. We drive similarly enough to have matching feedback, so car development is very quick, which I think gives us an edge. And we can apply the other's feedback to small nuances of a given track and immediately make it work. This will be especially helpful this race with the double-duty I'll be pulling with Pikes Peak in Colorado happening simultaneously. I'm really glad Devin will be there to focus on the GT4 development through the weekend. It's in good hands."
We are back to racing at a 4-hour event at The Glen. In the past, you've said it doesn't matter if you're racing two or four hours, you're ready to race either length. What are some of the preparation difference the team must perform for the longer races?
"Really, we just look at consumables and component life and plan accordingly for the extra two hours, but otherwise, the preparation is the same—the guys put together the best car they can."
What do you think is the most fun part or corner to drive at The Glen and why? What do you find as the most challenging?
"The most challenging corner for me is 11 onto the front straight. I had a pretty brutal brush with the old tire wall there a bunch of years ago, and I always give that turn and that wall a fair amount of respect coming into the weekend."
No matter what grid position you start from, you seem to be very good at advancing quickly. What weakness do you look for in the other cars/drivers when you're on track to get by them?
"A couple of years ago I was on pace for a record number of pole positions, but this year it seems to be more about a decent qualifying and then progress through my stint. I'm working on that, but without a second team car, it's a tick tricky to nail the exact window for the tires with the right situation in front of you to put down the best lap. Once the race starts, I'm focused on adapting to the car I'm driving and the challenges of the individual cars around me. I've been able to hustle up to the front so far this year, but it's also largely from having a really good car to work with."
Watkins Glen has a lot of racing history over the decades. If you could drive any car on this legendary circuit, which would you want to drive and why?
"I'm always very content to be in the car I am at the moment in almost any given weekend and situation—as long as it's a BMW!"
Devin Jones, Mooresville, N.C., driver, No. 82 OPTIMA Batteries/Veristor BMW M4 GT4:
You and James seem to have found a good connection this year as teammates. How are you two similar and how are you different?
"James and I have really meshed well so far this season. We both want a similar feel in terms of car setup, which is always important with co-drivers. How we both get a lap time is different, which is actually really interesting and helpful because we can both learn from each other and improve our performance."
We are back to racing at a 4-hour event at The Glen. As a driver, what are the differences in preparing for a four-hour race versus a two-hour race?
"As a driver, the preparation isn't much different than any other event. We know that during a four-hour race, a lot more can happen in terms of strategy. Usually, at these longer and bigger races, teams will push that little bit harder because it's a special event. A driver's job is being prepared to run a longer stint, and if we see temperatures as high as they were last year, you have to be ready for that extra physical exertion."
It appears you've adjusted well and quickly to the GS class after winning the ST class championship last year. What do you find to be the biggest differences?
"The competition in the GS class is stacked with talented drivers and teams. Any given weekend, multiple teams and manufacturers have a chance to win. The switchover from ST has really been a lot easier since I'm still with the same group of guys on the BimmerWorld team; they are the best in the business, and they make my job easy."
You seem to have found the position as the closer in most races this season after James qualifies and starts. How do you like that position and what are you most often seeking to be able to advance?
"I've liked closing races in the past; I've been able to start my fair share as well. James and I are both equal drivers, so we're both comfortable in either position. Starting and finishing both come with a big responsibility and are equally important in terms of getting a good finish."
Watkins Glen has a lot of racing history over the decades. If you could drive any car on this legendary circuit, which would you want to drive and why?
"I was able to race a NASCAR Xfinity race there last year and that was really awesome to drive that kind of car at Watkins!"
FOLLOW BIMMERWORLD AT: https://www.facebook.com/bimmerworld
STAY UP TO DATE WITH BIMMERWORLD NEWS AT: http://www.bimmerworldracing.com
ABOUT: BimmerWorld is renowned as a leader in BMW aftermarket and tuning expertise. It competes in the IMSA MICHELIN Pilot Challenge series in the Grand Sport (GS) class with a BMW Motorsport M4 GT4, where the Virginia-based outfit has become a winner and championship contender. It was also the Street Tuner champion of that series in 2018. 2019 also marks BimmerWorld Racing's return to the SRO TC America Championship in the Touring Car (TC) class with two BMW Motorsport M240i Racing cars.
Tags