Copart/BimmerWorld Racing Team Ready to Maximize Momentum at Watkins Glen
August 29th, 2019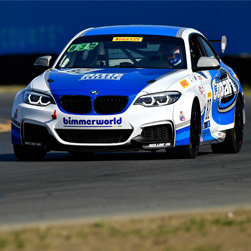 The SRO TC America series returns to Watkins Glen International August 30 through September 1. The two-car Copart/BimmerWorld Racing Team is looking for their fourth consecutive weekend on the podium in TC America, and they're highly prepared for the 15-car field in the Touring Car class. Drivers Chandler Hull and Cameron Evans will contest two 40-minute events in BMW M240iR Cup racecars at the renowned 11-turn, 3.4-mile road course. With three podium finishes and three fourth-place finishes, this is clearly an up-and-coming team.
Coming off his second podium finish of the season at Portland International Raceway in July and a debut in the VLN series at Germany's famed Nürburgring, Chandler Hull, in the No. 94 car, found the confidence that a young rookie needs to be successful in a field full of veterans. Hull sits sixth in the TC America championship points, while the Copart/BimmerWorld team is 3rd in the overall team championship standings. More impressive is how Hull continues to accelerate his racing career with two podiums and two fourth-place finishes this season. Very few drivers have only one year of club racing under their belt and come out with highly experienced drivers to compete at this level.
Evans had a disappointing sixth-place finish at Portland, losing a podium position on the last lap of Sunday's race due to a fuel problem. He was the Sunday winner at the third stop in Sonoma, after gaining pole position and leading flag-to-flag in a hard-fought battle. It was Evans' first pro-series victory after a long career of competitive club racing, and he also had a fourth-place finish in the Sunday race at VIR and sits 4th in the TC championship points. He had a busy few weeks of racing since, with a competitive run at the VLN 6-hour race at Germany's Nurburgring, as well as a third-place overall finish at the ChampCar 24-Hour at VIRginia International Raceway.
Hull, Evans, and the whole team are in the hunt for overall top-three point finishes with three race weekends remaining. BimmerWorld president James Clay will be on site with the team, as well as racing in a BMW M4 GT4 in the Sprint X competition.
The Saturday race at 1 p.m. and Sunday race at 8:30 a.m. will be streamed at the tcamerica.us website, where live timing and scoring results can also be found. All times are Eastern.
Pre-race Quotes Follow
Chandler Hull, Dallas, TX, driver, No. 94 Copart/BimmerWorld BMW M240iR:
"The Portland weekend ended on a high note for me. It was a challenge all weekend, but I'm ready to carry that momentum into the Glen. Having a lengthy break in between SRO weekends allowed me to try my hand at the famed 'Ring in Germany and prepare for this race. I'm really looking forward to this weekend as I love this circuit—it's fast and flows well, which should allow my driving style to shine through. Our Copart/BimmerWorld cars should be dialed in this weekend, and we're ready to fight for podium spots."
Cameron Evans, Ketchum, ID, driver, No. 82 Copart/BimmerWorld BMW M240iR:
"It was disappointing to be in a position for a podium and lose the points, but we overtook tough cars on a track that doesn't offer much passing. We showed the field that we're quickly gaining the pace to run up front.
"We tested at Watkins Glen a few weeks back and found insights on both car setups, and I got some time off the clock as well. I've raced here in years past with BMWCCA Club Racing and really appreciate the challenge."
James Clay, Blacksburg, VA, Team Principal
"Chandler and Cameron have put in a lot of work this year, and we get better every race and every weekend. For us to assemble this team so quickly and repeatedly finish on the podium is no small feat. With just three weeks before the first race, we received the cars, and in a very short period, we had them race-ready and prepared to kick off the season. In fact, in the first stop of the season, on Sunday at Circuit of the Americas in Austin, Texas, they lead one-two for almost half the race in a rainy track situation. We're still getting fully on top of the cars and setup through our first season with them, and I think we have most of the pieces together to be at the pointy end of the field after our recent test here. I'm excited to see the boys take another step forward this weekend!"
FOLLOW BIMMERWORLD AT: https://www.facebook.com/bimmerworld
STAY UP TO DATE WITH BIMMERWORLD NEWS AT: http://www.bimmerworldracing.com
ABOUT: BimmerWorld is renowned as a leader in BMW aftermarket and tuning expertise. It competes in the IMSA MICHELIN Pilot Challenge series in the Grand Sport (GS) class with a BMW Motorsport M4 GT4, where the Virginia-based outfit has become a winner and championship contender. It was also the Street Tuner champion of that series in 2018. 2019 also marks BimmerWorld Racing's return to the SRO TC America Championship in the Touring Car (TC) class with two Copart-sponsored BMW Motorsport M240i Racing cars. Additional sponsorship comes from Lund International, OZIUM Air Sanitizer, Cyclo Industries, Red Line Synthetic Oil, Lifeline Fire and Safety Systems, AMP Research, and Performance Friction Brakes.
Tags