One Month After Their Historic Win At Indy, BimmerWorld Is Ready For More In Monterey
September 5th, 2012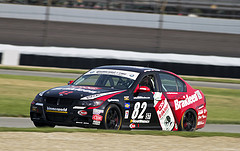 With a pair of GRAND-AM wins this season and the championship drawing to a close, the BMW experts are looking for more success at the storied Monterey road course
With more than a month since BimmerWorld made history by winning the first-ever GRAND-AM Continental Tire Series Street Tuner race held at the famed Indianapolis Motor Speedway, the BMW experts are back in business this weekend for a race on another famed circuit.
Making the trek from their base in Dublin, Virginia, BimmerWorld's three-car BMW 328i team will unload its cars at Monterey Peninsula and take on the 11-turn, 2.2-mile Laguna Seca road course.
Team owner, James Clay, who shares the No. 80 BimmerWorld 328i with co-driver, John Capestro-Dubets, says he's reveled in the glorious result from Indy, but there's been little in the way of idle time for everyone involved with the program.
"Indy was an amazing weekend," he remarked. "Our team made some great strategy calls, the drivers kept up the hard work they have been putting in all season, and we had an awesome result. Finishing 1-2 is likely to be the high-point of this season, but just like when I am driving the car, I am keeping my eyes forward and looking toward the remaining two events and on to the full 2013 season.
"I have filled the time with several races and track events and I have gotten a lot of positive feedback from friends and customers, but no one here has stopped work to pat ourselves on the back. I think this is what makes BimmerWorld great, and continues our growth and success in the performance BMW parts business, as well as on the race team."
Clay and "JCD" followed their sister No. 82 BimmerWorld 328i across the finish line at Indy to fill two of the three spots on the podium, in addition to claiming the duo's third consecutive visit to the podium. It also marked their fourth straight top 5 result, which makes continuing the late-season charge a priority this weekend for the No. 80.
"JCD and I have had several strong finishes in a row and really started working perfectly together in the car," said Clay. "Laguna was good for the BimmerWorld ST cars last year. I think we have addressed a suspension deficiency we had last year and I really hope to have an awesome car for this year's race. We have grown accustomed this year to getting it done with teamwork and braking and handling performance, and I feel those components are really working at this point in the season. I think a win is within our grasp, but as always, it will take a little luck along with our best effort."
For Dan Rogers, half of the winning Indy combination with teammate Seth Thomas, getting his first professional win in the No. 82 CRC BRAKLEEN® BMW 328i has made him hungry for more.
"The reality of a BimmerWorld 1-2 at Indy is a fond memory, for sure," he said. "We celebrated, but then started looking at data from past races at Laguna, and trying to anticipate what the upcoming race was going to be like. If the temperatures are cool there, the BimmerWorld 328i is always a solid platform to race from and should be good at Laguna. We're going after win number two this weekend, that's for sure."
Gregory Liefooghe and co-driver David Levine nearly made it a BimmerWorld 1-2-3 at Indy, but fortunes did not favor the road racing ace and his rookie teammate. As a professional driving instructor and Bay Area resident, Liefooghe will be relying on his local knowledge to make up for Indy by taking the No. 81 BimmerWorld 328i to the front of the field.
"I think the key to our rebound after missing out on a deserving finish at Indy will be our car," he said. "BimmerWorld worked hard and brought some very fast cars at Indy. Even though we didn't finish, we were running in third and looking for a podium finish when we had an issue.
"And with Laguna being in my backyard, track knowledge will be on my side. And it's nice not flying to get to a race! We want to keep the positive momentum going all weekend and to the season finale later this month."
Follow the BimmerWorld team this weekend at www.BimmerWorldRacing.com
Tags