Both BimmerWorld BMWs Finish in the Top 10 at Mazda Raceway Laguna Seca
September 25th, 2017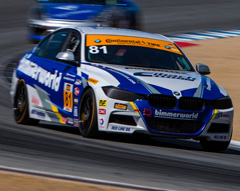 BimmerWorld Racing came away with a sixth- and an eighth-place finish in the Street Tuner (ST) class Saturday in the four-hour IMSA Continental Tire Sportscar Challenge race at Mazda Raceway Laguna Seca near Monterey, Calif.
Two Californians — Ari Balogh of Menlo Park and Greg Liefooghe of San Francisco — finished sixth in the Dublin, Va.-based team's Powerflex No. 81, a turbocharged BMW 328i (F30 chassis).
Team owner James Clay of Blacksburg, Va. and his co-driver, Tyler Cooke of Matthews, N.C., finished eighth with the OPTIMA Batteries No. 84. Unofficially, Clay and Cooke are now tied for fourth place in the ST point standings with four other drivers heading into the season finale Oct. 4-7 during the Petit Le Mans weekend at Road Atlanta in Braselton, Ga.
Clay qualified fifth in the field of 17 Street Tuner cars on Friday with a time of 1:39.614, just 0.856 off the pole for the 2.238-mile, 11-turn road course. He vaulted into third on the first lap, set the car's fastest lap of the race on lap two with a 1:40.780, moved into second place by lap three and even led eight laps from laps 22 through 29.
Clay was second when he pitted about one hour and 11 minutes into the race, but a problem with the car's hood pin caused the right side of its hood to come up as Cooke was beginning his stint. Cooke was forced to pit about 10 minutes later so the pit crew could make repairs, but an even bigger problem occurred when another driver made contact with him at the exit of Turn 5 around lap 49, causing Cooke to spin. That pushed Cooke back to 12th place and forced the team to play catch-up the rest of the way, eventually securing eighth place.
The No. 81 topped the charts in the second practice session on Friday afternoon with Liefooghe's 1:39.865, and Balogh qualified 11th later on Friday with a 1:40.334. Balogh was scored in the top-10 during most of his stint in Saturday's race and had just been passed by his teammate, Cooke, for seventh place when he pitted around lap 83 for Liefooghe to take over. Liefooghe was sixth with one hour remaining and was able to hang on to finish the race in that position. Liefooghe set his car's fastest lap of the race on lap 107 with a 1:40.745.
Saturday's race will be shown on FOX Sports 1 on Sunday, Oct. 1 from 5 p.m. to 7 p.m. EDT. More information can be found on the series' Web site at imsa.com.
James Clay, Blacksburg, Va., team owner and driver, No. 84 OPTIMA Batteries BMW 328i (F30 chassis): "We had to figure out a lot of different factors this weekend with it being a longer endurance race. I think we did a really good job taking those factors into account and had some fast cars going into the race that could last the full four hours.
"There was weird stuff going on, and it is what it is, but I want to figure out what happened. I honestly think we should have finished better than we did; we were running strong all weekend, and I think we should have finished up front."
Tyler Cooke, Matthews, N.C., driver, No. 84 OPTIMA Batteries BMW 328i (F30 chassis): "This was very frustrating for us. We went out and our hood came up not even five laps in, so we had to bring the car right in to fix it. The guys got us back out there, and we fought our way back up but just couldn't keep it. I'm looking forward to Road Atlanta. We had a fast car here, and I think we will have a fast car there to finish the season."
Greg Liefooghe, San Francisco, driver, No. 81 Powerflex BMW 328i (F30 chassis), which he shares with Ari Balogh of Menlo Park, Calif.: "I was really looking forward to this race. Although it was an endurance race for us, it was short enough that we could go all out. We had a good car, so it was a lot of fun.
"Road Atlanta has a lot of grip, so I'm looking forward to it. Our car has been good all season, so it should be a fun race and we can hopefully bring some hardware home for the BimmerWorld team."
FOLLOW BIMMERWORLD AT: https://www.facebook.com/bimmerworld
STAY UP TO DATE WITH BIMMERWORLD NEWS AT: http://www.bimmerworldracing.com
ABOUT: BimmerWorld is renowned as a leader in BMW aftermarket and tuning expertise and competes in the IMSA Continental Tire Sportscar Challenge series with a pair of BMW 328is (F30), where the Virginia-based outfit has become a routine winner and championship contender.
Tags