BimmerWorld Racing to Tackle the Corkscrew at Mazda Raceway Laguna Seca This Weekend
September 20th, 2017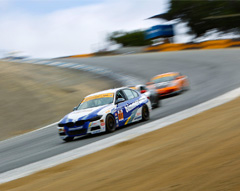 BimmerWorld Racing is looking forward to tackling the famous Corkscrew turn at Mazda Raceway Laguna Seca and perhaps even move up in the IMSA Continental Tire Sportscar Challenge point standings in the four-hour race at the renowned track near Monterey, Calif. this Saturday afternoon. The Dublin, Va.-based team will field two turbocharged BMW 328is (F30 chassis) in the Street Turner class for the race, which starts at 2 p.m. local time, 5 p.m. Eastern.
Team owner James Clay of Blacksburg, Va. and his co-driver, Tyler Cooke of Matthews, N.C., are currently fourth in the point standings with their OPTIMA Batteries No. 84 BMW. Two home-state drivers, Ari Balogh of Menlo Park and Greg Liefooghe of San Francisco, will share the team's Powerflex No. 81 BMW.
Three practice sessions will be held on Friday at 11:45 a.m., 4:45 p.m., and 8 p.m. EDT. Qualifying for the 17 Street Tuner cars will follow at 8:30 p.m., while the 15 Grand Sport cars entered will qualify 15 minutes later. The race, one of only two four-hour events for the series this year, will start at 5 p.m. after a pre-race open-grid fan walk at 3:50 p.m. All of those times are Eastern.
Live video streaming and live timing and scoring will be offered on imsa.com and imsa.tv. The race will also air on FOX Sports 1 on Sunday, Oct. 1 from 5 p.m. to 7 p.m. EDT.
This year is Mazda Raceway Laguna Seca's 60th anniversary. Do you have a favorite moment or memory about this track that you can share?
James Clay, Blacksburg, Va., team owner and driver, No. 84 OPTIMA Batteries BMW 328i (F30 chassis): "We've been racing at Laguna Seca since 2003. It's really an iconic and challenging track, and it's a lot of fun. But in those years, nothing very special stands out — so maybe it's time to change that with our first F30 win!"
Tyler Cooke, Matthews, N.C., driver, No. 84 OPTIMA Batteries BMW 328i (F30 chassis): "Last year, Eric Foss and I had a really good battle for third right to the checkered flag. It gave the fans a good show to watch with the two of us sliding around and bumping. It's really cool that my 60th race is at Laguna during its 60th anniversary."
Greg Liefooghe, San Francisco, driver, No. 81 Powerflex BMW 328i (F30 chassis), which he shares with Ari Balogh of Menlo Park, Calif.: "I've had lots of great memories there with BimmerWorld. We finished on the podium twice, and every time it's been a hard-fought battle. I think the overall experience that you get at Laguna makes the best memories with the track being so close to Monterey and the weather always being great. Typical California!"
This track is famous for its Corkscrew turn. What is that like to drive?
James Clay: "This is a fantastic piece of pavement. In the past, I've pointed the car at some tree at the top, but these days it's a feel thing on placement. Then it's about as close as we get in a race car to jumping out of an airplane when you launch off the top."
Tyler Cooke: "It takes your breath away the first time you do it. Turn 9 in the car really doesn't feel like it drops that much, but when you walk the track you can tell the elevation. The Corkscrew is really special. If you ever run nose to tail or even sometimes side by side, you'll get how that corner can reward or destroy you."
Greg Liefooghe: "It's always a lot of fun to drive this section. Turn 9 has a few line interpretations that depend on the car handling, which makes it an unusual corner, and T10 has a lot of camber at the apex. It takes a few laps to understand how much grip there is at that point of the track."
The Corkscrew gets all the publicity, but is there another turn at Laguna that you think is especially challenging?
James Clay: "The most challenging for me is Turn 6. It's so fast, with a cambered apex that requires the right touch of brake to get sucked into. I usually go ahead and get my off there done in the first session."
Tyler Cooke: "Turns 3, 4, 5. It's a flowing section of the track and a fun few corners to battle. You know when you get all of those right."
Greg Liefooghe: "Turn 9 for me is the best corner on the track. When you get used to the blindness of the corner, the Corkscrew is just an easy, on-camber, slow-speed turn. Turn 9's camber changes three times through the corners, which makes it challenging."
Mazdas have earned five of the six podium positions in Street Tuner here for the last two years.  What will it take to beat them?
James Clay: "The low grip and number of transitions reward the Mazdas, or they have over the past few years. We were strong there last year though, finishing right off the podium, and we have solid cars that should do well in this longer, four-hour race. Now we just need that piece of luck to go with it."
Tyler Cooke: "Pace and reliability. This is a four-hour race, and these cars are made to do two. Yes, Daytona was a four-hour as well, but it doesn't have the stress on the car like Laguna. It's going to come down to who's there at the end."
Greg Liefooghe: "I think we need them to break down. On a two-hour race at Laguna, the Mazdas usually lap all the field but four or five cars, so I'm expecting them to be hard to beat."
IMSA has changed the length of this year's race to a longer, four-hour format. How does your strategy change compared to the more common two-hour Continental Tire races this year?
James Clay: "We are sticking with two drivers per car for this event. As we close out the championship, we are minimizing our variables, so for us, hopefully the only difference is driving twice as long."
Tyler Cooke: "It'll come down to stretching the fuel as far as possible and not abusing equipment. If we can keep the car under us, we can battle to the end."
Greg Liefooghe: "I love the four-hour format; it's a lot of fun with more possible strategies than the usual one-stop, two-hour race. The winning strategy usually involves being the first one to do the last pit stop while still being able to finish the race on fuel. Laguna might be different. The tires get absolutely eaten up in a matter of a few laps, so having fuel AND tires at the end of the race will be important."
James and Tyler, you're fourth in the point standings, and still in the running for the championship. What will it take to move up? How optimistic are you?
James Clay: "We'll have our heads down for another solid finish. The cars have never been better, and Tyler and I are clicking along. I like our chances."
Tyler Cooke: "It's a stretch, but we need a podium or win to move up and have the top two [entries] finish not so well. Crazy things have happened in racing, so we will see.
"Last year we had to drive through a lot of variables. James got hit hard during his stint last year, which bent the shock, and we had oil dripping on the tires. We feel like we have a better package this year to charge harder."
Greg, you're from San Francisco, and this is the only time the series competes in California. What is different about competing in your "home" race? Will you have family and friends on hand?
Greg Liefooghe: "It's great to have a race on the West Coast. It would be great to have more. I would love to see Sonoma on the calendar as well. It's also great to not have to travel for 12 hours to get to the track! We'll have a lot of friends coming to see the race; lots of fun!"
FOLLOW BIMMERWORLD AT: https://www.facebook.com/bimmerworld
STAY UP TO DATE WITH BIMMERWORLD NEWS AT: http://www.bimmerworldracing.com
ABOUT: BimmerWorld is renowned as a leader in BMW aftermarket and tuning expertise and competes in the IMSA Continental Tire Sportscar Challenge series with a pair of BMW 328is (F30), where the Virginia-based outfit has become a routine winner and championship contender.
Tags