BimmerWorld Collects Top Five Finish After Second Pole of Season at Laguna Seca
May 1st, 2016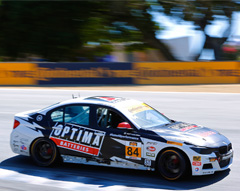 The Continental Tire SportsCar Challenge weekend started right for the BimmerWorld Racing team when team owner/driver James Clay qualified the No. 84 OPTIMA Batteries BMW 328i on the pole for the two hour and thirty minute race, Round 3 of the 2016 Continental Tire Challenge series. This was the second pole for the Virginia-based BMW aftermarket and tuning specialists' team with their relatively new F30 chassis. Teammate Tyler Cooke collected a pole at Sebring International Raceway in March.
Clay and Cooke drove a strong and lively race, where they stayed in the Top 5 the entire race other than when they pitted for a driver change, tires, and fuel. Even with Clay having a touch of the flu, he drove smart and delivered a fast car to Cooke. Despite a spirited on-track battle, Cooke brought home the No. 84 F30 in fourth place in class.
The results of the No. 81 BimmerWorld BMW 328i of Jerry Kauffman and Kyle Tilley with 20th place in the ST class did not show the strength of the car at the start of yesterday's race, and contact with another car during the race provided challenges that caused Tilley to have to preserve the car to finish and get needed points towards the 2016 championship.
James Clay, Team Owner and driver, No. 84 OPTIMA Batteries BMW 328i (F30 chassis):
"We're really happy about the race. The car was good. I ran a good stint despite struggling with a little flu, so I was really happy about it given the situation. We're always hurting a little bit on a pit stop because we have a long fuel fill, based on the fuel usage of the car, but the guys did an awesome job and were flawless. Tyler drove an awesome race. We would have liked to have been on the podium, but it's not so bad being in fourth."
Tyler Cooke, driver, No. 84 OPTIMA Batteries BMW 328i (F30 chassis):
"We had a really good race. James got the car in the Top 3, which worked out in our favor. The team did a great job, and I got in for a green flag pit stop with driver change, tires, fuel all going smoothly. We had a really great race going between me, Jerry Mosing and Eric Foss. If you could watch the in-car camera footage of Eric or me, it was really sideways. I have a lot of respect for Eric and have looked up to him for years. It was really cool to get to race against him. We had a very good battle going on into the esses. I moved in front of him, we touched and I went sideways, and it was a good ol' hard-racing battle to the end, which fans love to see. I wasn't happy after the hit, but it's racing at the end of the day."
Kyle Tilley, driver, No. 81 BimmerWorld BMW 328i (F30 chassis):
"I don't know whether we broke something or bent something in the rear but we had contact with a car that was a lap down on us. After that there was this crazy knocking noise every time the car was loaded, would transfer, and then become unloaded. So it became a case of damage preservation to get to the finish and score what points we could. It was a frustrating day, but at least our sister car had a good result. So onwards and upwards, we'll go out again next race and see what we can do, but definitely it was a frustrating race, for sure."
Jerry Kaufman, driver, No. 81 BimmerWorld BMW 328i (F30 chassis):
"My race stint went really well. We had a really good start. The track temperatures were up so we had a little less grip. I tried to save the tires as long as I could because I knew they would come into play later in the stint. Rather than gaining places, which is what I did early at Daytona and Sebring, I held off and then pulled all my places at the end of the stint so Kyle could get in the car and do some work. Unfortunately, he had some contact and we didn't finish as well as we would have otherwise but, the strategy was there. It was strong and the team gave us a good car. It performed much better today than it did all weekend so I'm really happy with it."
FOLLOW BIMMERWORLD AT: https://www.facebook.com/bimmerworld
STAY UP TO DATE WITH BIMMERWORLD NEWS AT: http://www.bimmerworldracing.com
ABOUT: BimmerWorld is renowned as a leader in BMW aftermarket and tuning expertise, and competes in the Continental Tire Series with a pair of BMW 328is (F30) where the Virginia-based outfit has become a routine winner and Championship contender.
Tags