BimmerWorld Ready for Return to Laguna Seca
April 27th, 2016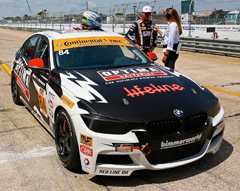 The BimmerWorld Racing team is ready to return to the 2.24-mile, 11-turn Mazda Raceway Laguna Seca circuit this weekend for Round Three of the IMSA Continental Tire Series' Continental Challenge race with their turbocharged BMW 328i racecars.
The BMW aftermarket and tuning specialists at BimmerWorld celebrated their first podium finish with the new F30 chassis at Round Two at Sebring International Raceway in March when the No. 84 OPTIMA Batteries entry of James Clay and Tyler Cooke grabbed both the pole and third-place finish in a hard fought battle.
The Dublin, Virginia-based team also fields the No. 81 BimmerWorld BMW 328 of Jerry Kaufman and Kyle Tilley, which has not yet had the success from the speed shown on track. They plan to come to the Monterey Peninsula with a car displaying even further advancement in the development of the F30 platform for the 2-hour and 30-minute race.
James Clay, Team Owner and driver, No. 84 OPTIMA Batteries BMW 328i (F30 chassis):
How well suited do you feel the BMW 328i (F30) is for the Laguna Seca circuit?
"We have had fast laps of the race at Laguna previously in the F30, but as usual it will come down to consistency for us.  The cooler forecasted currently weather helps us as we battle the brutal heat that 4-cylinder turbo produces and should leave us solid through the full race."
Coming off of the first ever podium for the 4-cylinder turbo BMW F30 at Sebring, does that add pressure going into Round 3 of the season at Laguna?
"I think everyone is very excited after the Sebring podium and pole – this new platform is coming of age!  There is certainly always pressure to perform in the pro arena, but I think more than anything, we are eager to get out on track and add to the hardware collection we started last race."
Your BimmerWorld crew really showed their mettle at Sebring when you had to do an engine change before the race. Now that there has been a long break since March, what has the crew been working on to prep for Laguna and beyond?
"It seems like even after good events, the shop and crew work tirelessly.  The fire at Sebring was a major setback that the guys handled to perfection, allowing us a solid result.  Since that race we have been working on improvements instead of repairs, which is always more fruitful.  Heat and reliability continue to be our focus on the powertrain, and we have more data, and have done more engine testing and development to put the best package on track for the rest of the year.  We have learned so much about these BMW turbo motors with the intensity of our current program, and I am eager to apply them to pending consumer parts in the BimmerWorld lineup."
Tyler Cooke, driver, No. 84 OPTIMA Batteries BMW 328i (F30 chassis):
You earned your first professional pole at Sebring but had to start from the back after an engine change, yet finished on the podium in a hard-fought battle. Do you feel that experience has prepared you for anything this year?
"This reinforced how to deal with the positives and negatives of racing. There's no such thing as a perfect weekend. Your mindset is most important in succeeding throughout each weekend."
You've been racing the BMW F30s for a couple of year now. What impresses you about it most?
"The handling of the car is incredible, and the Performance Friction braking package is the best in the field. I believe the reliability of the car is better and once the kinks in the motor are straightened out, I think it will be an overall better package."
How have you seen the BimmerWorld crew advance this car in IMSA Continental Tire competition?
"Each time we get onto the track, the car improves. Last year the No. 81 was brand new and we started the year not taking the green flag at Daytona and ended the season leading at Road Atlanta. The team takes big strides developing a complex driveline and different chassis settings to keep the car fast and consistent. "
Kyle Tilley, driver, No. 81 BimmerWorld BMW 328i (F30 chassis):
How well suited you think the BMW 328i (F30) is for the Laguna Seca circuit? And what's your favorite part of the track and why?
"For MRLS, I'd just like the race to be uneventful and mistake free. I think, should that happen, we will be there or there about. Theoretically the track should suit the BMW. I've only ever been the Laguna in a prototype, so adapting to a sedan around there will be my first port of call. I know everyone always talks about the corkscrew, but for me it's Turn 9, the left hander that follows it! It takes lots of commitment and is a place you can really make time."
You are a driver coach and your teammate is a rookie in the Continental Tire Series; do you spend much time serving as a coach and mentor as well as co-driver?
"Jerry and I talk on a daily basis and work together driving other cars outside of the IMSA paddock. We go over data relentlessly during a race weekend and are always looking for areas to improve, not just ourselves, but our set up on the No. 81."
Jerry Kaufman, driver, No. 81 BimmerWorld BMW 328i (F30 chassis):
As a rookie, this will be your first time racing at Laguna Seca. What have you heard about it and what are you looking forward to the most?
"I have been to Laguna Seca, but I have yet to race there.  This doesn't concern me because I'm a huge fan of watching in-car video from races, especially where you can pass or get passed almost anywhere.  The close racing of ST is going to make the track even more exciting.  I can't wait to see what it is like in that type of environment."
You had a good qualifying run at Sebring. How do you prepare for qualifying when these are new tracks to you?
"It isn't possible for me to get to each track before race week with the #81 BimmerWorld ST car, but I try to go visit the track and drive something for one or two days. That helps a lot because I'm then able to use practice sessions to learn more specifically how to be fast in the 81. After practice the drivers and engineers get together and we discuss what is the fastest way. That is one of the big advantages to being with a first class team like BimmerWorld."
How have you and Kyle gelled as teammates and co-drivers so far this season?
"Kyle and I get along extremely well. We have similar driving styles, and we can speak the same language, although he does it with a British accent. We actually met last year at an endurance club race driving for another team. After that we stayed in touch and he helped teach me how to tune the setup on my car. It is great driving with someone with his experience, and it's a bonus that we are the same height. It makes driver changes a little easier."
FOLLOW BIMMERWORLD AT: https://www.facebook.com/bimmerworld
STAY UP TO DATE WITH BIMMERWORLD NEWS AT: http://www.bimmerworldracing.com
ABOUT: BimmerWorld is renowned as a leader in BMW aftermarket and tuning expertise, and competes in the Continental Tire Series with a pair of BMW 328is (F30) where the Virginia-based outfit has become a routine winner and Championship contender.
Tags