BimmerWorld Races Head-to-Head Against Alzheimer's
September 5th, 2018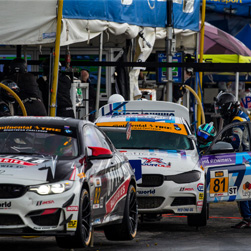 BimmerWorld Racing has its sights not only on Laguna Seca's Victory Lane this weekend but also on the fight against Alzheimer's disease. The No. 81 Veristor/Legistics BMW 328i (F30) will run the IMSA Continental Tire SportsCar Challenge race with a striking livery of names affected by Alzheimer's as the team and drivers hope to raise awareness and funds for Alzheimer's research.
Nick Galante is one of the drivers of the No. 81 BMW 328i and is leading the team's effort to fight Alzheimer's. Their car has carried a "Racing to End Alzheimer's" color scheme on the front fenders all season, but this weekend the team is taking the purple theme to new heights. In place of corporate sponsors, fans and viewers will see the names of people affected by Alzheimer's in a tribute generously provided by donors to the Racing to End Alzheimer's foundation. One hundred percent of the funds will be distributed to Alzheimer's-related organizations with a special bonus from the foundation's sponsors who generously agreed to match every donation.
Galante sums up the effort nicely, "It's wonderful to be able to do this at the place where I learned to race. Now I'm racing professionally here and doing it for a good cause. Being able to give back in a sport that sometimes demands quite a bit feels good: I'm fighting for something with real human meaning."
Monterey and Laguna Seca occupy special places in the heart of both BimmerWorld 328i drivers. Galante has a long history with Laguna Seca and his co-driver, Devin Jones, often visited the track with his father while growing up in California. Jones feels at home on the track and has high expectations as the season winds down. The Galante/Jones duo are currently leading the ST class championship with just two races remaining.
Also in the title hunt is the No. 82 OPTIMA Batteries BMW M4 GT4 of James Clay and Tyler Cooke. They have been near the top of the title standings all season long, despite some setbacks with their new-for-2018 car. They are currently in fourth place overall with just two races remaining. Laguna Seca is famous for its low grip and emphasis on braking as much as it is for it's twisty layout. The M4 GT4 will be sporting a special brake compound this weekend thanks to the team's technical partner Performance Friction Brakes.
Even with the season drawing to a close the team is not looking past this weekend. Maximum points must be captured if the team wants to stay as title challengers.
The BimmerWorld team hits the track for practice sessions at the 11-turn 2.24 mile course on Friday, followed by qualifying on Saturday morning. The two-hour race is Saturday afternoon at 3:15pm PT. Live race broadcasts can be seen on IMSA.TV, or the rebroadcast can be seen one week later on September 16 at 7:00am ET on FoxSports 1.
James Clay, Blacksburg, Va., team owner and driver, No. 82 OPTIMA Batteries BMW M4 GT4:
This is the penultimate race of the season. Rate the year so far for both the GS and ST classes for BimmerWorld.
"This has been a tremendous year for our whole team. The ST car really reached the point we have been working towards for years, and Nick and Devin have used a well-developed tool to bring in podium performances all season. Tyler and I have visited the podium in our GS entry in a large and highly competitive field multiple times and are near the top of the championship as a result. Every weekend is an opportunity to win with both cars."
How do things look going into the Laguna Seca race for the BMWs in each of the two classes entered?
"Our BMW F30 in the ST class has traditionally been the fastest non-MX-5 at this track, and now that Mazda has retired their cars, I expect good things. I really don't know how our M4 GT4 will perform, but Tyler and I are a solid duo and I have high hopes."
Braking is critical at this circuit. Talk about which turn require the most finesse and how you manage braking at the 2.238-mile, 11-turn road course.
"We have been working on the brake package all year with our technical partners at Performance Friction, and we have a unique friction recipe that we're very happy with and I think will be even better on this lower grip surface."
Last year was a 4-hour race at Laguna and this year it's back to a 2-hour Continental Tire race. Which do you prefer and why?

"Honestly, it doesn't matter much to me. We have solid equipment and a solid driver lineup, and either format works well for us."
Tyler Cooke, Fort Lauderdale, Fla., driver, No. 82 OPTIMA Batteries BMW M4 GT4:
You've had a pretty good year with the new GT4 BMW, how confident do you feel going into the Laguna Seca race this week for a good result?

"I'm feeling good about it. James and I have had some strong races going. Luck hasn't played into our favor, but I think it should be good for us."
Last year was a 4-hour race at Laguna and this year it's back to a 2-hour Continental Tire race. Which do you prefer and why?

"I like the two-hour race more at Laguna. It's a track that I feel favors a short action-packed race."
At last year's race, you had a pin issue that sent the hood up on the windshield at the beginning of the race, and then another driver made contact with you causing a spin so you had to play catch up all race. What's the strategy going into this year's race?
"To be smart and try to get that win. (Race Engineer) Wayne has made some great calls this year, and I think if we have the right strategy with some good battles, we should be in good shape."
What kinds of things do you like to do in the Monterey area?

"Walk along the ocean and check out some of the local restaurants. It's an overall great place."
Devin Jones, Mooresville, N.C., driver, No. 81 Veristor/Legistics BMW 328i (F30 chassis):
What's your strategy this weekend to maintain your points lead with just the final two races to go?

"Our strategy this weekend is to execute and make no mistakes. We've had a great season, but this race is really important for the championship. With only two races left, we all have to be on our game to finish this season at the highest level possible."
Share your thoughts about the Laguna Seca circuit and both your favorite and most challenging parts of it.
"Laguna Seca is a legendary track. It also suits my driving style pretty well with lots of technical corners where you have to roll in speed. Obviously, the corkscrew is my favorite corner, it's so unique and there's nothing else much like it."
At Laguna Seca, you race counter-clockwise. Do you have a preference for racing clockwise or counter-clockwise and why?

"I don't really have a preference, but it does make the pitstops and driver changes a little bit different. I grew up only turning left, so I'm used to it this way!"
Share your favorite Laguna Seca story and what makes it a special track.

"I grew up in San Luis Obispo, CA and would always come with my dad to the Sea Otter Classic, which is a big bike race/festival held at the track. I wanted to drive on the track since I was a kid. It's really a special place for me and my family, and I enjoy every lap I get to turn here in a race car."
Nick Galante, Greenfield, Mass., driver, No. 81 Veristor/Legistics BMW 328i (F30 chassis):
What corner, or group of corners, do you like best at Laguna Seca and why?

"Of course the Corkscrew is exciting and fun, but I really love the complexity of turn 6. It's such a high-speed entry which normally wouldn't be a problem, but it's tricky because the view of the apex only becomes visible at the last moment, just before turn in. The entry is actually downhill and has a unique compression at apex."
Tell us about your most memorable race at Laguna Seca.
"In 2013, I had one of my first pro races with team Racers Edge in a GS Mustang. We had the odds stacked against us and were able to pull off a fifth-place finish. It was my first time running up front in the series, and it was great to have the support of the home crowd cheering me on. I'm looking forward to improving on that same feeling this weekend."
You've got a lot of weight on your shoulders to maintain the lead in the ST points championship. Does that kind of stuff get in your head? If so, how do you manage it and stay focused on racing?
"It's exciting and has a little extra buzz in the air, but I don't think it gets in my head. I like to look at it as that extra feeling in the moments you look for. It's a great thing to enjoy. I'll be racing this weekend like I always do…giving it my all."
How much of a dog-fight do you expect it to be this weekend among the ST competitors?
"I expect it'll be a close battle like always. I hope it's close, but I won't complain about a little space as long as we are in front. It's been a really fun year. Hats off to Team MINI JCW and Bodymotion Racing for making this season fun."
What kinds of things do you like to do in the Monterey area while you're there?

"I really like the short but beautiful hikes at Point Lobos or getting to play golf at one of the best golf courses I know, Spyglass Hill. If the timing is right, sometimes you can catch a music concert by local Monterey hero Mike Beck."
FOLLOW BIMMERWORLD AT: https://www.facebook.com/bimmerworld
STAY UP TO DATE WITH BIMMERWORLD NEWS AT: http://www.bimmerworldracing.com
ABOUT: BimmerWorld is renowned as a leader in BMW aftermarket and tuning expertise. It competes in the IMSA Continental Tire SportsCar Challenge series in both the Grand Sport (GS) class with a brand-new BMW Motorsport M4 GT4 and in the Street Tuner (ST) class with a turbocharged BMW 328i (F30 chassis), where the Virginia-based outfit has become a routine winner and championship contender.
Tags