GS Development Continues as BimmerWorld Just Misses Top 10 at Barber Motorsports Park
April 13th, 2011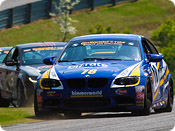 Five-week gap to the next race affords the team more time to implement updates and improvements to their brand-new M3s
No matter how much the BMW experts from BimmerWorld Racing want to conquer the GRAND-AM Continental Tire Sports Car Challenge Grand Sport division in their first season of racing M3 V8s in the class, the team will continue to chant the mantra of "it's a development year" throughout the 10-race calendar.
That's far from being an excuse, as the Dublin, Virginia-based team holds itself to the highest standards and expectations possible, but with just a matter of months of development behind their BimmerWorld-built BMW M3s, overcoming the years of experience their fellow M3 runners have will simply take time.
BimmerWorld's latest race, held last weekend at Barber Motorsports Park in Leeds, Alabama, served as the latest reminder of how far the team has come since the season opener in January, but also offered a benchmark for where they stand in the 28-car field.
With the No. 78 Shopzilla.com-sponsored BimmerWorld BMW M3 of Bob Michaelian and Kenny Wilden running inside the top 10 before ultimately crossing the finish line in 11th place, and with the No. 79 Johnstone Supply-sponsored BimmerWorld BMW M3 of Seth Thomas and team owner/driver James Clay placing 15th, more hard work is planned in the weeks ahead of the team's home race at Virginia International Raceway in May.
"The GS class is certainly difficult, but we knew it would be," said Clay. "The other M3 teams have a year or two on us in developing the car and the levels of GS programs are generally higher than the ST programs in the paddock. We knew success wouldn't happen overnight, but at this point, I think we have a very good idea of what we need to do. And once we have the time to fully implement our plans and developments for the BimmerWorld M3 platform, we will start to see the results of all the hard work everyone has been putting in."
While Clay and his talented team continue to hone their M3s into future race winners, he says he's been extremely pleased with how well BimmerWorld's GS drivers and crew members have been performing.
"The team is just fantastic this year. The crew guys are working like a well-oiled machine and the engineering and driving tasks are leading us down a path of continuous improvement. Certainly these are trying times as the work is going in much faster than the results are coming out, but I am confident that part will follow shortly – we have a tremendous group to work with and the results will be there."
For Michaelian, the defending Barber GS race winner, knowing the BimmerWorld team continues to work tirelessly to improve their M3s continues to fuel his optimism.
"I feel like we had really solid weekend," he said. "We made good progress with the balance of the Shopzilla.com car and feel like we have a solid game plan for future improvements. The team has been super supportive. I can't say enough about the BimmerWorld engineering staff and pit crew. James Clay has been great to work with. He fully understands how competitive the GS class is and is dead set on getting us where we need to be. That is super motivating. We definitely learned a lot this weekend and can use those lessons to continue to make improvements in the next round at VIR."
Michaelian's co-driver shares the same opinion about the direction the team is headed.
"I think we have made good progress," said Wilden. "I would like to see us compete for top 5s over the next few races, and if we can do that, by the end of the year we should be able to go for podiums."
Seth Thomas, who nearly won the 2010 GRAND-AM Street Tuner championship with BimmerWorld on his first try, has been an integral part of the team since its early days in pro racing. As he's seen before, it's only a matter of time before BimmerWorld moves to the front of the pack.
"The season is still very young but I have seen the strengths of the BimmerWorld team to dig deep and give us what it takes to put our Johnstone Supply sponsored BMW M3 up front," he said. "Being with the team for as long as I have, I know we have been down this path of development in the past and we always come out on top. Every race this season the car gets better and better, and our M3s get faster and faster.
"Our PFC brake package has been amazing on the M3, our RAYS wheels have stood up to the test every time and Redline Oil has kept the M3's big V8 engine working flawlessly so far. The cars are very good, but it takes a lot of other little ingredients to win. My job is to keep driving like I have been and give the team the best performance possible so we can add in those extra few ingredients. Our teammates in the No. 78 M3 have been a big help to speed up our pace of development, as has my co-driver, James. We'll get there, and when we do, look out!"
As BimmerWorld continues to build its knowledgebase on the BMW M3 in racing trim, Clay says they will do everything possible to make the upcoming race at VIR a success.
"We tested a bit at VIR before this event and will put more time in there before the coming race. The Barber setup didn't seem to follow the testing work we had done as closely as we wanted, but we learned more and I think VIR should be a very positive weekend as our program develops."
Follow BimmerWorld as they prepare to tackle their home track at VIR next month at www.BimmerWorldRacing.com.
The broadcast for the Barber race can be seen April 16th at 2 p.m. ET on SPEED, and On Demand at www.SPEED2.com.
###
Courtesy: BimmerWorld Media Services
[email protected]
More information about the team, cars, and drivers can be found at www.bimmerworldracing.com
Information on BimmerWorld's Customer Car Services can be found at www.bimmerworld.com
Details on PowerFlex Suspension Bushings can be found at www.powerflexusa.com
Tags