BimmerWorld Searching for Luck After Finding Limited Results at Barber Motorsports Park
April 13th, 2011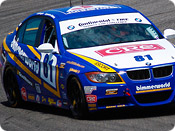 Cars are fast on the rollercoaster track, but the team is now forced to wait for the next round at VIR to secure more deserving results
If the expression "you make your own luck" is true, Dublin, Virginia's BimmerWorld Racing is on the hunt for the recipe.
After another promising weekend in the Street Tuner division of the GRAND-AM Continental Tire Sports Car Challenge series, held at Barber Motorsports Park in Leeds, Alabama, the BMW experts came away with a slight pit in their stomachs after contact with other cars left the team with little to show for their efforts.
BimmerWorld stormed the 2010 Street Tuner division, taking second in both the teams' and drivers' Championships, but after three rounds of ST racing in 2011, team owner James Clay says he's still waiting for fortunes to smile on his GRAND-AM ST effort.
"Certainly this season we have seen new players in the Championship hunt, both in the form of new teams and teams with new equipment or a lot of development work and help with rules in the off-season. But we have strong cars and excellent driver combinations, which just needs to be supplemented by a little luck at this point."
The breakout stars of the ST class this year have been the Exclusive Management pairing of ace driver Gregory Liefooghe and rookie sensation John Capestro-Dubets behind the wheel of the No. 81 BimmerWorld BMW 328i. Starting the season off with a podium at Daytona, the duo appeared to be on pace for another podium at Barber, but a hit from behind while challenging for second place was all it took to send their blue BMW into the gravel trap.
They would lose more than a dozen laps and finish 23rd in class.
"I think we have all the ingredients to win a championship except for one so far: luck," said Liefooghe. "We have one of the best driver combos in the paddock and also one of the best teams in the paddock, with my teammate John doing a great job to start the race before handing over to me. At the last race, even though we didn't have the pace to win, we still had enough for a top 5.
"In Barber, we had a winning car, we were able to work on the setup and found one that was easy on the tires. We also had the best car in our class at the end of long stints. Unfortunately, it seems every time I'm about to get in the car, something happens and takes us out of contention. When I got back out in Barber after they pulled John out of the gravel, I got a lap back which proves just how competitive the car was and that we had the potential to win once again. I think our next move will be to weld a horseshoe or something of that nature to bring luck to our BimmerWorld BMW!"
For Capestro-Dubets, Barber marked his third professional race of any kind, yet the San Diego native found himself fighting for the top two spots in the ST class. Even with an unrepresentative finish to the weekend, he says he's happy with the promise that was shown in the No. 81 328i.
"I am very happy with the highs of Barber. It was my first time at that track and I can't thank my team enough for helping get ready for the race. My manager Michael Duncalfe helped to get me up to speed quickly, and my crew gave me an extremely well prepared car. We had a great race up until being hit. I couldn't be happier with the team, though, and hope to deliver better results very soon."
Bill Heumann and David White also had a better finish awaiting them, but had to settle for 15th in ST after their BimmerWorld BMW 328i incurred damage from contact.
"Barber was a very disappointing race for me as I was not able to bring home the finish that the team deserved," said White, who claimed pole position at Barber for the ST race in 2010. "The BimmerWorld crew put in a lot of hard work in the Alabama heat to give us the best cars possible and it was showing late in the race when the No. 80 BimmerWorld BMW 328i had great pace.
"Unfortunately, contact is sometimes a part of racing and I took a hit that damaged my suspension, forcing me to give up several spots as I limped the car home to the finish. We have the cars working very well and when we shake some of this bad luck we've been experiencing, Bill and I will be fighting for wins."
Heumann, the 2010 MESCO Rookie of the Year, says there is no reason to hit the panic button or to change anything about how the team goes racing. With a bit of patience, the bad luck streak will pass.
"I am disappointed in the results but not demoralized. I think we have a great team and we had a great car. We will keep our focus and effort on doing the best job we can and the change in luck will come our way."
BimmerWorld has five weeks to prepare for the next race, held at the team's home track at Virginia International Raceway, with updates on their progress and preparation available on www.BimmerWorldRacing.com.
The broadcast for the Barber race can be seen April 16th at 2 p.m. ET on SPEED, and On Demand at www.SPEED2.com.
###
Courtesy: BimmerWorld Media Services
[email protected]
More information about the team, cars, and drivers can be found at www.bimmerworldracing.com
Information on BimmerWorld's Customer Car Services can be found at www.bimmerworld.com
Details on PowerFlex Suspension Bushings can be found at www.powerflexusa.com
Tags