BimmerWorld Heads to Monterey on a Mission
July 7th, 2011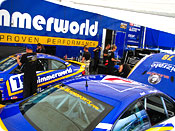 After showing great potential with its brand-new BMW M3 V8s and its second-year BMW 328is, BimmerWorld is looking for solid results this weekend at Round 8 of the Continental Tire Series
No. 78 BimmerWorld BMW M3 V8: Bob Michaelian, Ken Wilden
No. 79 BimmerWorld BMW M3 V8: James Clay, Seth Thomas
No. 80 BimmerWorld BMW 328i: Bill Heumann, David White
No. 81 BimmerWorld BMW 328i: Gregory Liefooghe, John Capestro-Dubets
Patience is indeed a virtue, but amongst the spirited four-car BimmerWorld Racing GRAND-AM Continental Tire Sports Car Challenge series team, that patience is wearing thin.
Great potential has been shown this year as BimmerWorld's brand-new two-car BMW M3 V8 Grand Sport-class effort has run solidly in the top 5, and its two-car BMW 328i Street Tuner-class program has come close to repeating the wins and pole positions it earned last season.
But words like 'potential' and 'promise' don't carry much weight for BimmerWorld owner/driver James Clay, or his hard-working crew. Heading home from California to Virginia with a bit of hardware–a trophy from making the podium in both classes–would be a welcome boost for the team, according to Clay.
"This season has been a character builder but I am seeing results of our work in the GS cars – now we just need to back up the speed with the finishes and these last three rounds give us the opportunity to do that," he said. "In ST, I have faith in our drivers and team and every round is an opportunity. The series is so competitive that you can't predict results, but we've put in the work and we're as hungry as ever to show what we're capable of."
The famed Laguna Seca circuit seems tailor-made for BMWs, with a heavy demand placed on cornering, braking and acceleration at the 2.2-mile, 11-turn track. While BimmerWorld's BMW M3 V8 GS cars have been on the cusp of a podium result, a strong emphasis has been placed on returning the team's 328is to Victory Lane. The key to getting there, as Clay shares, is continued suspension R&D.
"Under the direction of our ST engineer David Wagener, our 328i development for the year has been mostly focused on suspension. We have been working with the new AST damper package and we are closer to being happy with what we have come up with. I think long-term, this effort will pay off."
After a slight change in the driving lineup at round 7, Bob Michaelian and Ken Wilden are back in the No. 78 Bizrate-sponsored BimmerWorld BMW M3 V8 this weekend after missing Road America due to previous commitments.
For Michaelian, a California native, the chance to race on home soil is a perfect return to GS competition.
"We are super excited about racing at Laguna Seca," he said. "Ken has won at Laguna in a variety of different series, including the GS class in 2009. I started club racing at Laguna about five years ago, so I consider this my home track. It's a great facility and has such a rich racing tradition."
Michaelian and Wilden own BimmerWorld's best result in GS to date, but improving upon their sixth at Daytona is something Michaelian feels is well within their grasp in Monterey.
"BimmerWorld has shown great progress over the last three races and we feel like we are in a position to be really competitive this weekend," he continued. "We feel like we have taken great strides in our race package, race strategy and car preparation over the course of the season, and we're excited to see how we perform."
On the ST front, John Capestro-Dubets, also from California and one of the rising stars of the 2011 season, brings newfound experience to his role as co-driver of the No. 81 BMW 328i, which will carry special branding from Brakleen, the leading brake parts cleaner.
After taking over a leadership role in the No. 81 at the last round while his regular partner, Gregory Liefooghe, took the helm of the No. 78 M3 V8, Capestro-Dubets got a glimpse of what will be expected from him as his road racing career continues to flourish.
"The last race at Road America was a great experience for me to learn the responsibilities of being the lead driver. It was an eye opener for me not to have Gregory to fall back on in times of uncertainty. He has taught me so much throughout the year that I was able to hit the ground running at Road America. Any time you are out running with the other lead drivers you pick up little things, whether its racecraft or all-out speed. If there's anything new I'll carry into to Laguna, it's the mindset of being a more mature and patient driver. I look forward to working with my good friend and mentor again and have high expectations in the No. 81 Brakleen BMW 328i."
Follow the progress of the BimmerWorld team this weekend at www.BimmerWorldRacing.com.
###
Courtesy: BimmerWorld Media Services
[email protected]
More information about the team, cars, and drivers can be found at www.bimmerworldracing.com
Information on BimmerWorld's Customer Car Services can be found at www.bimmerworld.com
Details on PowerFlex Suspension Bushings can be found at www.powerflexusa.com
Tags
Tags not found
RELATED ARTICLES
Related article(s) not found