BimmerWorld Earns Monterey ST Podium with No. 81 Brakleen BMW 328i, Top 10 in GS
July 13th, 2011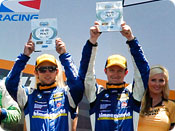 Gregory Liefooghe and John Capestro-Dubets rocket to the front of the Street Tuner battle, finishing a fighting third
Timing is a crucial element to success in motor racing, and for Dublin, Virginia's BimmerWorld Racing, the No. 81 BMW 328i driven by Gregory Liefooghe and John Capestro-Dubets delivered a brilliant performance for the team and sponsor Brakleen when it mattered most.
Sporting a new livery featuring Brakleen's brake parts cleaner bottles on both sides of the car, touring car ace Liefooghe and star rookie Capestro-Dubets waged a spirited battle against smaller, lighter cars at Round 8 of the GRAND-AM Continental Tire Sports Car Challenge event in Monterey, California.
Starting sixth, Capestro-Dubets opened the 2.5-hour race with speed and precision, rising to the second spot during his stint. With his own private cheering section providing inspiration, the young Californian put on an amazing show for his fans.
"This was a very important race for me due to the fact it was my home track and majority of my family was there to watch for the first time," he said. "I grew up a few miles from the track and went to many races here, and it has always been a dream of mine to race in front of fans at this track. The whole weekend was very special to me, from beginning to end."
After finishing on the podium in his series debut at Daytona, making the podium at his home track was the realization of a long-held dream.
"If I had to pick a highlight of my stint it would be when I found myself in second behind the Kia trying to get around for the lead before the caution came out," Capestro-Dubets continued. "The overall highlight of the race, in my eyes, would be when Greg came around Turn 11 for the last time to give BimmerWorld and Brakleen a well deserved podium finish.
"This result means so much, and in addition to the team and my teammate, I have to credit Michael Duncalfe and Exclusive Management, Inc. He brought us together with BimmerWorld and has been instrumental in keeping me sharp and focused on achieving finishes like we got at Monterey."
With Liefooghe taking over the reins of the No. 81 to steer the Brakleen car home to the finish, maintaining a steady, controlled aggression was necessary.
"My stint was all about saving the equipment," he said. "We went with a very aggressive strategy and I got in the car with just under two hours to go. I knew I had to save tires and fuel if I wanted to make it to the end so I could be fast when it counted. The last 10 laps were very, very long with the Mazdas having tremendous pace. They were pushing incredibly hard at the end of the race. The track favored them as they were a lot easier on tires since they are 500 pounds lighter than us. It was a good hard fight and I encourage everybody to watch the broadcast on Sunday!"
BimmerWorld team owner/driver James Clay and Seth Thomas earned a top 10 for their efforts in the team's No. 79 Johnstone Supply BMW M3 V8, but after the race, the sensational drive by the No. 81 was the major talking point.
"After much too long of a drought, I was very happy to have a car on the podium again this weekend," Clay said. "It is fitting that with the debut of the CRC/Brakleen wrap on the 81 car that CRC shared our success with their car. The boys drove a great race and the crew has been investing an abundance of effort in the program all year. It is great to see a result for the effort!"
The Monterey race offered yet another example of the rapid growth of the Liefooghe/Capestro-Dubets driving team, and the integrated working style BimmerWorld's technicians and engineers have developed with the No. 81's drivers.
"The working relationship with John has always been good," Liefooghe explained. "It's become easier and easier to work together as we became good friends over the year and everything seems automatic now. There is a lot of trust between us and it makes for a lot of fun during the weekend. I have to give a big thank you to our crew and especially our crew chief Ryan Kuhn. They have been living and breathing our No. 81 and our racing luck has kept them very busy so far. It's great to bring back some results for him to thank the guys for all of their hard work. Obviously, our engineer Dave Wagener always has a big role in our speed. We have a great communication and he's able to translate our feedback into great setups. Overall, this is a very cohesive program."
The sister No. 80 BimmerWorld BMW 328i driven by Bill Heumann and David White had a race weekend that didn't go according to plan, but that didn't diminish the effort or resolve shown by the BimmerWorld crew, as White shares.
"The No. 80 sustained damage in a practice session and our amazing crew had already begun repairing the car before that session had even ended. The extent of the damage kept us from making qualifying, but our team went above and beyond what would cause most teams to throw in the towel. They kept fighting and when they were done, the car looked brand new again for the final practice session and we were able to start the race. With the pace that the car had in the final practice, we were confident that we could make a run from the back to give the team the finish that they deserved. Unfortunately a mechanical issue during the race forced us to retire the car early, but that doesn't take away from how proud I am of our crew."
In Grand Sport, Clay and Thomas earned their first top 10 of the season–the fourth top 10 amongst the two BimmerWorld GS entries in 2011–placing 10th, while the No. 78 Bizrate.com M3 V8 driven by Bob Michaelian and Ken Wilden had an uncharacteristic weekend, finishing 16th.
As the team adds more positive results during its first year of competition with the BMW M3 V8, Clay is pleased with how much BimmerWorld's M3 engineering database continues to grow.
"We are still learning about the M3s and while it was nice to be in the top 10 again, it was also nice to learn more about the car," he said. "I felt like we had the pace to really do well at Road America and we didn't quite have the same car at Laguna, but as we build our playbook for a strong 2012, I feel like we're gaining a lot of invaluable information that will reward us in due time."
Watch the excitement from Monterey this Sunday, July 17th, at 1 p.m. ET on SPEED, and follow BimmerWorld's progress at www.BimmerWorldRacing.com as they prepare for the penultimate round at New Jersey Motorsports Park on July 22-23.
###
Courtesy: BimmerWorld Media Services
[email protected]
More information about the team, cars, and drivers can be found at www.bimmerworldracing.com
Information on BimmerWorld's Customer Car Services can be found at www.bimmerworld.com
Details on PowerFlex Suspension Bushings can be found at www.powerflexusa.com
Tags