BimmerWorld Ready for the Heat and Heavy Competition in New Jersey
July 20th, 2011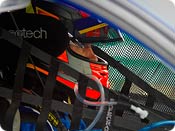 The BMW experts head cross country carrying plenty of momentum as they prepare for high heat at the penultimate round of the 2011 Continental Tire championship.
The BimmerWorld Racing transporter has been logging plenty of miles over the past two weeks as trips from its base in Dublin, Va., to the West Coast in Monterey, CA, back home to Dublin and now to the East Coast in Millville, NJ, will cap off a particularly busy period for the team.
Coming off a strong podium finish by Gregory Liefooghe and John Capestro-Dubets in BimmerWorld's Street Tuner-class BMW 328i at Monterey, the four-car GRAND-AM Continental Tire Sports Car Challenge outfit is ready for more action at Round 9 of the 10-round championship.
Held at the notoriously hot and humid New Jersey Motorsports Park facility, the calm, cool days in Monterey will be replaced with searing temperatures topping 100 degrees this weekend.
The team is hoping for history to repeat itself at NJMP, with BimmerWorld having earned finishes of second and fifth in the 2010 event with the team's pair of BMW 328is.
With two Grand Sport-class BMW M3 V8s added to the stable for 2011, James Clay, BimmerWorld team owner and co-driver of the No. 79 Johnstone Supply M3 V8, says the expansion to four cars hasn't been easy, but the momentum continues to build in the right direction as the season winds down.
"If this season has made one thing crystal clear, it is the fact that you can't always get what you want in racing, or even what you work incredibly hard to earn," he said. "We have a first-class group of people assembled here and they continue to plunge ahead to do the work to bring results – that is unchanging. In the last two rounds, I would love to see more of the rewards for the effort like we started to have at Monterey."
The 2.25-mile, 14-turn track places a premium on many things–fitness, passing, and in particular, engine and brake cooling. A big part of the team's success at NJMP last year was due to the choice of radiators and brake packages, and the same companies have been integral in getting the new M3 V8s ready for the escalating temperatures they will face.
"New Jersey was by far the hottest race for us last year and we expect the same this year," Clay explained. "We are partnered with C&R Racing and their radiators and coolers keep the driveline as cool as possible and functioning properly in these demanding conditions. We maximize brake cooling for every event on the Performance Friction components on the cars, but regardless of temperature, they handle what we throw at them."
With cockpit temperatures expected to be anywhere between 100 and 140 degrees for the GRAND-AM competitors this weekend, BimmerWorld's drivers shift their training regimen into high gear to prepare for racing in sauna-like conditions for up to two hours at a time.
As Liefooghe explains, the time committed to ramping up one's physical fitness ahead of the NJMP race is significant, but to succeed, it's absolutely mandatory.
"It takes a lot of work away from the track," he said. "I think everybody looks at the New Jersey race as the one race of the year where you have to be in your best shape of the season. Not only does the track have very few straightaways to rest but it's also very hot and humid, so you are always working hard inside the car with little time to breathe and relax. My usual training consists of 250 miles of biking per week and karting year round. And it's especially important for me to get acclimated to the heat because I live in San Francisco, where we rarely see anything above 60 degrees!"
In addition to its short straights, the relatively narrow NJMP circuit is known for its limited passing opportunities. Picking and choosing where to pass, as Clay's teammate Seth Thomas shares, can make the difference between gaining and losing a lot of positions.
"Traffic management is going to be key to this event," he said. "Since New Jersey is a short track with tight turns and very short sections between the corners, you'll see a lot of similarity in speeds between the GS and ST cars. The ST cars are lighter and more nimble for the tight and twisty turns, while there is only one big straight where the GS cars can stretch their legs. It's the kind of track where you pay for any mistakes you make. At some tracks you can stick your nose in and if you don't get by, there's no real harm. But at this track, moves like those make you a sitting target into the next corner, so you really have to select your passing zones ahead of time. You have to be patient and you can't abuse your tires, so with the heat thrown in, New Jersey is a pretty tough puzzle to solve."
Follow the team's progress this weekend at www.BimmerWorldRacing.com as practice gets under way for the 2.5-hour B+ Foundation Heroes 200 race on Saturday.
###
Courtesy: BimmerWorld Media Services
[email protected]
More information about the team, cars, and drivers can be found at www.bimmerworldracing.com
Information on BimmerWorld's Customer Car Services can be found at www.bimmerworld.com
Details on PowerFlex Suspension Bushings can be found at www.powerflexusa.com
Tags