BimmerWorld Ready for Round 2 at Barber After Strong Run in Season Opener
March 28th, 2012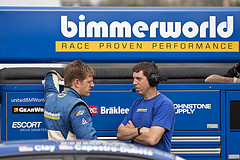 After placing two cars inside the top 10 at the season-opening race at Daytona, BimmerWorld is chasing after another solid performance at Barber Motorsports Park, site of this weekend's Continental Tire race.
Give the BMW experts at BimmerWorld time to tinker and test its trio of 328i GRAND-AM Continental Tire Street Tuner cars, and the hard-working team from Virginia will fill every possible moment with new ideas and innovations to try.
With a two-month gap between Round 1 of the Continental Championship, held at the famed Daytona International Speedway in Florida, and this weekend's Round 2 set for Barber Motorsports Park in Alabama, team owner/driver James Clay says he's confident in the overall package BimmerWorld has continued to develop during the recent downtime.
"The BimmerWorld Daytona performance proved to us that our renewed focus on the team is going to produce results, but unfortunately it also showed that some of the other marques in the field are quicker than the BMWs at this point, and we will need some luck to capture the championship we are aiming for.
"In my experience, the best luck is made, so we have been focusing on both refining the car package with on-track testing, as well as putting a significant amount of effort toward the team and equipment, which I feel is our biggest strength already.  Having all the procedures and pieces in place to overcome adversity will pay dividends and keep our results consistent and will be a good countermeasure to the sporadic, blazing speed of other marques."
Teamed with John Capestro-Dubets in the No. 80 BimmerWorld BMW 328i, Clay anticipates the handling and braking attributes that helped to steer the No. 81 BimmerWorld car of Gregory Liefooghe and David Levine to the podium at Daytona will play to the team's favor at the notoriously tough 17-turns, 2.3-mile Alabama road course.
"Our Barber setup is very good, as confirmed by our strong run there last year," he said. "From a track layout standpoint it doesn't seem like Barber should be good to us, but we will arrive dialed in and that goes a long way.  We just need a little help from the field to limit the yellows and get some long runs, where our effort in consistency will start to pay off."
Coming off a third-place finish with Levine, Liefooghe says maintaining his edge during such an extended period between GRAND-AM races hasn't been a challenge.
"Away from the GRAND-AM circuit, I'm working at the Simraceway Racing School, which includes the Audi Sports Car Experience and Mitsubishi Driving School, and I have been doing a lot of private coaching since race season started in early February here in California. Between instructing, coaching and car development for my clients, it adds up to quite a bit of driving each week, which helps me to stay sharp. This second 'offseason' has been quite long, and we will need to bring the same focus that we brought to Daytona as Barber is shaping up to be an intense race."
The third BimmerWorld team car, the No. 82 CRC BRAKLEEN® BMW 328i driven by Seth Thomas and Dan Rogers, was poised to join the Nos. 80 and 81 inside the top 10 at Daytona, but those chances were lost after taking a hard hit by a competitor.
With just 10 races in the championship, losing out on a solid finish—and the points that come with it—can have a dire impact at the end of the season, but Rogers says he and Thomas won't take extra risks at Barber or any other event to try and make up the points needed to earn a title.
"If we focus on the season long goal of a championship, the unfortunate hit we took at Daytona put us in a deep hole in the championship points race. If we approach the Barber race with a 'performance mentality,' and focus on driving the race, we still believe the results will come.
"Seth and I had only one goal this season – a championship.  The way you win a championship is to perform at your highest level and drive every race, and every lap in each race, consistently and to the best of our abilities.  The results will take care of themselves. I'm really looking forward to Barber. It's a classic road course, which is where I feel most at home."
Follow the team's progress this weekend at www.BimmerWorldRacing.com and tune in to SPEED on April 8th at 12 p.m. ET to watch the Barber Motorsports Park race.
Tags