BimmerWorld Aiming For Repeat At This Weekend's Barber Motorsports Park Event
April 1st, 2013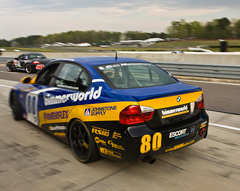 Defending GRAND-AM Continental Tire Series ST class winners return to Alabama with victory in mind.
Returning to a track where a team holds the most recent win is always a cause for optimism, and for the BMW experts at BimmerWorld, racing this weekend at the 2.3-mile, 17-turn Barber Motorsports Park facility is loaded with potential.
Current driver Gregory Liefooghe and former BimmerWorld pilot David Levine scored the GRAND-AM Continental Tire Street Tuner (ST) win at the rolling circuit in 2012, and with another year of development on the team's BMW 328is, the Virginia-based aftermarket and tuning pros want nothing more than to win two-in-a-row at the Alabama track.
The BimmerWorld team has always run well at Barber, which is somewhat odd due to the track's twisting and narrow nature which favors the smaller, lighter cars in the ST category.
Putting its Barber history aside, the 2013 ST rules seem to favor the pint-sized cars through the first two rounds, which could make a repeat for BimmerWorld and its BMW sedans a challenge, but team owner/driver James Clay says his 3-car program will be ready to achieve their maximum potential.
"The big and heavy BimmerWorld 328i has done well at Barber in years past, which is really an anomaly," he noted. "The track has a lot of steep elevation and long turns really better suited for the motorcycles it was designed for and the light, nimble cars in our series that are their closer relatives. I think our success at this track has come from fantastically dialed engineering work, solid teamwork between cars, and a bit of luck. Certainly we hope to repeat, but after the recent ST results, I think we have seen that luck will need to play a significant part."
Of its three entries, BimmerWorld's Dan Rogers and Seth Thomas head into Barber in the most advantageous position, sitting third in points with the No.82 CRC BRAKLEEN® BMW 328i. Early misfortune in the Championship has given the Nos. 80 and 81 teams a bit of digging to do, but with the No. 82 on track, Clay expects its drivers to keep the season-long title in mind.
"Dan and Seth in the No. 82 clearly have a Championship focus and are driving for points, and I think that will pay off for them," he said. "You have to stay clean, and it's nice to win a race or two, but certainly this early in the season if you can make sure you are there at the end, before everything ramps up towards the end of the year, you can accumulate some points before the whole field is focused that direction."
Connor Bloum and Greg Strelzoff lead the No. 80 BimmerWorld BMW 328i and have a slightly different focus for Barber.
"We obviously need to get through the race cleanly," said Bloum. "But at the same time, we're trying to earn as many points as possible to catch up to our teammates. You can't really drive cautiously in these races, and you can't drive too aggressively because that's where accidents start to happen, so we'll have to find the right balance. We don't want to give up any points we feel we can get without jeopardizing the car."
After joining the team for his second season of ST competition, Tyler Cooke partners with Liefooghe in the No. 81 BimmerWorld BMW 328i and expects to put his knowledge of the Barber circuit to good use this weekend, albeit in a different car from the one he used in 2012.
"Some experience here really helps because you have an Idea of where the big elevation changes are, and if a corner has a curb, for example, you might not be able to use it compared to the ones that will keep the car settled," he said. "It is going to be different from the running the Mazda I had last year, but I feel like the basics are going to be the same. I think the BMW is going to have to work hard from what I've seen the last two rounds and think Greg and I will have a great race."
BimmerWorld's race strategy has always been one of the team's greatest strengths, and last year's win at Barber was certainly a testament to the team's planning and engineering capabilities.
As Dan Rogers explains, attacking a track like Barber must be done with the team's overall race strategy in mind. Going full-tilt for 2.5 hours sounds like a lot of fun, but he knows working within BimmerWorld's game plan is the most likely path to finding Victory Lane.
"For the No. 82 CRC BRAKLEEN® BMW car this year, it is all about driving within the team vision and strategy," he said. "My co-driver Seth, our engineer Wayne Yawn and I are all on the same page with regard to the season goals, how those translate into individual race goals, and even specific strategy calls within the race.
"The goal for us is an ST Championship. This means at each track, we have to consistently finish well. Finishing well is a priority over winning races. In the Continental Tire Series, if you plan to finish well, you're likely to pick up your share of podiums. That's our goal this weekend and every weekend."
Follow the team's progress throughout the weekend by visiting www.BimmerworldRacing.com.
Tags