BimmerWorld Heads to Barber Motorsports Park for Round Three
April 5th, 2011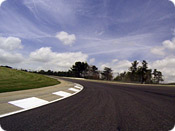 Leading BMW Continental Tire Sports Car Challenge team ready for Barber's rolling hills and natural terrain.
GRAND-AM's premier production-based road racing series will visit a variety of venues during the 10-round championship this season, but with this weekend's Barber 200 at the picturesque Barber Motorsports Park circuit in Leeds, Alabama, BimmerWorld's pair of BMW 328is and M3s will get to race in a more traditional setting.
Carved within Alabama's hilly southern countryside, Barber's 2.3-mile, 17-turn natural terrain road course kicks off eight consecutive races on purpose-built road courses after the series spend the first two rounds competing on unique 'Roval' tracks that use a combination of oval and road course circuits.
The appeal of a facility like Barber–especially for the group of BMW experts at BimmerWorld–comes from the demanding road course itself.
Handling–a specialty of BimmerWorld's Street Tuner-class 328i and Grand Sport-class M3 platforms–is at a premium at Barber, as well as braking, which should give BimmerWorld's fleet of race cars a strong chance to demonstrate the innate characteristics the German machines are known for.
Round 2, held at the Homestead-Miami Roval one month ago, failed to deliver the type of results BimmerWorld has become accustomed to, so with the extended time between Round 2 and Round 3, team owner/driver James Clay says his skilled team of technicians has been hard at work to make sure their BMWs maximize their potential at Barber.
"We left Homestead wanting a lot more, which is a major drive for improvement. We have spent a lot of time on the ST cars in our new chassis dyno and doing some general driveline analysis and tweaking. The GS program has been doing more refining of the chassis and a bit of testing on track as we continue to climb a steep development slope. The guys have been working hard and I think we will see the results show in Alabama."
BimmerWorld's GS line-up features Bob Michaelian and Kenny Wilden driving the No. 79 Bizrate.com BMW M3, and James Clay and Seth Thomas in the No. 79 Johnstone Supply M3. With Michaelian serving as the defending GS race winner at Barber and Clay leading the development of BimmerWorld's brand-new M3 V8 race cars, confidence is high with the race just days away.
"BMWs are typically, by definition, a sleek, nimble, agile performer but in GS trim they are more like a brawny, brawling muscle car," said Clay. "Certainly they take a different style of driving and more importantly for the work I usually do with setup and chassis refinement, they take a different thought process to tuning. Thanks to the work at the track between races I am starting to have a good understanding of how to make the car work. We are still early in our development with the BimmerWorld M3 V8 platform, but it is coming along at a fairly rapid pace. Getting in and racing, by comparison, is the easy part."
BimmerWorld's pair of ST 328is are poised for another run at Barber after David White claimed pole position for the 2010 Barber 200 race. Partnered with Bill Heumann , two-time 2010 race winner and the 2010 MESCO Rookie of the Year, White says a return to Barber in the No. 80 BimmerWorld BMW has been highly anticipated all year.
"I've really been looking forward to getting back to racing on natural road courses and Barber is a great one to start with," he said. "Barber Motorsports Park is a beautiful facility and the track is a challenging one that rewards smooth driving and well balanced cars. Having the heaviest car in the field hurts at technical tracks like Barber but I know that the BimmerWorld crew has been working hard to provide us with the best possible cars for the job. Last year I came to really love technical tracks and Barber certainly ranks near the top of the list of tracks we will race on this year."
With the one-month gap between races, White has found plenty of non-race activities to keep himself busy during the layoff.
"The 2011 CTSCC season will be hitting high gear in the coming months but we, as drivers, have had plenty of down time between races up to this point. Between CTSCC events, when I'm not at the race track, I try to race karts as much as possible to satisfy my competitive urges. I have also been focusing on personal fitness and endurance by cycling and running which I have already found to be very beneficial during long stints in the No. 80 BimmerWorld BMW."
ST rookie John Capestro-Du Bets, who shares the No. 81 BimmerWorld BMW with touring car ace and fellow Exclusive Management teammate Gregory Liefooghe, says he's treated the extended period between Homestead-Miami and Barber as a time to push his physical training regimen to new levels.
"When I'm not at the race track working on my race craft, I am back in San Diego training a minimum of five days a week at the gym. I have a specific fitness plan put together by both Exclusive Management Inc. and Carmel Sports medicine and Fitness. My trainer works with me weekly and keeps me fit and makes sure I have the right muscles built up to succeed in this sport. My training consists of biking, swimming, running and time in the gym. I know with this program, I will be ready for any and all challenges that Barber and the rest of the tracks have to offer."
As the Championship enters Round Three, all the car and personal preparation will be critical and thoroughly tested.
Follow BimmerWorld's progress this weekend at www.BimmerWorldRacing.com, and tune in to watch the race on April 17th at 3 p.m. ET on SPEED.
###
Courtesy: BimmerWorld Media Services
[email protected]
More information about the team, cars, and drivers can be found at www.bimmerworldracing.com
Information on BimmerWorld's Customer Car Services can be found at www.bimmerworld.com
Details on PowerFlex Suspension Bushings can be found at www.powerflexusa.com
Tags
Tags not found
RELATED ARTICLES
Related article(s) not found