BimmerWorld Rides Wave Of Momentum Into 2012 GRAND-AM Season Finale
September 26th, 2012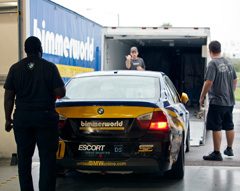 The BMW experts at BimmerWorld head to Lime Rock looking for their fifth consecutive podium and to strengthen their Championship standings in three different categories.
Of the 46 entries that have competed in the 2012 GRAND-AM Continental Tire Series Street Tuner division, Dublin, Virginia's BimmerWorld Racing has stood out as the strongest closers in the series heading into this weekend's season finale.
With its trio of BMW 328is claiming podium finishes in the last five races, including an historic win and 1-2 finish at Indianapolis Motor Speedway, momentum has certainly fallen in favor of the BMW aftermarket and tuning specialists.
A tough start to the season made capturing the Drivers' and Teams' championships a tall order, but it hasn't prevented the front-running program from moving BMW to the top of the Manufacturers' standings.
Relying on his team's strength and resilience, BimmerWorld owner/driver James Clay has his outfit focused on solid results at the tiny Lime Rock road course as it looks to lock up the title for BMW, and to move its three driver pairings and Team entries deeper inside the top 10.
"BimmerWorld has really settled in as a cohesive team this year and we are clicking right along with podiums at almost every race this season, but that is what I would expect from this assembled group of talented people," said Clay.  "Several team members have been with our 'young' team for over a decade and many others for a good string of years, and as the 2012 season got stressful, everyone here just kept to the routine of performing at the level they are accustomed to and we had some great consistent results for that work.  I am looking forward to more of the same as we wrap up the season at Lime Rock."
GRAND-AM has separated the Grand Sport and Street Tuner classes at the Connecticut-based circuit, holding separate races for both categories. This move, due mostly to the problems of trying to fit as many as 60 cars on the short 1.5-mile track, should help BimmerWorld to avoid some of the on-track impacts that soured the early portion of the ten-race calendar.
"The split races at Lime Rock will not only help the contact problem by reducing cars on track, but it will also gather the speeds a little closer together without the GS cars in our field, which in a little bull ring like this, and on the last weekend of the season, is extremely important," said Clay, who shares the No. 80 BimmerWorld 328i with John Capestro-Dubets.
"But the short track also makes the strategy a bit more complicated as it is easy to lose a lap and you have to be performing well all race and really on your toes to do well here."
BimmerWorld's Gregory Liefooghe, who leads the No. 81 program with rookie driver David Levine, brings a wealth of chassis setup experience to the team and offered a few insights on whether Lime Rock requires a perfect-handling car, or if a driver can make up for any deficiencies through extra effort.
"The car setup will be critical, and with the very compressed schedule, it will be important that we unload with a car that is close to where it needs to be," he explained. "Fortunately, with all the engineering the team has put in the car throughout the year, we have been very close to where we needed to be every race so far. Lime Rock has three high speed corners and three medium speed corners, but it has one constant: smooth driving allows you to keep the momentum up and yields fast lap times, and usually when you hustle the car around that track you tend to go slower, putting even more emphasis on needing a balanced car. "
With a reasonable chance of cracking the top five in the final Drivers' Championship standings, Liefooghe is hoping to capitalize on the momentum that has delivered three podiums and a win for him and Levine in 2012.
"I will be focusing on getting on the podium to try to move up the Drivers' Championship, cap off a strong season with David, and finish on a high note to enter next year with some momentum and extra confidence," he said.
As one half of the winning duo at Indianapolis, Dan Rogers has targeted moving to the front with co-driver Seth Thomas in the No. 82 CRC BRAKLEEN® entry to help BMW claim the Manufacturers' title at its home track.
"Lime Rock will be an interesting race; our individual goal for the No. 82 CRC BRAKLEEN® car is always the top step of the podium," he said.  "With Lime Rock being the final race of the season, another dynamic comes into play–the push to finish the year off with our BMWs ahead of the Hondas and the Mazdas to clinch the Manufacturers Championship for BMW. That's our goal."
Although Lime Rock will close the chapter on the 2012 season for BimmerWorld, Clay has also been hard at work on the team's Street Tuner plans for 2013.
"BimmerWorld's 2013 season is very nicely in the works," he confirmed.  "That is not to say we have every part finalized, but we have what everyone here thinks is a rock-solid strategy to capture the Championship, and we have a good number of pieces of the puzzle in place that will allow us to do so.  I don't ever stop looking for ways to grow and improve the team, and from sponsors to drivers to crew and administrative staff, we are always looking for solid team members.  Next year is shaping up to be awesome and I am excited to be able to give it my full attention once we close out the season this weekend!"
Follow the BimmerWorld team atwww.BimmerWorldRacing.com and be sure to watch the Lime Rock race when it airs on SPEED, October 14th at 1:00 p.m. ET.
Tags