BimmerWorld Racing Celebrates Fifth Podium in Six Races at Lime Rock Park Race; Continues to Lead ST Points Championship
July 22nd, 2018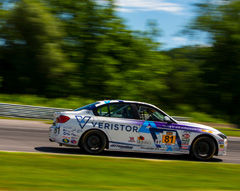 After six of 10 IMSA Continental Tire SportsCar Challenge series races, the BimmerWorld cars continue to rank high in the season-long championship points battle. The No. 81 Veristor/Legistics BMW 328i (F30 chassis) of Devin Jones and Nick Galante leads the ST class championships, while the No. 82 OPTIMA Batteries BMW M4 GT4 of James Clay and Tyler Cooke is tied for second and is just four points out of the lead in the GS class, with 161 points to the leader's 165 (unofficially).
Competition in any Continental Tire SportsCar Challenge race is tough, but add the drama that happens on the short, tight "bullring" 1.478-mile, seven-turn Lime Rock Park circuit in Lakeville, Conn., and it could be anyone's race. Two full-course cautions were part of this year's Lime Rock Park 120 race that ultimately saw Jones, of Mooresville, N.C., and Galante, of Greenfield, Mass.,finish second in the ST class and Clay, of Blacksburg, Va., and Cooke, of Fort Lauderdale, Fla., finish seventh in the GS class.
While a number of race teams had to take home mangled cars that got caught up in contact and off-track excursions over the two-hour race, the two BimmerWorld Racing BMWs expertly avoided damage, and the team loaded up their transporter to head back to their shop in Dublin, Va. with unscathed BMW race cars.
The No. 81 BimmerWorld ST class BMW 328i was a fast car all weekend. Galante, originally from Greenfield, Mass., just across the state line, was the qualifying driver for this round and got the pole with a time of 0:59.543. His teammate, Jones, set a new track record on Friday with a time of 0:59.262 in practice. Saturday's second-place finish was their fifth podium in six races, including two hard-fought victories.
Galante led the first 48 laps of the 113-lap race before pitting during the first full-course caution. He turned the car over to his teammate, Jones, who exited the pits in second and battled with the Pombo brothers in a pair of MINIs through his entire stint. Finally, on Lap 86 with 31 minutes left to go, Jones got past Mark Pombo and was just 2.505 seconds behind the leader, Mat Pombo.
The second caution was thrown on lap 91 with just 25 minutes remaining. The track went green on lap 98 with 14 minutes to go, and Jones crossed the finish line in second place, just .650 behind class winner Mat Pombo and was 2.175 seconds ahead of the third-place finisher, Mark Pombo. Galante had the fastest lap in the No. 81 BMW with a time of 1:00.008 on lap 2.
BimmerWorld Racing's team owner/driver Clay started the No. 82 BMW M4 GT4 from an untraditional 16th position after struggling with some setup issues heading into qualifying on Friday afternoon. By race day, those issues had been erased and he quickly climbed through the field to fifth place by the time he pitted under the first of two cautions at the 50-minute mark on Lap 50.
Cooke had some big battles under green-flag conditions and often ran between fifth, sixth, and seventh position before finishing in seventh on Lap 113, 13.554 seconds behind the overall winner. Cooke's fastest lap came on lap 57 with a time of 0:56.375, one of a number of sub 57-second laps by Continental Tire Challenge competitors.
This race will air on FOX Sports 1 from 3:00 p.m. to 5:00 p.m. Eastern time on Sunday, July 29. The season continues with Round 7 for the Continental Tire Road Race Showcase at Road America in Elkhart Lake, Wisconsin on August 3-5.
Devin Jones, Mooresville, N.C., driver, No. 81 Veristor/Legistics BMW 328i (F30 chassis): 

"First off, we were really strong right when we unloaded here. Right off in practice, we were fast, which is a good place to be. We made a few adjustments to the car through practice and Nick was able to go out in qualifying and put in a great lap. It was close, and he did a really great job putting in a lap there. Then, in the race, he got a great start. It's just kind of how we've been all year—maintaining a good gap during the first stint. We had a caution that we didn't really want because it erased our gap a little bit. From there, we came off pit road in second, fell back to third for a little bit, but I just kept putting the pressure on the MINI guys and was able to get around the No. 52, which was good because he's behind us in points. So, we were able to open our gap in the championship, which is awesome. Overall, it was a good day. You always want to win, but we're happy with second, too. I just have to thank BimmerWorld, Veristor, Race to End Alzheimer's, and everyone who came out to support us."
Nick Galante, Greenfield, Mass., starting driver, No. 81 Veristor/Legistics BMW 328i (F30 chassis): 

"It's so nice to finally get on the podium here at Lime Rock. You know, I grew up in New England, went to Greenville High School, and grew up in Greenville, Massachusetts, just an hour and forty-five minutes north of here. I'm finally on the podium here and couldn't have done it without the great work of James Clay and the entire BimmerWorld team giving us a great car. They did the development on the car over the past couple of years, and now we're reaping the benefits of that. We fought the MINIs really hard there in the end, and Devin did a great job staying on their butt and keeping them honest. This is such a fun season, being right there, fighting back and forth with them. It's fun to have some good competition, you know… We're not just walking away with it. We're barely in the points lead, and Devin is doing a great job helping keep that fight alive.
"It's nice to be out here fighting for a good cause, raising money for Alzheimer's. We're doing the 'Racing to End Alzheimer's' charity. If you Google it, you will find good information on what we're doing (https://www.r2endalz.org/). We're collecting names to be on the car at the Laguna Seca race of family members who are fighting or have fought Alzheimer's."
James Clay, Blacksburg, Va., team owner and starting driver, No. 82 OPTIMA Batteries BMW M4 GT4: 

"It was a little bit of a challenging weekend for us. With the compressed schedule, it makes it tough. We had a car issue that we were fighting in our 82 car, and it was a struggle in qualifying. We ended up sixteenth and that's not really where I want to start—it's a lot of cars to work your way through to the front. There were a number of quick cars, but we knew we had a quicker car. We fixed a problem that had been nagging us, so today was a brand-new day. There were lots of battles in my stint since I had a poor qualifying because of the problem. I had a much better car today, and it was easy to work my way through. Tyler did an awesome job. The car was what it was, and I think we ultimately didn't have quite the grip that some of the other cars out there did, and I could see one of the Mercedes drive right around me on the outside of a turn. Man, we just didn't have that kind of grip today, but that's alright we still had a solid finish and made the best of it.
"Devin and Nick continue to be impressive out there. They're both very capable drivers, clearly, which makes them a consistent pair. We've gotten all the little bugs worked out, so those two are cruisin'. Today, they were second, which is their fourth podium in a row, and they've stood on the top step a couple times and are currently leading the championship. Fingers crossed, but those guys are on it and producing results, and it's great."
Tyler Cooke, Fort Lauderdale, Fla., driver, No. 82 OPTIMA Batteries BMW M4 GT4:
"We didn't have the pace we'd have liked this weekend, but we had good pace in the race. James did the best he could in his stint, and I was happy to get as far as I did in mine. We were just struggling with front end grip, where the Mercedes seemed like it had a lot of grip in the corner…the Mustang, same thing. We were just one of the cars that didn't have the grip they did. We really saw that toward the end of the race. We're walking away with seventh, but we really need to get that win. We've come so close a couple of times. We know we have the pace, so we're looking forward to Road America. It should be a good track for us."
FOLLOW BIMMERWORLD AT: https://www.facebook.com/bimmerworld
STAY UP TO DATE WITH BIMMERWORLD NEWS AT: http://www.bimmerworldracing.com
ABOUT: BimmerWorld is renowned as a leader in BMW aftermarket and tuning expertise. It competes in the IMSA Continental Tire SportsCar Challenge series in both the Grand Sport (GS) class with a brand-new BMW Motorsport M4 GT4 and in the Street Tuner (ST) class with a turbocharged BMW 328i (F30 chassis), where the Virginia-based outfit has become a routine winner and championship contender.
Tags