BimmerWorld Racing Carrying Momentum into Lime Rock Park Mid-Season Race Weekend
July 18th, 2018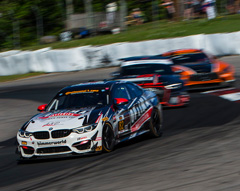 With five races down and five to go in this year's IMSA Continental Tire SportsCar Challenge series, the BimmerWorld Racing team is poised to continue their 'never say never' and 'battle to the finish' racing philosophy as they prepare for this weekend's Lime Rock Park 120 two-hour race, July 21.
Nick Galante of Greenfield, Mass. and Devin Jones of Mooresville, N.C., drivers of the No. 81 Veristor/Legistics BMW 328i (F30 chassis), come into the halfway point of the season leading the Street Tuner (ST) class points standings with 158 points. This year's results include two victories, one second, one third, and a single fifth-place finish. Driving clean races and staying at the top of the leaderboard and on the podium nearly every race has certainly aided in their points advancement in the popular class.
The Grand Sport (GS) duo of team owner/driver James Clay of Blacksburg, Va. and Tyler Cooke of Fort Lauderdale, Fla., co-drivers of the No. 82 OPTIMA Batteries BMW M4 GT4, have progressed their class point standings to second place, just six points out of the lead at the halfway mark of the season. With two second-place finishes and one third-place GS class finish in five events, the BimmerWorld drivers have been a consistent challenger in a hugely competitive class and series.
All four BimmerWorld drivers love the short, tight and tough 1.478-miles and 7-turn Lime Rock Park circuit in Lakeville, Conn., nestled in the foothills of the Berkshire Mountains, but none take the fun circuit for granted. Sometimes referred to as a 'bullring,' the historic track is over 60 years old and has featured races of some of racing's royalty: Mark Donohue, Dan Gurney, Stirling Moss, Sam Posey, Paul Newman, Bob Sharp, and Mario Andretti, to name a few. BimmerWorld Racing looks to add their name to the Lime Rock Park history stats with another victory this weekend.
Practice begins on Friday, July 19 with three sessions: 10:05-11:05 a.m., 12:45-1:30 p.m. and 3:15-3:30 p.m. and qualifying will be held later on Friday afternoon. The ST and TCR class cars qualify 3:40-3:55 p.m. and the GS run from 4:00-4:15 p.m.
Live video coverage and live timing and scoring of the race will be offered on imsa.tv and imsa.com. The race will also air on FOX Sports 1 on Sunday, July 29 from 3:00-5:00 p.m. All times are Eastern.
James Clay, Blacksburg, Va., team owner and driver, No. 82 OPTIMA Batteries BMW M4 GT4:
You and Tyler are currently tied for second in the GS points after some hard-fought races this season. Give us an overview of this year so far.
"This has been a solid season for Tyler and me so far in general, but considering it's our first year with a new car, it's been spectacular! The BMW M4 GT4 is a solid platform and that alone has been good for us. But additionally, Tyler and I continue to have an extremely effective relationship to continue to progress both one another and the car, and the BimmerWorld team has performed continuously behind the scenes. All the elements are there, and I think the results are showing that."
LRP is the shortest track on the series' schedule at 1.47-miles and 7-turns. How do you like the short, tight circuit, and what's your favorite section?
"I recognize the challenges Lime Rock presents, but I really do enjoy this little track. The uphill is probably my favorite turn because it either is a passing zone or sets up for a pass into West Bend, and you can throw a lot of speed into it."
Last year you qualified fourth at LRP and you and Tyler finished third. Do you feel this is a good circuit for you and your 2018 BMW M4 GT4?
"I think Lime Rock will be decent to us the way we are currently sitting with car specs. There are no long straights to really flex our turbo engine's muscles, and I don't think we have quite the same downforce as some of the other cars, but I think again it will come back to our effectiveness as a team. We'll stay on the lead lap and maybe out of some of the TCR cars, who I think will be very fast at this track and will be a major dynamic in the race."
You're in the thick of the summer racing season. How do you relax in between races?
"So far, I haven't had much time to relax at all! I've been spending a lot of time in a variety of races this year. This has really, unfortunately, cut into my stand-up jet skiing, but I hope to remedy that in the second half of the summer!"
Tyler Cooke, Fort Lauderdale, Fla., driver, No. 82 OPTIMA Batteries BMW M4 GT4:
You and James are currently tied for second in the GS points after some hard-fought races this season. What's been your favorite race so far this season and why?
"Watkins Glen was a good outcome that we felt really good about altogether. We hope to have more races like that, but we need one more step up at the finish."
How difficult is it to pass at LRP? How much will a good qualifying position play into that?
"Lime Rock is one of the hardest tracks to pass, it's our version of Martinsville (NASCAR). With the GS field this year, qualifying is a big deal and helps determine the outcome of the race."
What's been your best result at Lime Rock Park during your career and share your thoughts about the circuit.
"In my Continental career, a third-place finish was my best in 2013. Overall, I won two races back-to-back in the Skip Barber Series. I really enjoy the track and love racing there. It's great for the fans and the racing can be a real nail-biter."
Faster cars don't want to get stuck behind the slower cars and we sometimes see some risky moves and subsequent cautions. How much do you think cautions will play into the race results?
"You have to know where you can pass a car and not lose ground. It can hurt your race finish if you don't time it right."
What do you like to do outside of the track when you're up in Connecticut?
"I hang out with my family, have a fire, and take in the beautiful scenery."
Nick Galante, Greenfield, Mass., driver, No. 81 Veristor/Legistics BMW 328i (F30 chassis):
You and Devin jumped to the top of the ST points standing after your second victory at the last race at Mosport. What was that feeling like?
"Of course, it felt great, but to be in the points lead at the halfway point of the season is just reassuring of the team we have behind this effort. To consistently finish at the front of this series takes a truly professional team, and that's what we have."
What was your best result at Lime Rock, in what series and car?
"For the past two years, I've finished fourth here at Lime Rock. We've been the top-finishing team that wasn't a Mazda. I think this could be the year for my first podium or win here."
Lime Rock Park is a natural-terrain racing venue. How much of a difference does that make compared to a truly man-made circuit in your eyes?
"The flow of Lime Rock is very different from most tracks. It's apparent that it's a natural-laying track. To be fast at Lime Rock, you have to change your style and have a good fitting setup on the car. It's a great challenge that's fun when it works."
Do you ever get a chance to interact with the fans at Lime Rock? What are they like?
"Yes! The fans at Lime Rock are great. I grew up in New England and feel at home here. They are so passionate about their racing. I'm looking forward to being back."
Devin Jones, Mooresville, N.C., driver, No. 81 Veristor/Legistics BMW 328i (F30 chassis):
You and Nick jumped to the top of the ST points standing after your second victory at the last race at Mosport. Share your thoughts about your successes so far this year.
"Having the points lead at the mid-point in the season is a good feeling. We've had a little bad luck here and there, but this BimmerWorld team has fought hard to keep our #81 BMW in the battle for the championship. The results we've earned up to this point in the year have been awesome, but this championship is going to be a fight right down to the end. Nick, myself, and the team know we have to keep working on bettering the car and perfecting everything we do on race weekends in order to keep the momentum rolling for the rest of 2018. I'm excited about our chances and thankful to be in the position we're in."
How do you like the short, tight Lime Rock circuit?
"Lime Rock is such a cool place to race, I honestly really enjoy every part of the track. It's a bullring and the closest thing to what I grew up racing on, which was quarter-mile to half-mile short track ovals. It's close quarters racing that requires technique and finesse for fast consistent laps. The track kind of races like an oval, except for it's mostly right turns!"
How much more difficult will passing be on the small 1.47-mile, 7-turn circuit than some of the other tracks on which you've competed this year?
"Passing will be difficult but what will be even more of a challenge for our class is traffic. With the TCR and GS fields expected to be close in speed this weekend, the race will be very hectic. The ST cars will be constantly looking in our mirrors to see what's coming next. During the race, it'll be a matter of who's losing the least amount of time while being passed by the faster class cars."
Tell us about the best result in your career at Lime Rock.
"My first time at Lime Rock was a Skip Barber National Series race; I was battling for the lead when I got in oil from other car and spun into the grass. Not the best result but one that sticks out to me. Even though the end result wasn't great, the first laps I made around the track in practice that weekend made me immediately feel at home on this track. Hopefully the best results come this weekend."
Do you ever get your bike out during the Lime Rock race weekend and go cycling in the Berkshires or elsewhere?
"I've been driving to a lot of races this year, so I've been able to bring my bike more which has been fun. I'm planning on driving up this week with my bike and hope to ride a little around the area. I love being able to travel, and going on a ride is the best way to explore a new place."
FOLLOW BIMMERWORLD AT: https://www.facebook.com/bimmerworld
STAY UP TO DATE WITH BIMMERWORLD NEWS AT: http://www.bimmerworldracing.com
ABOUT: BimmerWorld is renowned as a leader in BMW aftermarket and tuning expertise. It competes in the IMSA Continental Tire SportsCar Challenge series in both the Grand Sport (GS) class with a brand-new BMW Motorsport M4 GT4 and in the Street Tuner (ST) class with a turbocharged BMW 328i (F30 chassis), where the Virginia-based outfit has become a routine winner and championship contender.
Tags