BimmerWorld Racing Finishes Just Off Podium in Valiant Drive at Lime Rock Park
July 22nd, 2019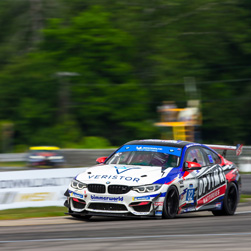 The BimmerWorld Racing duo of team owner James Clay of Blacksburg, Va. and Devin Jones of Mooresville, N.C. took their No. 82 OPTIMA Batteries/Veristor BMW M4 GT4 to a fourth-place finish in the challenging Lime Rock Park 120 race. The MICHELIN Pilot Challenge series' two-hour race featured 33 cars vying for victory in two classes, Grand Sport (GS) and Touring Car (TCR), around the tight 1.478-mile, 7-turn road course in the northwest corner of Connecticut near the Berkshire Mountains.
Qualifying driver Clay started from the 10th position on the grid in the GS class in the nail-biting race that was run under sunny skies. The record-setting heat and humidity forced the team to deal with a heat index of 99 degrees F, and the track's surface temperature registered at a whopping 109 degrees, making the short and technical track that much more challenging under race conditions.
Clay quickly moved up one spot before confronting a familiar Mercedes that brought about unneeded contact in the previous race. Joined by former teammate Tyler Cooke in an Audi R8, the duo finally shoved their way past the very wide car. Clay then focused on turning clean laps and passing lapped traffic for a long, hot driving stint, eventually pitting his BMW M4 from third position in class before the first stop on Lap 55 at approximately 53 minutes into the two-hour race.
The BimmerWorld Racing executed another great pit stop with the driver change, a full load of fuel, and four tires in a green-flag stop late in the pit cycle. This had co-driver Jones rejoining the field in the 14th position and one lap down, but with the pit cycle completed, the No. 82 settled out on the lead lap and inside the top 10 again. After ten more laps of foot-down driving, Jones elevated himself into seventh before setting his first fastest lap of the race on Lap 66 with a time of 54.8.
Several competitors had come in for their second stop with a short fuel fill, but the BimmerWorld team, along with several others, were on a daring strategy to wait for a yellow flag that might have prevented the need for the additional fuel. But as the minutes ticked down and time was running out, it was clear that the team was being boxed into a losing strategy. Just as the team made the call to pit, they were gifted the yellow flag they were hoping for, which was the only full-course caution of the race, came out on lap 87 with just 35 minutes remaining for debris on the track.
Jones stayed out in the initial pit cycle while the majority of top cars came in, putting the No. 82 BMW M4 on the lead lap in the pass-around process as the pace car caught the new leader positioned behind him. The BimmerWorld team then made the daring call to pit off-sequence on the very short track for two left-side tires and a splash of fuel, sending Jones out of the pits mere seconds before the leader as the track went green. This put Jones in the podium-fighting position of fourth after jumping multiple cars in the pits.
Jones put his head down from the lap-94 restart in a valiant effort to finish on the podium, even besting his earlier fastest time on lap 98 with a time of 54.777 around the small and tight Lime Rock circuit. As close as he got in the final minutes of the edge-of-your-seat race, he couldn't quite break into the top three and had to settle for fourth position on the final lap.
Although it was a strong finish for the BimmerWorld team, they fell from first to second position in the GS championship points battle and three points down, having had a one-point advantage coming into the Lime Rock race weekend.
The Lime Rock Park 120 race will be televised taped delay on the NBC Sports Network on Friday, July 26 from 2:00-4:00 p.m. Eastern time.
The next MICHELIN Pilot Challenge event, Round 7 of 10, will be the Road America 120 race held at Road America in Elkhart Lake, Wisc. on August 3rd.
Post-race quotes follow:
James Clay, Blacksburg, Va., team owner and driver, No. 82 OPTIMA Batteries/Veristor BMW M4GT4:
"After our BoP (Balance of Performance) change before the Canadian Tire Motorsports Park race, I think we're really scrapping hard for anything we've got. I think these next races are going to be a challenge and, unfortunately, I believe we're in a prevent type situation. But we're still bold with strategy and still trying to win races. I think Road America is going to suit our car better than this track did, so I like our chances going in there. But with the Audi in the points lead right now, that's going to be a really tough car because they're also really solid right now. So we'll see."
Devin Jones, Mooresville, N.C., driver, No. 82 OPTIMA Batteries/Veristor BMW M4 GT4:
"Going into this race, we knew it was going to be tough. Practice was up and down, and we weren't sure where we were speed-wise, but we were pretty confident in our long-run pace. I think that showed today, along with a great job by James in keeping his nose clean and keeping us on the lead lap in the beginning because that was a concern. We went a lap down under the caution but had good strategy and were able to get it back. We came in and put on left-side tires and started running good lap times and salvaged a fourth-place finish. We can't really be too disappointed with that. Every weekend you want to win or be on the podium, but you've got to take what you can get, especially because it's a long season. It was a solid points day, even though we lost the lead. We're still right in contention and we've still got some good tracks coming up for us. I've got to thank all the guys for the hard work this weekend. It was really hot. I'm exhausted!"
FOLLOW BIMMERWORLD AT: https://www.facebook.com/bimmerworld
STAY UP TO DATE WITH BIMMERWORLD NEWS AT: http://www.bimmerworldracing.com
ABOUT: BimmerWorld is renowned as a leader in BMW aftermarket and tuning expertise. It competes in the IMSA MICHELIN Pilot Challenge series in the Grand Sport (GS) class with a BMW Motorsport M4 GT4, where the Virginia-based outfit has become a winner and championship contender. It was also the Street Tuner champion of that series in 2018. 2019 also marks BimmerWorld Racing's return to the SRO TC America Championship in the Touring Car (TC) class with two BMW Motorsport M240i Racing cars.
Tags