BimmerWorld Racing Pushing Hard to Maintain GS Points Lead at Lime Rock Park
July 16th, 2019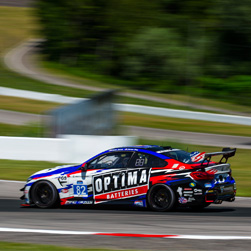 The BimmerWorld Racing team and their No. 82 OPTIMA Batteries/Veristor BMW M4 GT4 of team owner James Clay of Blacksburg, Va. and Devin Jones of Mooresville, N.C. heads to Lime Rock Park inspired to maintain their point lead. The driving duo sits atop the MICHELIN Pilot Challenge Grand Sports (GS) championship points by a mere single point over the second-place duo and two points over third place.
The competition in the MICHELIN Pilot Challenge is expected to be as challenging as ever at the two-hour Lime Rock Park 120 race on Saturday, July 20 at the 1.478-mile, 7-turn road course. Clay and Jones do not plan to give up their points lead and are resolute to continue their GS championship quest this season as they enter Round 6 of the 10-race calendar.
The Lime Rock Park MICHELIN Pilot Challenge abbreviated two-day event starts with one practice session on Friday, July 19, at 11:05 a.m. A second Friday practice will be from 1:15-2:00 p.m., followed by Practice 3 at 3:40-3:55 p.m. This leads into qualifying with the GS class following TCR at 4:25 p.m. for 15 minutes. The open-grid fan walk begins at 10:20 a.m. on Saturday. The field will warm up its Michelin tires at 11:00 a.m. for formation laps and the race is scheduled to start at 11:10 a.m. for two hours.
The event will be streamed live on imsa.tv, and there will be live timing and scoring on imsa.com. The race will be broadcast on NBCSN on Friday, July 26 from 2:00-4:00 p.m. All times are Eastern.
Pre-race quotes follow
James Clay, Blacksburg, Va., team owner and driver, No. 82 OPTIMA Batteries/Veristor BMW M4 GT4:
It's now the middle of the season, and you and Devin are leading the GS points. What is your plan to stay on top of the points when you have a bullseye on your backs with everyone aiming to dethrone you?
"The points battle is very tight at the front this year, and quite honestly, I expect there to be some position swaps in the next few rounds. We got hit with weight and a power reduction recently, and that hurts. We still have a solid car, but the next rounds won't be easy, and, as always, our strategy is to prepare the best we can, race hard, and let the result come."
Lime Rock is a very different circuit with no long straights and short, tight corners. How well does this circuit play for your turbo BMW M4 and Performance Friction Brakes?
"I'm not totally sure we'll be strong at Lime Rock—we certainly weren't last year. I'm aware that it's easy to put other cars a lap down if we get a lot of green flag running, and I hope that plays in our favor."
In the past, you've said the uphill is your favorite turn because it either is a passing zone or sets up for a pass into West Bend. How easy will that be this year with this challenging GS field?
"I love the Uphill and it has been a strength on this track in the past for us. West Bend is a really tight place to pass, but so is this whole track. I think at this point in the season, it's all just challenging at the front of the field. Nothing is a given or expected, which will lead to some really good hard racing."
Most every race this season has had multiple in-race cautions because of accidents and offs. You and Devin seem to be able to stay on track very well. Is there an art to knowing when to take a chance as well as how to avoid someone else who makes a risky move?
"I think this is racing experience combined with tempered goals. We aren't points racing—we're racing to win. But I think we're also acutely aware that you don't win by taking excessive chances, and in the moment in situations where things have gone wrong around us, we've just left a little change on the table for avoidance. As I look back through the season so far, I'm aware that we could've taken more chances and maybe moved slightly forward in doing so, but you can't argue with the results of our approach."
Do you and the team ever get to do something fun when you're up in the Berkshires like boating, hiking, or something during this classic mid-July race week?
"Lime Rock is a very fast in and out event for us. In years past, we've raced on the Monday of a holiday weekend and had some time to enjoy the area, but this weekend we'll be intensely race-focused for 28 hours, then looking forward to a small break in the action before Road America."
Devin Jones, Mooresville, N.C., driver, No. 82 OPTIMA Batteries/Veristor BMW M4 GT4:
It's now the middle of the season, and you and James are leading the GS points. What is your plan to stay on top of the points when you have a bullseye on your back with everyone aiming to dethrone you?
"We've had a really solid first half of the season, but it's still way too early to be worrying about points standings. We know it's going to be a fight right down to the end of the year, so our focus is to execute one race weekend at a time. I have full faith in our team to continue performing well during the second half of the season."
You have said that the short, tight Lime Rock circuit reminds you of the quarter and half-mile short track ovals on which you started your racing career. How does your racing history of the short tracks help you sling your BMW M4 around this circuit?
"Lime Rock is the shortest track we go to, and I love it. The first time I came here, I was still fresh off oval and stock car racing, and the track immediately meshed well with me. A lot of the same driving techniques apply to ovals and being fast around Lime Rock. The biggest difference is you're going right most of the time instead of left!"
Cautions and avoiding accidents are part of the game in the MICHELIN Pilot Challenge series, especially on a small track like this. How do you best avoid getting caught up in another driver's bad choice?
"It really just comes down to racing instinct and knowing when to push the issue and when not to. These races are long and a lot can happen—sometimes a little patience pays off with a good finish."
You and James both seem to be good at gaining positions, particularly after a pit stop or restart after a caution. Not to give away any of your racing tricks, but what do you look for?
"James is the start/restart master! I think he's gained at least two to three spots each race this year on the start. My main key would be quick decision making and trying to be as efficient as possible when battling for position with other cars. It's the best way to make up positions, aside from beating others out of the pits, which our guys do an amazing job of as well!"
The first automobile law was passed by the state of Connecticut in 1901 to set the speed limit at 12 miles per hour. Do you think you could go 12 mph if you even tried?
"Only if I was on the bike going up a hill… or it probably would've been a safe speed for a period of time this year at Watkins Glen when the heavy rain hit and we were on slicks!"
FOLLOW BIMMERWORLD AT: https://www.facebook.com/bimmerworld
STAY UP TO DATE WITH BIMMERWORLD NEWS AT: http://www.bimmerworldracing.com
ABOUT: BimmerWorld is renowned as a leader in BMW aftermarket and tuning expertise. It competes in the IMSA MICHELIN Pilot Challenge series in the Grand Sport (GS) class with a BMW Motorsport M4 GT4, where the Virginia-based outfit has become a winner and championship contender. It was also the Street Tuner champion of that series in 2018. 2019 also marks BimmerWorld Racing's return to the SRO TC America Championship in the Touring Car (TC) class with two BMW Motorsport M240i Racing cars.
Tags