BimmerWorld Prepared for Return to Watkins Glen
June 29th, 2016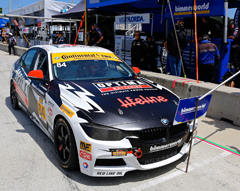 The last IMSA Continental Tire Sportscar Challenge race was nearly two months ago, and the BimmerWorld Racing team has used the break wisely to focus on development work, implementation of previous development, and testing of its turbocharged BMW 328i race cars. Beginning with Saturday's Continental Tire 150 at Watkins Glen International, the series starts a stretch of four races in six weeks when teams will be working hard purely to keep cars repaired and on track, but BimmerWorld starts this summer's long run well prepared.
The team has a broad foundation due to the mass of its race shop and parts business headquartered in Dublin, VA, making it well suited to tackle two immediate goals: improving its engine package's reliability, and heat control for these hot summer events.
The team tested both the No. 84 OPTIMA Batteries BMW 328i entry of James Clay and Tyler Cooke and the No. 81 BimmerWorld BMW 328i of Jerry Kaufman and Kyle Tilley during the break. It hopes that testing will pay off at the end of Saturday's 2-hour-and-30-minute race on the newly repaved, 3.4-mile, 11-turn road course in Watkins Glen, NY.
James Clay, team owner and driver, No. 84 OPTIMA Batteries BMW 328i (F30 chassis):
What will be the strengths of the BMW 328i at the Glen?
"Watkins Glen has always been a good BMW track. We have one of the heavier cars in the series, but the faster, sweeping turns at Watkins Glen don't make that as much of a disadvantage as it is at other tracks. The brake package gets a workout at Watkins Glen as well, both to make a good lap and in some critical areas for passing, and we have been at the front of the field in braking capability so far this year."
Do any of the drivers have ties to the region? Will any of them be racing at The Glen for the first time?
"All of our drivers have been there before, but certainly for our BMW squad there is more Northeast experience, which will be important given the abbreviated schedule without a test day."
Tyler Cooke, driver, No. 84 OPTIMA Batteries BMW 328i (F30 chassis):
How did you spend the time off since the last race?
"I spent my time coaching guys in their race cars at places like Mid-Ohio, Lime Rock, and New Jersey. I spent a couple of weeks with my girlfriend and her family as well as worked at Monticello Motor Club and Ford as an instructor. It's been a busy couple of months, but I'm ready to be back in the seat."
How do you prepare for three races nearly in a row in July?
"Lots of mental training. Keeping yourself mentally and physically fit. James and I make a good pair where we keep each other on our game on and off the track."
What will be the strengths of the BMW 328i at The Glen?
"The long run of the car. We are OK on power but rarely see the top of the charts, but we always have a great handling car, and that's where we show our strengths."
You and James are tied for seventh in the driver point standings with some success this season right now. What is the focus for the next few races to move up?
"Consistent runs. Two top fives have put us there. Not taking a chance for a second or first place that would wind up ending our race. Third-place points are better than no points. Being consistent and up front will help our season."
Kyle Tilley, driver, No. 81 BimmerWorld BMW 328i (F30 chassis):
How have you been preparing Jerry for a challenging track like Watkins Glen?
"Jerry and I competed in a lower-level endurance race with two cars earlier in the year. That gave us four days of track time, and we had a combination of wet and dry running, so I think we are pretty well prepared. Watkins Glen is Jerry's home track and one that he knows very well. I am expecting him to be fast! No pressure, though."
How do you like the Watkins Glen circuit, and what's your favorite part?
"I don't have that many laps around the track still; however, I love the Carousel onwards, where the elevation starts to come into play."
How do you anticipate the BMWs to stack up against some of the other ST class competition at The Glen?
"Our BimmerWorld BMWs should be competitive. We recently had a successful two-day test at VIR, so I'm hoping that translates into a successful weekend at the Glen! Obviously, the Porsches and Mazdas are always going to be fierce competition."
How do you think the newly repaved surface will affect the race?
"With regard to the new surface, I think we will see a drop in lap times from previous years; other than that it will be the usual close ST-class racing!"
Jerry Kaufman, driver, No. 81 BimmerWorld BMW 328i (F30 chassis):
You have had a long break since the last race. How do you stay focused and tuned between races when you have a break like this?
"The two-month break really doesn't feel very long because of all the driving I do during that time. I've been on track sorting out new suspensions in two BMW club-racing cars. It certainly isn't the same pressure or atmosphere, but I drive them with the same focus and passion."
You and Kyle did some testing during the break with your turbo BMW. How did it go? What are the main differences with this car?
"The #81 has a lot of characteristics that are unique in a race car. The long wheelbase and street-based power steering makes it more difficult to feel the limit. We made some setup changes to help the car communicate better to the driver, and we were very pleased with the outcome."
You have quite a bit of driving experience at Watkins Glen? Share some of your thoughts about the circuit.
"Watkins Glen is an amazing place. It is a great facility and has always been my favorite track. I've had great success at The Glen while participating in BMW CCA club racing, and it's a place that I always look forward to driving. This year is even more special because they repaved the surface and expanded the paved runoff to take what is already a very fast track and make it even faster."
Jason Marks, crew chief, BimmerWorld:
How do you think the newly repaved surface will affect the race?
"I am really excited heading into The Glen and Mosport. I think as a team we are in the best shape that we have been all season. The crew has worked incredibly hard in the break. They have worked out some bugs and issues and done quite a bit of testing. We've religiously hit pit-practice sessions two days a week, and everything is looking good. As far as the newly repaved surface, I don't put much concern into that. All the cars will be on the same circuit so it really shouldn't play out too much as an advantage/disadvantage. It will likely cost our engineers a few hours of sleep trying to tune the cars to the nuances, though."
Last race's race was affected by rain. Are you hoping for a wet or a dry race, and why?
"As far as rain, I have to say I am not a fan. From a competition standpoint, once again everyone ends up racing in the same conditions, and I am confident in our drivers in the wet or dry, but from a logistics standpoint, a dry week will likely let us get to Canada in better shape all around."
FOLLOW BIMMERWORLD AT: https://www.facebook.com/bimmerworld
STAY UP TO DATE WITH BIMMERWORLD NEWS AT: http://www.bimmerworldracing.com
ABOUT: BimmerWorld is renowned as a leader in BMW aftermarket and tuning expertise, and competes in the Continental Tire Series with a pair of BMW 328is (F30) where the Virginia-based outfit has become a routine winner and Championship contender.
Tags