BimmerWorld Looking To Close 2011 Season on a High At Mid-Ohio
September 13th, 2011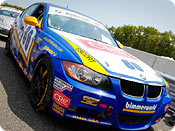 After a solid year of growth and learning, the BMW experts at BimmerWorld are ready to finish the year and prepare for a renewed assault in 2012.
With nine races down and one to go in the 2011 GRAND-AM Continental Tire Sports Car Challenge season, the BMW experts at BimmerWorld are ready to close one chapter and open a new one.
The 2011 season hasn't been easy–especially after moving from a two-car team in 2010 to a four-car effort this season, but with a year of knowledge and information added to the books, the team has its sights set on this weekend's finale at Mid-Ohio and its prospects for next season.
"We took our successful BMW 328i Street Tuner program and added two new Grand Sport BMW M3 V8s to the roster, almost doubled our staff and have adapted the rest of our organization to become a bigger, stronger and more cohesive program," said BimmerWorld owner/driver James Clay.
"There's no question that we've had our ups and downs this year, but at the end of the day, we've learned an incredible amount, our GS M3 V8s have become regular contenders inside the top 5 and we've earned podiums with our ST 328is. What's critical to me is that our team has become a greater threat at every round. As we head into the off-season and quickly to 2012, we are still rapidly gaining momentum and that is important to me."
With almost two months between the last round at New Jersey and the season-ending race at Mid-Ohio, BimmerWorld continued its familiar practice of tearing the four-car BMW fleet down to pieces to optimize every possible area.
After the ST and GS cars received their latest batch of improvements, the team went testing to extract more performance from its BMWs. As Clay shares, BimmerWorld's testing efforts had short- and long-term implications.
"It is always our goal to win every race we enter; that's why we are in this business. Making the best racing cars feeds back to our core BMW aftermarket business. With what we've found in our most recent test, our cars should be faster at Mid-Ohio and most importantly for next season. We're at the stage now where Mid-Ohio isn't so much about ending the season, but more about getting a head start on 2012."
As GRAND-AM fans and Continental Series competitors have found since BimmerWorld joined the series in 2010, the Dublin, Virginia-based team excels at forming fast and capable partnerships behind the wheel. From team veterans to those who've driven for BimmerWorld for the first time, Clay takes pride in being able to offer competitive cars and a positive environment to his clients.
"We've had new drivers in our ST and GS cars this year, and we've also had some of our established drivers back which has made for some great driving combinations. Being able to pair proven veterans with rookie drivers or those who want to step into a more competitive situation is one of the unique aspects of our program, and that will continue next year. It's too early to say how our exact lineup will look when the season kicks off at Daytona in January, but we'll have the same winning drivers, coaches and engineers in place for those who come onboard."
Clay's work on filling the remaining seats available for 2012 will have to wait until this weekend's race comes to a conclusion, as the entire organization is focused on mastering the tricky Mid-Ohio road course.
With BimmerWorld's record of scoring multiple professional wins at Mid-Ohio, Clay says he can't wait to get going on the 2.2-mile, 13-turn circuit located in Lexington, Ohio.
"Mid-Ohio is like many of the BMW-friendly tracks that we race on. It demands the most from a car's handling, braking and acceleration, which is tailor-made for our 328is and M3 V8s. We're pulling out all the stops for Mid-Ohio, but we're also viewing the race as the first part of our preparation for next year."
Like the tweaks made to its cars for Mid-Ohio, BimmerWorld has also made some adjustments to its driver lineup this weekend.
The No. 78 Bizrate.com BMW M3 V8 will be driven by Bob Michaelian and Seth Thomas, who moves over from the No. 79 CRC Industries M3 V8. James Clay will share the No. 79 with Gregory Liefooghe, who has already stepped out of the No. 81 328i twice this year to drive for BimmerWorld in the GS category.
In ST, Bill Heumann and David White will close out the year in the No. 80 328i, while newcomers Jayson Clunie and David Levine will take the controls of the No. 81.
"It should be a great way to close the chapter on the 2011 season," Clay explained. "This isn't a series where you can rest, and with some of the changes to the driver lineups, it's reasonable to have high expectations. Everyone works together to get the most speed out of the cars and each other, and now it's time to push each other for the best results possible at Mid-Ohio."
Follow the team progress this weekend at www.BimmerRacingWorld.com, and tune-in to watch the race on SPEED at Noon ET, on September 25th.
###
Courtesy: BimmerWorld Media Services
[email protected]
More information about the team, cars, and drivers can be found at www.bimmerworldracing.com
Information on BimmerWorld's Customer Car Services can be found at www.bimmerworld.com
Details on PowerFlex Suspension Bushings can be found at www.powerflexusa.com
Tags