BimmerWorld Caps 2011 Season With Strong Run At Mid-Ohio
September 20th, 2011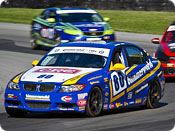 Team now shifting gears for a renewed four-car Continental Series program in 2012
After 10 grueling rounds of GRAND-Am Continental Tire Sports Car Challenge competition, Dublin, Virginia's BimmerWorld capped the 2011 season with strong runs in both the Street Tuner and Grand Sport divisions at the Mid-Ohio finale.
With contact in the race limiting the final results for BimmerWorld's two-car GS program, the team might not have had the finishing positions they deserved, but after a year filled with furious development and improvements for its new BMW M3 V8 race cars, and continual updates to its year-old BMW 328is, team owner/driver James Clay walked away from Mid-Ohio feeling proud of BimmerWorld's performance.
"I was happy with Mid-Ohio as a team owner. We put in some work testing before the event and we made progress with the ST cars. That is one of the tracks that likely doesn't suit the heaviest car in the field and we had a very respectable showing. The GS cars again were able to race at the front although we still need to avoid the contact that has plagued the final results this year. I think our goal is to get it out of the way so we can have a clean 2012!"
Recording highly competitive lap times in the race, the Bizrate.com-sponsored No. 78 BimmerWorld BMW M3 V8 of Bob Michaelian and Seth Thomas put on a show until contact with a competitor dropped the car from contention.
The same was true for the Johnstone Supply/CRC Industries-sponsored No. 79 BimmerWorld BMW M3 V8 of James Clay and Gregory Liefooghe. With 70 cars racing for 2.5 hours on the tight, twisting 2.2-mile road course, contact became a reality for many teams, and despite making every effort to avoid the mistakes of others, BimmerWorld's GS entries were not immune to its effects.
In ST, Bill Heumann and David White saved the best for last, delivering a season-best sixth-place finish. Heumann, the 2010 MESCO Rookie of the Year and a winner of two races, and White, a two-time pole winner in 2010, extracted the most from their ballast-laden BMW 328i.
BimmerWorld also introduced Jayson Cunie and David Levine to the ST series at Mid-Ohio in the No. 81 BMW 328i. A blend of deft driving and fast pit stops helped the pair to finish 13th on their maiden outing, and as Cunie shares, stepping into an established and professional program helped ease their transition to GRAND-AM.
"Driving the No. 81 BimmerWorld BMW was a fantastic experience. Having never been in an ST car before, I was unsure what to expect. With a car this good and a team this professional, it was very easy to get comfortable quickly, and honestly, being a part of a team of this caliber gave me the confidence to concentrate on just trying to get up to speed. The team made everything very easy to understand. The team meetings and driver debriefings gave me all the information and answers that were necessary, and the way the weekend was organized never left me wondering what the next step was or what was expected of me. It was a fantastic weekend."
Taking on the daunting challenge of doubling the size of its team, the amount of cars it campaigned and entering the top class in the Continental Series, BimmerWorld went into 2011 with high, but realistic expectations. Using the championship-winning BMW brand as its foundation, BimmerWorld entered the series in 2010 with two cars in ST, but thanks to the car's inherent capabilities–and the extra speed added by aftermarket specialists like BimmerWorld–the 328is faced an uphill climb in 2011 as the series added 'success ballast' to slow the BMWs.
With the ballast having its intended effect, the 2011 season became the playground for much smaller and lighter cars, but throughout the season, BimmerWorld's drivers and engineers continued to make improvements to the chassis. After watching the performance advantage being tipped too far in favor of the smaller ST cars, all of BimmerWorld's relentless work on its ST cars is staged to again provide results heading into 2012.
In GS, BimmerWorld recorded one of the most outstanding debut seasons in recent history. Loaded with veteran teams using cars that have years of setup information to draw from, BimmerWorld entered the class at Daytona with its self-built cars and zero data to draw from and finished sixth with the No. 78 M3 V8.
By mid-season, its thundering M3 V8s were running deep inside the top 5 and giving the establishment absolute fits. For a season that was supposed to be dedicated to simply learning about the class and car, BimmerWorld wasted little time in putting what it learned to good use. As the end of 2011 approached, BimmerWorld proved its GS cars could run with the best and, in another 'first' for the team, it successfully introduced multiple new drivers to the series and the GS class.
With an off-season that will be filled with even more R&D and improvements, in addition to plenty of track testing, Clay says his team of perfectionists won't get much rest between now and the 2012 season opener at Daytona in January.
"2011 reminded us how demanding a development program is, but also reinforced my belief in the strength of our team and people," Clay explained. "We have some months to regroup, to dig in to the long worklists that have been created to take the cars to the front, and to perfect all of our processes and operations as a team. Racing is never easy, especially at this level, but our team is full of people who won't settle for anything less than outright success, and I look forward to 2012 when we will get another shot at delivering our best."
Watch the Mid-Ohio race on Sunday, September 25th at 1 p.m. ET on SPEED, and be sure to follow BimmerWorld's off-season efforts as they prepare for 2012 at www.BimmerworldRacing.com.
###
Courtesy: BimmerWorld Media Services
[email protected]
More information about the team, cars, and drivers can be found at www.bimmerworldracing.com
Information on BimmerWorld's Customer Car Services can be found at www.bimmerworld.com
Details on PowerFlex Suspension Bushings can be found at www.powerflexusa.com
Tags