BimmerWorld Racing Finishes Ninth in the Rain at Road America
August 5th, 2019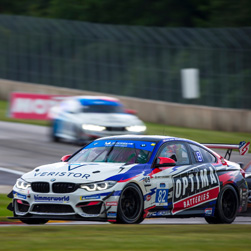 Rain delayed, shortened, and complicated Saturday's MICHELIN Pilot Challenge race at Road America, but BimmerWorld Racing's James Clay and Devin Jones still recorded a top-10 finish despite the treacherous conditions and uncompetitive package under the current rules. They remain second in the point standings with just three races remaining.
After the race was delayed more than an hour due to rain and lightning, IMSA officials shortened the original two-hour contest by 45 minutes. Rain continued to play a starring role in the racing drama; at times the 4.048-mile, 14-turn road course was drying and at other times the drivers could barely see due to the deluge of water their cars kicked up. The team's race strategies came down to simply guessing as to what the weather would be and whether to run on slick or rain tires.
Clay, of Blacksburg, Va., had an opening lap for the ages in the No. 82 OPTIMA Batteries/Veristor BMW M4 GT4. Choosing wet tires for the first stint, he started 17th but advanced nine positions immediately and was up to sixth by lap three. Setting his best lap on lap nine, he pitted under green for the driver change, fuel, and much-needed dry tires with 48 minutes to go.
Jones, of Mooresville, N.C., began his stint in 11th place, but it only took him three laps to vault to eighth, setting the car's fastest lap of the race on lap 16 with a time of 2:21.221.
Unfortunately, it was pouring two laps later in Canada Corner and raining steadily in the pits, so Jones was forced to hang on for the final half-hour of the race. He dropped to 15th at one point, but then the BimmerWorld crew brought him in for rain tires. Some rivals had to pit too, and despite an electrical problem, he was able to rise to ninth before a yellow caused a one-lap dash to the checkered flag. He finished in that position, holding off the McLaren that finished tenth by a mere 0.422 seconds behind at the finish line.
BimmerWorld fielded a second BMW M4 GT4 in this weekend's race, making two of the three BMWs in the Grand Sport field BimmerWorld cars. All three qualified together, with Ari Balogh of Menlo Park, Calif. recording the best time of the three in the BimmerWorld Racing No. 80 Airbnb BMW M4 GT4 that he shared with Seth Thomas of Cumming, Ga.
Like Clay, Balogh had an excellent start, advancing five spots on the opening lap to rise to tenth. With one hour to go, Clay was seventh and Balogh was eighth.
The BimmerWorld team brought the No. 80 in for its first pit stop at the same time the No. 82 pitted, and Balogh was 11th when he pitted for Thomas to take over. Thomas dropped to 15th with the stop, but he set that car's fastest race lap on lap 15 with a time of 2:20.725.
With 33 minutes to go and Thomas holding the 13th position on dry tires, the rain picked up. With 24 minutes to go, he spun, making a couple revolutions before nosing into a wall to bring out the first full-course caution of the race. The car had to be towed back, and the entry ended up 20th in class.
The Road America MICHELIN Pilot race will be televised on a tape-delayed basis on the NBC Sports Network on Monday, Aug. 12 from 3-5 p.m. Eastern time.
The next MICHELIN Pilot Challenge event, round eight of 10, will be the Michelin GT Challenge at BimmerWorld's home track, VIRginia International Raceway in Alton, Va., Aug. 23-35. That track is about 100 miles from BimmerWorld's headquarters in Dublin, Va. On July 26, BimmerWorld announced it would invest $1 million to expand its operations, bringing 15 full-time jobs to Pulaski County. The expansion will primarily help with warehouse space and the company's customer care center.
Post-race quotes follow
James Clay, Blacksburg, Va., team owner and driver, No. 82 OPTIMA Batteries/Veristor BMW M4GT4:
"This was a tough weekend and unfortunately, unless something changes heading to our home track [VIR], it's going to be a tough weekend too. We know this track well; we love it, and we've won here multiple times, but we didn't have anything we could put on track this weekend that was competitive. It's super frustrating.
"Thank goodness we had some curve balls thrown at us so we could advance and kind of sneak our way up there a little bit further. We'll see how the next round shakes out—certainly, we have our work cut out for us with the current weight and power regulations for the BMW."
Devin Jones, Mooresville, N.C., driver, No. 82 OPTIMA Batteries/Veristor BMW M4 GT4:
"This weekend was a real struggle for us. Right from practice, we didn't have much pace at all. The BMWs seemed pretty far off, which was a little bit surprising.
"James did a really great job in the opening stint trying to manage all the tough conditions. We were hoping for rain because we knew we had just about zero chance of anything in the dry since we had no pace. We got the rain we wanted, and James did a great job getting the car up well into the top 10. We went out initially on slicks, but it started raining again so we went to rain tires.
"We felt like we had decent pace in the rain, but then we had a little electrical problem and lost some track position but then gained some back with the one lap we had green again. Overall, ninth is not what you want at all, but it still keeps us in the hunt for the championship.
"We always want better than that, but I guess we'll take it. VIR is the next race, and it's our home track, so we're really looking forward to it. We plan to come in there really strong and hopefully get our pace back and be fast."
Seth Thomas, Cumming, Ga., driver, No. 80 Airbnb BMW M4 GT4:
"Coming back to the MICHELIN Pilot Challenge paddock was awesome. Getting back into the BMW M4 was like a duck to water. It was easy to adapt to and get up to speed again.
"The race was probably one of most testing races I've been in for a while. With the mixed conditions, [I had to] adapt to the car [in response to] what it does in the wet. Everything was going pretty well, and then we had an unfortunate spin. We were coming in for tires, and I needed about two more turns and we would have been good. I had a good time, and I'm glad the BimmerWorld guys had me back out for a race."
FOLLOW BIMMERWORLD AT: https://www.facebook.com/bimmerworld
STAY UP TO DATE WITH BIMMERWORLD NEWS AT: http://www.bimmerworldracing.com
ABOUT: BimmerWorld is renowned as a leader in BMW aftermarket and tuning expertise. It competes in the IMSA MICHELIN Pilot Challenge series in the Grand Sport (GS) class with a BMW Motorsport M4 GT4, where the Virginia-based outfit has become a winner and championship contender. It was also the Street Tuner champion of that series in 2018. 2019 also marks BimmerWorld Racing's return to the SRO TC America Championship in the Touring Car (TC) class with two BMW Motorsport M240i Racing cars.
Tags