BimmerWorld Racing Expands with Two-Car Team at Road America
July 29th, 2019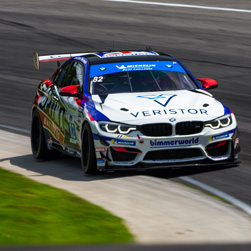 Round 7 of the MICHELIN Pilot Challenge series moves to Elkhart Lake, Wisc. this week for the Road America 120 two-hour race on Saturday, August 3. The BimmerWorld Racing No. 82 OPTIMA Batteries/Veristor BMW M4 GT4 of team owner James Clay of Blacksburg, Va. and Devin Jones of Mooresville, N.C. will be on a mission to climb back to the top of the Grand Sports (GS) points.
Even with their strong fourth-place finish at the recent Lime Rock Park round, Clay and Jones were bumped into second place, just three points down in the GS championship chase. If fans know anything about the BimmerWorld team, they know that winning races and leading the championship are always on their mind, so there's plenty of exciting racing ahead.
For the Road America weekend, BimmerWorld Racing will be fielding a second BMW M4 GT4, the No. 80 BimmerWorld Racing/Airbnb BMW entry for Georgia's Seth Thomas and California's Ari Balogh. Both veteran IMSA drivers have previously competed under the BimmerWorld Racing banner and are thrilled to get behind the wheel of the BMW M4 GT4.
The 4.048-mile 14-turn historic Road America race track is a driver and fan favorite on the 10-race IMSA MICHELIN Pilot Challenge schedule. With just four races remaining, the always stout competition is expected to be as furious as ever, and the BimmerWorld boys are ready to battle to the finish.
The Road America 120 MICHELIN Pilot Challenge sessions commence with a one-hour practice on Friday, August 2, at 9:55 a.m. and a second Friday practice from 3:20-4:05 p.m. Saturday's Practice 3 runs from 10:15-10:30 a.m. This leads into qualifying, with the GS class following TCR at 11:00 a.m. The open-grid fan walk begins at 3:10 a.m. on Saturday, and the field will warm up its Michelin tires at 3:55 p.m. for formation laps. The race is scheduled to start at 4:05 p.m.
The event will be streamed live on imsa.tv, and there will be live timing and scoring on imsa.com. The race will be broadcast on NBCSN on Monday, August 12 from 3:00-5:00 p.m. All times are Eastern.
Pre-race quotes follow
James Clay, Blacksburg, Va., team owner and driver, No. 82 OPTIMA Batteries/Veristor BMW M4 GT4:

Road America is always a favorite track of drivers who enjoy the long straights and the challenging Kink. What's a perfect lap at Road America look like for you?
"Road America is certainly one of my favorite tracks, and where I got my first professional win. To me, the perfect lap is all about maximizing those long straights, getting on the gas early, and running as flat as possible through the Kink. To me, some of the high-speed turns like T1 and T7 and, of course, the Kink really define the lap."
Getting on the brakes is part of a lap around this track. Talk about your Performance Friction Brakes package on your BMW M4 and why it is better than other brake packages in the field.
"I won my first pro race at Road America with an outside braking-zone pass into Turn 5 on Performance Friction brakes—something I will never forget. Whether it's a crazy deep braking zone like Turns 5 and 8, or something that requires finesse like 6 and 14, I think we have developed a brake package with PFC that's certainly one of the tools in our toolbox for success."
Although you are not currently leading the GS points, you are definitely in the hunt with four races remaining. Competition at the front of the GS field seems as strong as ever. Address the challenges you feel you've got to overcome in these remaining four races.
"I'm not big on constantly discussing the series-issued Balance of Performance, but I'm aware with the mid-season power reduction and weight addition that we're struggling to land on the podium. We have an awesome team and our BMW is a solid, reliable platform, and combined with Devin and me, we're able to scrap together some pretty solid points finishes. I'd really like to see the podium a few more times this year, and we'll keep digging for it, and our best chance is to put together a solid overall performance that lands us there. Consistency will definitely be our best tool as we grind out the last handful of races this year."
You've added a second BMW M4 for Seth Thomas and Ari Balogh, who have both raced with BimmerWorld in the past. How did that come about, and share thoughts about them as drivers?
"It's great to have both of them back with us! Seth was part of the early history of our race team and was with us for over 10 full pro seasons, so it's great to have my good friend and veteran team driver back for this weekend. Ari was with us for a couple of years as well, and while his schedule didn't allow for a full season this year, I had previously told him we'd always have a seat for him, and I'm glad he had enough of a break to give me the call. These guys are a known quantity, and as we work to wrap up a strong season, they'll be an asset to our team. And I just enjoy working with good friends!"
At the last race, you said that after the Road America race you were going to get a break. What do you plan to do on your summer vacation?
"I have a break in the racing action, but I don't think it will turn into much of a summer vacation for me. I hope to get a little time on a jet ski this year, but I'm working on both a house renovation and a new warehouse expansion for our BimmerWorld business, so I'll be mostly focused on juggling all the other balls I have in the air currently."
Devin Jones, Mooresville, N.C., driver, No. 82 OPTIMA Batteries/Veristor BMW M4 GT4:

Road America is always a favorite track of drivers who enjoy the long straights and the challenging Kink. What do you enjoy best about the circuit?
"Road America is a pretty epic track with a little bit of everything. The kink is one of the highest risk corners in racing, so it's always a challenge. There really isn't a dull corner around the track. Add them all together and it's a huge and special track to race."
Although you are not currently leading the GS points, you are definitely in the hunt with four races remaining. Competition at the front of the GS field seems as strong as ever. Address the challenges you feel you've got to overcome in these remaining four races.

"It's a very tight battle for the championship, but I'm confident going into this weekend. Everyone has a different agenda this time of year, with some teams going for wins and some trying to score points. We're going to focus on our team and run our own race just like we've done all year."
When you have race after race every week or couple of weeks as we've had since late June, do you get in a rhythm or is it wearing on you?
"I enjoy this time of year, and I think you really get into a rhythm and start to perfect things with your own driving and car setup. I love being at the racetrack."
Heat has been a big factor in the past few races. Talk about your fitness program and how you hydrate before and after a race with extreme temperatures and prepare for them.
"I've been a bike racer for years and ride 10 hours a week for most of the year. I love to do it, and it really helps me in the car. The heat has been rough this season, but I always hydrate days before the race to prepare. Lime Rock was the hottest race in a long time, but I feel my fitness training helped me stay focused at the end of the race."
Seth Thomas, Cumming, Ga., driver, No. 80 BimmerWorld Racing/Airbnb BMW M4 GT4:
You are back with the BimmerWorld Racing team in the No. 80 BMW M4 GT4 for Road America. Share your thoughts about being reunited with your team that you've raced with off and on for the past 15 years.
"I feel like a kid at Christmas and can't wait to be back with my friends and family at BimmerWorld. They've been such a big part of my development as a driver that it'll be good to be reunited with them since my last racing effort with them was in 2016. It'll be like coming back home. I've been doing a few races in Europe since that time, but being back home running a BMW on Michelin tires for the first time with my favorite team in the paddock and with Ari will be great, and I'm looking forward to it."
Share your thoughts about how you like the Road America circuit, your history driving at the track, and your favorite part and why.
"Road America is one of the tracks that I've enjoyed going to, but I feel slightly snake-bitten by it. I've run in the top-5 on multiple occasions only to fall short in the results category due to many circumstances outside my control. But it is a track that every time I drive it, I feel like I want more. The best part of the track to me is the Canada Corner to Turn 13 complex section. The big braking zone and the elevation changes remind me a lot of my home track of Road Atlanta. Plus, there's nothing better than feeling a BMW M4 sliding through this section of the track as the elevation gains and then falls out from under you. It's like a roller coaster ride that I'm in control of."
FOLLOW BIMMERWORLD AT: https://www.facebook.com/bimmerworld
STAY UP TO DATE WITH BIMMERWORLD NEWS AT: http://www.bimmerworldracing.com
ABOUT: BimmerWorld is renowned as a leader in BMW aftermarket and tuning expertise. It competes in the IMSA MICHELIN Pilot Challenge series in the Grand Sport (GS) class with a BMW Motorsport M4 GT4, where the Virginia-based outfit has become a winner and championship contender. It was also the Street Tuner champion of that series in 2018. 2019 also marks BimmerWorld Racing's return to the SRO TC America Championship in the Touring Car (TC) class with two BMW Motorsport M240i Racing cars.
Tags