BimmerWorld Racing Retains Points Lead With Sixth-Place Finish in Canada
July 8th, 2019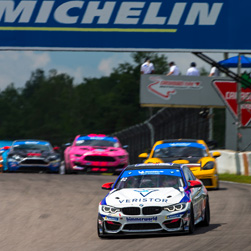 Two days after celebrating Independence Day in the U.S., Canadian Tire Motorsports Park offered plenty of fireworks north of the border for BimmerWorld Racing at the IMSA MICHELIN Pilot Challenge race. The Dublin, Va.-based team finished sixth with the only BMW competing in the Grand Sport (GS) class, and the team unofficially holds on to its lead in the points championship by a single point in the extremely competitive series.
Team owner James Clay of Blacksburg, Va. and co-driver Devin Jones of Mooresville, N.C. nearly finished fifth in their No. 82 BimmerWorld Racing OPTIMA Batteries/Veristor BMW M4 GT4. A total of 24 Grand Sport and 14 Touring Cars were entered for this contact-heavy race on the 2.459-mile, 10-turn road course, formerly known as Mosport.
Clay started 16th but was determined to get into the top 10 quickly while preserving the car's PFC brakes as much possible. He passed two cars on the first lap and spent most of his stint in a fierce battle with a Mercedes which ultimately led to contact between the pair. Stewards reviewed video footage of the incident, but no action was taken.
Clay passed his former co-driver, Tyler Cooke, for 11th place on lap 21 and was only 0.472 of a second behind the 10th place car when the first full-course caution flew on lap 24, just 36 minutes into the race. That yellow was important to the team's strategies, as it occurred right before the 40-minute minimum drive time.
All but four cars pitted during the first caution. With tidy and fast pit work, the BimmerWorld crew gained two positions in the stop (from 11th to ninth) as Clay pitted to turn the car over to Jones.
Thanks to the BimmerWorld crew's quick pit stop, Jones came out of it with good track position and moved quickly into seventh when the green waved again. As the remaining cars pitted, there was some post-caution shuffling as Jones settled into the sixth-place position where he set his fastest race lap on lap 33 with a time of 1:24.313.
Jones juggled positions throughout the race and through the team's final pit stop, eventually elevating his BMW M4 GT4 into fourth place until a McLaren passed him on lap 56 with 33 minutes remaining. He held on to fifth until a Mustang got by with less than one minute remaining on the penultimate lap of the 78-lap race. Jones finished 0.986 behind the fifth-place finisher and 0.748 ahead of the seventh-place finisher at the checkered flag.
Although the BimmerWorld team did not repeat their podium appearance at the Canadian Tire Motorsports Park 120, they do continue to hold the GS points lead at the halfway point of the season.
Saturday's race will be shown on the NBC Sports Network on Tuesday, July 16 from 3 to 5 p.m. EDT. Prior to that program the June 29 race from Watkins Glen International in Watkins Glen, N.Y. will air on the same network on Thursday, July 11 from 6 to 8 p.m. EDT. BimmerWorld Racing finished second in class in that race.
The next event is at Lime Rock Park in Lakeville, Conn. July 19-20. It will air on NBCSN on Friday, July 26 from 2 to 4 p.m. EDT. All the races are also streamed live on imsa.tv.
Post-race quotes follow
James Clay, Blacksburg, Va., team owner and driver, No. 82 OPTIMA Batteries/Veristor BMW M4 GT4:
"I clearly wasn't happy with qualifying; I didn't put down a good lap anyway, but I had my top two laps removed with some contact there, unfortunately. I just wasn't happy with that effort at all.
"Of course, during the race, I paid for that and had to work my way forward in some challenging traffic. I don't think we were trying to be a hero here today; we just needed to get some solid spots, and we needed to have a solid finish. I wasn't going to take excessive chances, and after getting banged around by the No. 57 Mercedes a couple of times, I was pretty content to let them keep the spot and deal with it later. I don't think that ultimately affected our outcome or my race, but it certainly added to some frustration we had to get through today."
Devin Jones, Mooresville, N.C., driver, No. 82 OPTIMA Batteries/Veristor BMW M4 GT4:
"First, the guys in the pits did a great job of getting us out and gaining us a few spots in the pits. James did a really good job racing smart with some of the other cars he was around.
"We wanted to play this race a little bit conservatively. We knew we didn't quite have a winning car today, but we definitely had a top-five car. With the strategy and a good pit stop, we were in a solid position to get a top-five finish. We came up a little short of that, which was a little frustrating, but overall, we can't complain about finishing sixth and still maintaining the points lead."
FOLLOW BIMMERWORLD AT: https://www.facebook.com/bimmerworld
STAY UP TO DATE WITH BIMMERWORLD NEWS AT: http://www.bimmerworldracing.com
ABOUT: BimmerWorld is renowned as a leader in BMW aftermarket and tuning expertise. It competes in the IMSA MICHELIN Pilot Challenge series in the Grand Sport (GS) class with a BMW Motorsport M4 GT4, where the Virginia-based outfit has become a winner and championship contender. It was also the Street Tuner champion of that series in 2018. 2019 also marks BimmerWorld Racing's return to the SRO TC America Championship in the Touring Car (TC) class with two BMW Motorsport M240i Racing cars.
Tags