BimmerWorld Hard At Work On Improved 2012 GRAND-AM Season
October 28th, 2011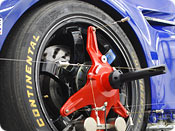 BMW experts are focused and determined to make their third season in the Continental Tire Series the most successful so far
If earning pole positions, wins and scoring a mathematical tie in the 2010 GRAND-AM Continental Tire Sports Car Challenge season served to whet the appetites of Dublin, Virginia's BimmerWorld, its second season in GRAND-AM, complete with an expanded program of two Street tuner (ST) entries and two Grand Sport (GS) cars, has left the BMW experts starving for more success.
Changes to the ST regulations that favored cars smaller than the standard-sized BMW 328i sedans fielded by BimmerWorld made finding the podium a much greater challenge, but as the team's drivers have come to expect, rather than accept a season of limited results, BimmerWorld owner James Clay and his team of technicians continued to search for speed and solutions.
"We're in the business of winning races, and even after we tied for the 2010 ST championship, I still wasn't satisfied with our performance," he said. "That's the approach we have and what we work from, so when I look at our 2011 season in ST, we came away with a laundry list of what we wanted to improve and that's been our only focus since the season ended in September. Everything we've done since then has been about being faster, better and winning next year.
"I'm confident we'll be back to where we were in 2010 and beyond with a strong driver lineup that we'll announce at a later date."
With minor improvements needed to put BimmerWorld's proven ST program back on top, a greater volume of development work continues to take place on the team's pair of GS BMW M3 V8s.
Entering the M3 V8s for the first time this year, BimmerWorld's expansion from two cars in 2010 to a four car, two-class racing outfit in 2011 came with all of the lessons and learning curves to be expected.
Clay says that despite going up against GS teams with many years of experience to draw from, he didn't lower the bar for success and is positive 2012 will yield the results the BimmerWorld-built M3 V8s are capable of.
"We knew going in that our debut development season in GS was going to be tough, but we didn't expect any less from ourselves," he confirmed. "The big gaps between races at the beginning of the season allowed us to make solid updates between the first few races. But once the season gets into its full swing and the races started passing at a steady clip, we needed to focus on the racing.
"The good thing to come from it was that we came away with pretty much all of the answers to what we needed to address with our off-season R&D projects for the M3 V8s. Our GS technicians have been flat-out for a month working through the high priority items on our list and we've also spent time on the K&C chassis rig to work on suspension and chassis. We showed a lot of potential with the BimmerWorld M3 V8s last year, and ran inside the top 5 at most races during the second-half of the season, but everything we have in the works for 2012 tells us our GS cars will be faster than they've ever been."
As BimmerWorld continues to refine its GS cars, Clay says similar efforts are going on behind the scenes to form the strongest driver lineup possible for its ground-pounding M3 V8s next year.
"I was proud of the job our GS drivers did last year. We introduced a number of new drivers either to the series or the GS class, and our veteran drivers also had some very positive results. You'll find our core lineup is unchanged for next year–our best pros and driver coaches are back–while we're currently looking at the best fits to complete the GS roster. Things are taking shape rather quickly, but there are some opportunities that are still available."
The fruits of BimmerWorld's short and busy off-season will be on display next month as the team heads to Daytona International Speedway to take part in the official test there prior to the 2012 season opener during the 50th anniversary weekend of the 24 Hours at Daytona in late January.
Work will continue on the ST and GS until the week of the first race, but Clay says he and the team can't wait to get their on-track testing program under way.
"From November onwards, we're in a fulltime cycle of track testing, rebuilding the cars and improving them based on those tests, and then getting back out to test some more. That process will continue until the very last minute possible, and we know that's what is needed to go head-to-head with the veteran teams in GS. Now that we know what we need to reach that level, it's just about putting in the work to make it happen, and everyone at BimmerWorld is committed to achieving everything we're capable of in 2012."
Follow the BimmerWorld team as they test and prepare for the 2012 season at www.BimmerWorldRacing.com
###
Courtesy: BimmerWorld Media Services
[email protected]
More information about the team, cars, and drivers can be found at www.bimmerworldracing.com
Information on BimmerWorld's Customer Car Services can be found at www.bimmerworld.com
Details on PowerFlex Suspension Bushings can be found at www.powerflexusa.com
Tags
Tags not found
RELATED ARTICLES
Related article(s) not found