BimmerWorld Heads To California For The Continental Tire Series Championship Chase
September 4th, 2013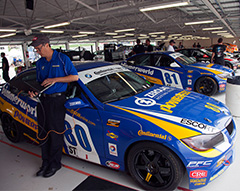 With two GRAND-AM Continental Tire Series cars in the top-5, BimmerWorld Racing looks to the penultimate round in Monterey to move up in the standings
The Virginia-based BMW aftermarket and tuning experts at BimmerWorld are drawing near to the close of their fourth season in GRAND-AM's Continental Tire Series, and once again find themselves in the thick of a Championship battle in the Street Tuner class.
With three BMW 328is forming the core of BimmerWorld's effort, wins and consistency from two of those entries has the team tied for fourth in the standings with the No. 81 car driven by Gregory Liefooghe and Tyler Cooke and the No. 82 No. 82 CRC BRAKLEEN® BMW piloted by Seth Thomas and Dan Rogers.
Moving the Nos. 81 and 82 further up in the standings during this weekend's penultimate round at Mazda Raceway Laguna Seca is the primary goal for the program, and adding to that challenge is the rules-based disparity between BimmerWorld's normal-sized four-door BMW sedans and the smaller, lighter ST cars that have been advantaged throughout most of the season.
Despite having to work harder for quality results, BimmerWorld's mechanics, engineers and drivers have put the team on the Championship trail once again, which has made team owner/driver James Clay especially proud.
"2013 has shaped up to be another strong year for BimmerWorld Racing with another shot at the Championship," he said.  "I am not sure the BMW cars we race are always the best with the rules balance, but BMW builds a solid, consistent, and reliable car, and that is the DNA required to be in this Championship position on a consistent basis.
"We add all of our years of BMW performance knowledge to transform the cars into the fastest chassis BimmerWorld can make, and do our best at every race to put ourselves in a position to earn points and victories. With two races left in the season, Monterey will be crucial for us to maximize our performance in the pits, with our strategy and on the track."
BimmerWorld came close to winning the ST Championship on its first try in 2010, earning a statistical tie for first place, and after splitting its program to run in the Grand Sport class as well as ST in 2011,they've been in the title hunt since focusing entirely on ST since 2012. Turning the team into a regular Championship contender with new and different drivers in the cockpit has also been one of BimmerWorld's greatest success stories, which Clay reflected upon ahead of Monterey.
"We run a tight ship here and we have a staff of superstars not only behind the wheel, but behind computers, behind wrenches, and in every other facet of our organization," he noted. "I am proud of the team we have assembled and their support and, combined with our approach of running equal equipment so every driver has the same chance, we have had success with an assortment of driver combinations. I'd like to think that we've built a reputation as a team that puts its clients first and gives them every opportunity to pursue wins and Championships."
The trip to California's central coast is clearly important for the team, and questions regarding which approach should be taken—an aggressive one to try and capture points with hard driving, or one where pit strategy plays a significant role in advancing the cars—has led the BimmerWorld team in a fairly conclusive and simplified direction.
"Laguna is a decent track for our BMWs, but not outstanding," Clay admitted, referring to the excess weight the BMWs are made to carry around the twisty track.  "I don't think we have a lot of tricks up our sleeve or that the Championship gap will be made up with creativity.  Our BimmerWorld team approach will likely be more of the same – prepare solid cars, execute well, and be in the right place at the right time."
Follow the action from Monterey this weekend by visitingwww.BimmerWorldRacing.com
Tags