BimmerWorld Racing Takes Top-Five Finish In Continental Tire SportsCar Challenge at Sebring
March 19th, 2018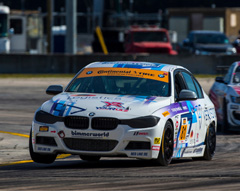 BimmerWorld Racing had strong showings in the GS and ST classes of Friday's IMSA Continental Tire SportsCar Challenge series race at Sebring International Raceway. However, adverse circumstances in the 2-hour and 45-minute race led the Dublin, Va.-based team to finish down the order, with a fifth-place finish in ST and eleventh-place in GS.
In the GS class, team owner James Clay of Blacksburg, Va. and his co-driver, Tyler Cooke of Fort Lauderdale, Fla., had an eventful race with their No. 82 OPTIMA Batteries BMW M4 GT4. Clay started seventh, topped off the fuel during a strategy stop on lap 11, and handed the car over to Cooke with 50 minutes remaining on lap 26.
Cooke resumed in ninth place and was setting blistering fast laps to regain ground. He advanced several positions, but with 25 minutes remaining, the BMW and a McLaren went for the same spot of race track and made contact. Cooke was hit with a drive-through penalty that all but ended his run to another podium.
In the ST class, Nick Galante of Greenfield, Mass and Devin Jones of Mooresville, NC started from the third position in the No. 81 Veristor/Legistics BMW 328i. Galante was able to nudge the F30 328i into the lead on lap 1, holding his spot for four laps. The run was short-lived, however, as the 2nd-place MINI made contact with Galante in an effort to take back the lead. Both cars spun but were able to continue. Galante was able to fight back and retake the lead four laps later. Overall, the No. 81 led a total of 14 laps through the race. Fate had other plans for the BMW though, as the car was low on fuel and the team was forced to pit for emergency fuel under a yellow flag while the pits were closed. This drew a 60-second penalty.
The car made its only scheduled pit stop a few laps later when Jones took the controls. Jones had a solid and less dramatic stint, but the time deficit was too much to overcome the speed of the MINIs.
Nick Galante, Greenfield, Mass., driver, No. 81 Veristor/Legistics BMW 328i (F30 chassis):
"My stint was good, and I had a good start. I had a good pass on one MINI going into Turn 1, and then I got the lead from another MINI going into Turn 7, so that was good.
"I had some pressure from the No. 37 MINI and out of nowhere, I got hit. It seemed like it came from very far back, so I didn't see it coming. Luckily, our car wasn't that damaged. It went from 100 percent to about 95 percent. The contact knocked some toe out of the rear, which may have actually helped it turn better in some of the turns. I hunted down the other ST car and regained the lead again four laps later.
"Then we were running out of fuel as a yellow came out. We entered the pits when they were closed to take on an emergency five gallons of fuel which drew a penalty.
"After the driver change, Devin had to come in and serve our drive-through penalty. If we had another yellow, we might have been able to fight back and have a chance to win, but it wasn't our day.
"Being out there to race couldn't happen without Legistics, Racing To End Alzheimer's [R2Endalz.org], and Veristor. BimmerWorld Racing did an awesome job with the car; James Clay is the best. It was just tough."
Devin Jones, Mooresville, N.C., driver, No. 81 Veristor/Legistics BMW 328i (F30 chassis):
"It was an interesting race. Nick did a great job in the first stint recovering from the spin. He was able to rebound and get back in the race and was leading when he came in for fuel.
"We were hoping for another caution, but even if we had one, we ended up with a sensor issue, so we were running low on power.
"It was just one of those days. The BimmerWorld guys did a great job getting the car prepared, and we'll get back up there for Mid-Ohio. The car has the speed; we just have to work some of the kinks out of it and we'll be good."
James Clay, Blacksburg, Va., team owner and driver, No. 82 OPTIMA Batteries BMW M4 GT4:
"We made a change to the car after qualifying and were hopeful we'd addressed a small handling issue, but unfortunately, I think we made it a little bit worse. The car was still solid and able to run fast, especially in longer stints and after half the fuel load was burned.
"Our strategy kind of led us to always run at a full tank. We pitted early and used the opportunity to fuel up, and we had great pit stops, but ultimately track position was probably more important than a fast car this weekend. We had a drive-through penalty for some contact during Tyler's stint which didn't help, but he did a great job out there, and it is what it is. Sebring is a tight track, so when you have two cars that are good on the straight, you've got to find your place to pass. Unfortunately, we didn't have the room, and maybe they thought it wasn't their place to give it. That's racing."
Tyler Cooke, Fort Lauderdale, Fla., driver, No. 82 OPTIMA Batteries BMW M4 GT4:
"We had a car that we knew could have finished on the podium. I was battling with several cars, and I went down the inside of the No. 69 McLaren. We both turned in for the corner, and he gave me a little less room than a car could fit. I ended up tapping him and received a penalty for it, and that kind of killed our day. It's unfortunate for the team.
"We had a quick car, and as the stint went on, we got quicker and quicker. I knew we had about 25 minutes left when I made the pass, and I knew it was 'go' time. Unfortunately, the outcome is what it is. Eleventh place isn't that terrible, so we'll move on to Mid-Ohio and make up for the hit to our points."
The race will be shown on FOX Sports 1 on Sunday, March 25 from 10:30 a.m. to 12:30 p.m. Eastern. The next event is May 4-6 at the Mid-Ohio Sports Car Course. More info is available on imsa.com.
FOLLOW BIMMERWORLD AT: https://www.facebook.com/bimmerworld
STAY UP TO DATE WITH BIMMERWORLD NEWS AT: http://www.bimmerworldracing.com
ABOUT: BimmerWorld is renowned as a leader in BMW aftermarket and tuning expertise. It competes in the IMSA Continental Tire SportsCar Challenge series in both the Grand Sport (GS) class with a brand-new BMW Motorsport M4 GT4 and in the Street Tuner (ST) class with a turbocharged BMW 328i (F30 chassis), where the Virginia-based outfit has become a routine winner and championship contender.
Tags