BimmerWorld Racing Plans to Maximize Its Momentum at Sebring
March 12th, 2018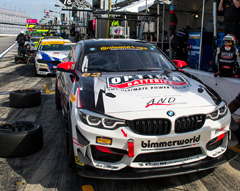 After getting off to its best start ever in the IMSA Continental Tire SportsCar Challenge series with a pole and a victory in the Street Tuner (ST) class and a second-place finish in the Grand Sport (GS) division at Daytona, BimmerWorld Racing will try to carry that momentum into the second race of the season Friday afternoon, March 16, at Sebring International Raceway in Sebring, Fla.
Team owner James Clay of Blacksburg, Va. and his co-driver, Tyler Cooke of Fort Lauderdale, Fla., will drive the Dublin, Va.-based team's GS entry, the brand-new No. 82 OPTIMA Batteries BMW M4 GT4. Nick Galante of Greenfield, Mass. and Devin Jones of Mooresville, N.C. will share the team's ST entry, the No. 81 Veristor/Legistics BMW 328i (F30 chassis). A total of 38 cars in three classes will duke it out on the historic 17-turn, 3.74-mile road course before a partying crowd of fans enjoying their annual rites of spring.
Three practice sessions will be held on Thursday, March 15 at 10 a.m., 2:05 p.m. and 5:30 p.m. The five ST cars and six Touring Cars will hold a joint qualifying session at 5:55 p.m. that day, while the 27 GS cars will qualify 20 minutes later.
The Alan Jay Automotive Network 120 race will be from 2:45 p.m. through 4:45 p.m. on Friday followed by the 66th annual Mobil 1 Twelve Hours of Sebring Presented by Advance Auto Parts on Saturday.
Live video coverage and live timing and scoring of the race will be offered on imsa.tv and imsa.com, respectively. The race will also air on FOX Sports 1 on Sunday, March 25 from 10:30 a.m. to 12:30 p.m. All times are Eastern.
James Clay, Blacksburg, Va., team owner and driver, No. 82 OPTIMA Batteries BMW M4 GT4:
How is getting off to such a great start helping the team and its drivers?
"Our Daytona weekend was our best start to an IMSA season, or maybe any pro season, to date! Our two-class attack this year provides the opportunity to win twice, which we almost did. BimmerWorld's mastery of our F30 328i ST car after five years of development along with BMW Motorsport's support of our GT4 M4 really give us the tools we need. I think I can safely say that everyone here is very happy with how the season started, but of course now that puts us in the position of trying to repeat, or even better that result, which of course will be a challenge. It's a long season, but I like where our momentum is set four hours into it."
In what ways is BMW Motorsport helping you develop your new M4 GT4?
"BMW has been great to work with as we sort out this M4 GT4 race car. Our BimmerWorld team has a lot of familiarity with the chassis which has certainly helped as we continue to work on what started as a great platform. But when we come up with an oddity, question, or issue, BMW is there with a solution, which is a big shift from our previous in-house cars. We are still learning the car and technology, which is important for our BMW performance parts business, and now we are working with the engineers that designed the car to get there much faster — and win some races along the way!"
You've developed a lot of different BMWs. What are the main strengths of your new GT4, and what are the areas that you're working on most to improve it for the Continental Tire series?
"So far, our M4 GT4 has shown to be very reliable and consistent. That may sound bland, but that's very important to me because that's what wins endurance races. To run a four-hour event for our first race with such a great result says a lot about the car. The car wasn't originally tested on or designed for the Continental tires we run, so we're working on the setup to make them work well — especially with putting power down coming out of turns, which was a soft spot for us at Daytona due to some compromises we made for the race there and which will be more important at other tracks."
The car you ran here last year was one of the heaviest cars in the field. Where does the new M4 GT4 stack up in the GS field? Is it also one of the heaviest cars?
"The BMW M4 GT4 is currently about average with the IMSA BoP. The light and very slick Porsche had some clear advantage at Daytona, and it will be interesting to see where our strengths are as the season progresses. A BMW has always been just 'pretty good at everything,' but this is obviously a stacked field, and we'll certainly be working hard all around."
Last year you qualified second and led every lap of the first half of the Sebring race in ST until a freak problem on the pit stop caused a long delay. Still, you were able to battle back for a sixth-place finish, just 0.035 out of a top-five. Now you're in a brand-new car and in a different class, but you're still fielding the ST car for Nick Galante and Devin Jones. The size of that car's fuel tank changed last year due to the rules and its fuel economy suffered. Is that still a challenge, or has that been rectified for 2018?
"The BMW 328i ST car picked up where we started at the end of last year with a fair balance of performance from IMSA. We're still a gas-guzzler when we stay in the boost all the time, and the large fuel tank and heavy fuel load add to the already heavy car, but we worked really hard to minimize the effect of those challenges and have a solid car. Devin and Nick came out of the gates strong, and we had a perfectly reliable car for the race with two strong drivers, and the result followed. I hope for more of the same at Sebring."
One of the special things about Sebring is its spring-break crowd. Do you have any favorite memories of things you've seen at Sebring that you can share?
"We have been racing at Sebring since the early 2000s, and it has certainly been wild at times. I think we solidly held our ground in Green Park in years past, but my favorite memory was going to get pizza one night after I put my car into the Turn 17 tire wall. When I came back to the car, which had been attached to our transporter with chains while the guys pulled the frame with our dually under the direction of one of our friends and competitors, the side was peeled off the car like a can opener. And one of the race fans and certainly local heroes who introduced himself as Awesome Randy explained the finer points of straightening our bent door by digging a hole and running over it with the truck. You can't make up a more absurd sounding cast of characters!"
Tyler Cooke, Fort Lauderdale, Fla., driver, No. 82 OPTIMA Batteries BMW M4 GT4:
Last year at Sebring you started your stint from 13th place due to a refueling issue, and yet you still almost got a top-five finish. It was an intense effort. Since you're in GS now and there are more GS cars than any other class, do you think you can do it again?
"I'm confident it can be done. We have a strong car; that was shown at Daytona. After the February test, James and I felt really good about what we are showing up with, and we think that can be done again."
Sebring is known for its bumps. Since you have a lot of experience there, do you know where most of them are and do you actively look for new bumps during practice? What is typically the bumpiest part of the track?
"Turns 1 and 17 are where they're the worst. In the old ST car, there were many pictures of us three-wheeling through 17 because the bumps were that violent. It's what makes Sebring the challenging track it is."
You grew up in Cooper City, Fla., and Sebring was the site of your first victory ever in car racing. If you could talk to yourself back before that first victory here, what would you tell your younger self?
"In 2010 I won my first-ever car race, and what a moment that was. I would've been smarter with my passes and how I could've gotten to the front sooner. Overall I wouldn't change much because it's still an awesome day!"
Sebring has a great deal of history. What does it mean to you to be able to race on such a historic track?
"It's great! You can see and feel the history. It's a track that all the guys I have looked up to have raced on. The best part is, most of the pavement is still original."
One of the special things about Sebring is its spring-break crowd. Do you have any favorite memories of things you've seen at Sebring that you can share?
"Something that makes Sebring the way it is, is the people that dress up like cows, the guys that dress up like monks, and the school bus that got turned into a giant Corvette. It's controlled craziness, and that's why so many people love it."
Nick Galante, Greenfield, Mass., driver, No. 81 Veristor/Legistics BMW 328i (F30 chassis):
You and Devin were winners in your first time driving together. How excited does that make you for Sebring and for the year ahead?
"The entire combination this season is exciting. The entire team is a good fit. I know I'm looking forward to driving with Devin this season and keeping this train rolling."
How do your individual driving styles compare?
"I think we're very close and similar in lap times, but looking over the data so far, we are achieving the same result in a different way. This is always a good thing. We can take a couple of little things from each driver and go faster."
You won this race last year in ST with Spencer Pumpelly. Now you have a whole different car, a whole different team, and a whole different co-driver. What will it take to repeat?
"Last year was an exciting race for sure. I learned a lot from last season. I'm looking forward to a repeat with BimmerWorld. It will take the entire team coming together and doing what we do."
This race is half as long as the season opener. Is that good, bad, or does it matter?
"I don't think it will matter. I feel we have a good overall package we're bringing to the series. By that, I mean the team, the drivers, and the equipment."
Sebring has a great deal of history. What does it mean to you to be able to race on such a historic track?
"It means a lot, from the World War II training field to the historic racing throughout the years. It is an honor to be out there competing on the world stage."
One of the special things about Sebring is its spring-break crowd. Do you have any favorite memories of things you've seen at Sebring that you can share?
"The level that these fans go to is like no other track. I love it! There are the elaborate makeshift party stations constructed through the facility and then there are the fans themselves! Roaming packs of cow costumes and Vikings are great to see. You never know what to expect."
Devin Jones, Mooresville, N.C., driver, No. 81 Veristor/Legistics BMW 328i (F30 chassis):
You and Nick were winners in your first time driving together. How excited does that make you for Sebring and for the year ahead?
"Our performance at Daytona has given us a great deal of momentum leading into Sebring. Our Veristor/BimmerWorld Racing BMW is strong and we're confident with how it's running. The season couldn't have gotten off to a better start with a pole and a win, but Sebring is a different animal, so we have to stay level-headed and focus on executing another race with no mistakes."
Do you think you can duplicate your Daytona pole at Sebring?
"I think we're very capable of another pole at Sebring, with Nick or myself in the car. I came close to getting the pole there last year but ended up getting knocked to third in the final seconds of the session, so it would be nice to get some redemption. Our car should be suited well for Sebring, so our chances are good."
What's the biggest difference driving a turbocharged car than the non-turbocharged car you drove last year?
"The turbocharged BMW is very different to cars I've driven in the past. It requires a change in driving style and it helps to have some patience with it. Once I learned what the car liked in terms of my driving, it can be a big benefit in gaining time around the track. The main concern is always keeping the tires in good shape through the stint."
Nick is a former series champion, but the season opener was your first Continental Tire SportsCar Challenge series victory. What did you do to celebrate, and now that you've had a little time to reflect upon it, how does it affect you going forward?
"It was a huge win for me personally. My mom and dad were there, which made it really special. They supported me so much through my career in racing and to have them with me at Daytona was something I'll never forget.
"Daytona is a place you dream of racing when you're a kid. I never imagined I'd get a win there. Getting Veristor to victory lane was also really cool. We have been together since I ran late models in 2012. They watch every race and to finally get them an IMSA win had me really pumped up. Now we want to go get some more!"
One of the special things about Sebring is its spring-break crowd. Do you have any favorite memories of things you've seen at Sebring that you can share?
"I think the key part of this question is, "that you can share;" there is a lot of wild activity at Sebring! This is going to be my sixth time at the 12-hour, and it's become one of my favorite events of the season. 2011 was my first time coming down for the race week, and I just remember all the creative buses and RVs that were in the infield. It's truly a race that's one of a kind, and the fans that attend make the race what it is. I always enjoy rolling around the infield in the golf cart and seeing how packed it is around the whole facility."
FOLLOW BIMMERWORLD AT: https://www.facebook.com/bimmerworld
STAY UP TO DATE WITH BIMMERWORLD NEWS AT: http://www.bimmerworldracing.com
ABOUT: BimmerWorld is renowned as a leader in BMW aftermarket and tuning expertise. It competes in the IMSA Continental Tire SportsCar Challenge series in both the Grand Sport (GS) class with a brand-new BMW Motorsport M4 GT4 and in the Street Tuner (ST) class with a turbocharged BMW 328i (F30 chassis), where the Virginia-based outfit has become a routine winner and championship contender.
Tags