BimmerWorld Racing Finishes Second and Fifth At Its Home Track, VIR
August 28th, 2017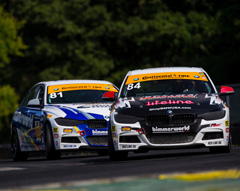 The BimmerWorld Racing team recorded its best results so far this year in the IMSA Continental Tire Sportscar Challenge series when it won the pole and placed second and fifth with its two turbocharged BMW 328i (F30 chassis) Street Tuner cars Saturday at its home track, VIRginia International Raceway.
Team owner James Clay of Blacksburg, Va. and his co-driver Tyler Cooke of Matthews, N.C. finished second in the Biscuitville Grand Prix with their OPTIMA Batteries No. 84, with a gap of just 1.352 seconds after two hours of competition.
Clay won the pole on Friday with a time of 2:03.584 and an average speed of 95.255 miles per hour. The car that eventually won qualified second and got the jump on the initial start, but Clay powered back into the lead before the first lap was completed and then led every lap of his stint. He stretched that lead to over three seconds at times before turning the car over to Cooke under a full-course caution with 56 minutes remaining in the race.
Cooke started his stint as the class leader after a strong pit stop, but the car that eventually won got the upper hand on a restart on lap 32 with 48 minutes to go. Cooke set the car's fastest lap of the race on lap 43 with a 2:05.026. He stayed in second place through his entire stint, and the strong finish moved the pair up to fourth in the point standings.
The No. 84 led the most laps for the second race in a row, topping the charts for 30 circuits to the winner's 21.
Clay was also able to come through for the governor of Virginia who had a friendly bet with the governor of North Carolina over whose state's driver would finish higher. Clay was second, while the N.C. governor's choice finished 12th.
The Dublin, Va.-based team's Powerflex BMW No. 81 also recorded its best finish of the season when Ari Balogh of Menlo Park, Calif. and Greg Liefooghe of San Francisco came in fifth. Balogh qualified seventh and then had a spectacular save after an off-course excursion at the start. He was in 13th place when he pitted for Liefooghe to take over, but Liefooghe was back in seventh by lap 33 when the second yellow came out after speedy pit work, some attrition, and good restarts. He moved into sixth on lap 42 with 16 minutes remaining by passing Andrew Carbonell, and fifth on lap 49 with just 2:50 to go by passing James Vance. Liefooghe set the entry's fastest race lap on lap 44 with a 2:05.285.
The race will be broadcast on FOX Sports 1 on Sunday, Sept. 3 from 9 a.m. to 11 a.m. Eastern.
Only two more events remain in the 2017 season: Sept. 22-24 at Mazda Raceway Laguna Seca in Salinas, Calif., and Oct. 4-7 at Road Atlanta in Braselton, Ga. For more information, see imsa.com.
James Clay, Blacksburg, Va., team owner and driver, No. 84 OPTIMA Batteries BMW 328i (F30 chassis):
"This is our home track, so we know the track and had the car set up well for it. Things have leveled out a little bit, so we have a good car in the field, and that's super important. We were certainly hoping for a win at Road America, but the weather interfered. We were obviously hoping for the win today, and we just didn't have the speed for the Nissan at the restart. We got jumped and couldn't catch back up and couldn't get around them — they drove a great race. I'm super proud of our team. Two cars in the top five; it was a pretty solid weekend. We have two more before the end of the year, so let's see if we can win one of those."
Tyler Cooke, Matthews, N.C., driver, No. 84 OPTIMA Batteries BMW 328i (F30 chassis):
"We had an awesome car throughout the whole weekend, and the track took a big change in my stint, so the car fell off a little different than we wanted it. It got really loose, and the track was ripping up with bits of the track surface digging into the tires. There was a lot of stuff going on, but it was a really fun battle with Owen [Trinkler]. He just had more straight line [speed] than me. I was trying my best through the corners, but he would just get down the straightaway a little better. Second place, home track — I'm pumped for that. It helped us in the points and helped us going into Laguna. We're pretty good at Laguna, so here's hoping for the best there."
Greg Liefooghe, San Francisco, driver, No. 81 Powerflex BMW 328i (F30 chassis), which he shares with Ari Balogh of Menlo Park, Calif.:
"I think it was a good race. It was definitely a battle from start to finish. You know, it's funny, here the cars are all equal in terms of pace, but they all make their speed very differently, so it makes the race seem very interesting but very challenging at the same time. It was definitely a battle to come up through the pack. Ari was running really well. Unfortunately, there was something that happened at the end of the back straight, and we lost a bunch of positions there, but he ran a really good stint. The guys did great on the pit stop, and we gained a few positions there and then we moved up to P5, so it was a good day."
FOLLOW BIMMERWORLD AT: https://www.facebook.com/bimmerworld
STAY UP TO DATE WITH BIMMERWORLD NEWS AT: http://www.bimmerworldracing.com
ABOUT: BimmerWorld is renowned as a leader in BMW aftermarket and tuning expertise and competes in the IMSA Continental Tire Sportscar Challenge series with a pair of BMW 328is (F30), where the Virginia-based outfit has become a routine winner and championship contender.
Tags