BimmerWorld Racing Is Excited for Their Home-track Race at VIR
August 24th, 2017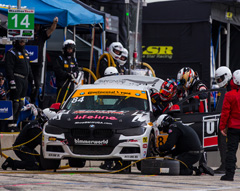 Southern hospitality will be very evident at the BimmerWorld Racing transporter this weekend as the two-car team from Dublin, Va. competes at its home track, VIRginia International Raceway.
Team owner James Clay of Blacksburg, Va. and his co-driver Tyler Cooke of Matthews, N.C. plan to show the Street Tuner (ST) field the way around the 3.27-mile, 17-turn road course with their No. 84 OPTIMA Batteries turbocharged BMW 328i (F30 chassis). The drivers of their sister car, Californians Ari Balogh and Greg Liefooghe, will be working hard to make it a one-two finish for BimmerWorld in Saturday's 2-hour Biscuitville Grand Prix IMSA Continental Tire Sportscar Challenge race with their No. 81 Powerflex BMW, although they'd prefer if the order was reversed. Last year Balogh and Liefooghe finished second in this race on a surface that had been recently repaved.
Clay won the pole at the series' most recent race and led the most laps. He's anxious to get right to work on Friday when two practice sessions will be held at 10:25 a.m. and 3:05 p.m. before qualifying sessions that evening. The two BimmerWorld BMWs and 16 other ST cars qualify at 6:55 p.m. while the 14 Grand Sport cars entered in the race qualify 15 minutes later to determine the starting lineup for Saturday's race. Fans can walk among the cars on the grid at 1:15 p.m. Saturday before the track is cleared and the green flag drops at 2:10 p.m.
Live video streaming and live timing and scoring can be viewed on imsa.com and imsa.tv. The race will also air on FOX Sports 1 on Sunday, Sept. 3 from 9 a.m. to 11 a.m. All times are Eastern.
What do you like best about VIR?
James Clay, Blacksburg, Va., team owner and driver, No. 84 OPTIMA Batteries BMW 328i (F30 chassis): "I love VIR primarily because, as the saying goes, 'there's no place like home.' And more than VIR being our closest and home track, everyone at the facility just goes above and beyond to make you feel welcome. Of course, it doesn't hurt that our home track is a world-class facility that's also one of my favorites to drive and race. It's a real track, rooted in history, where you have to lay it on the line a little to be fast, and I really like that kind of track."
Tyler Cooke, Matthews, N.C., driver, No. 84 OPTIMA Batteries BMW 328i (F30 chassis): "I really like that the track was an old farm. You can see all the architecture from the old farm as well. It's a very unique track and one of the coolest ones on the schedule."
Greg Liefooghe, San Francisco, driver, No. 81 Powerflex BMW 328i (F30 chassis), which he shares with Ari Balogh of Menlo Park, Calif.: "VIR is the best track in the United States. It has everything from high speed to low speed, curb hopping, technical parts, flowing parts. The layout is just so much fun to drive."
Last year new track records were set in both classes with new pavement here, even though it was a wet race. If it's dry, how likely do you think those records will be broken?
James Clay: "Every year our cars and the IMSA ST field get faster. I'm confident that, weather-dependent, we'll see track records fall again this year."
Tyler Cooke: "I think there will be a good chance it will be broken. This year alone we've broken quite a few track records."
Greg Liefooghe: "It will be interesting to see what happens. In this competitive series, the cars go about 1 second quicker per lap every year. Having said that, the pavement hasn't aged very well and doesn't seem to have the amazing amount of grip that it had last year."
How well suited is the VIR circuit for the BMW 328i (F30 chassis)?
James Clay: "This seems to be a good track for our cars and is certainly a good track for our drivers. As is expected, we spend more time here than any other track with our cars, and I anticipate we'll be dialed in and ready to run at the front."
Tyler Cooke: "Very good; we've always had a fast car there, just not the luck. It's BimmerWorld's home track, so we know how to make this thing run up front."
Greg Liefooghe: "I think VIR will be a great track for our BMW. The car goes really well over curbs, the brakes are great, and we're making good power to go up the massive back straight. I'm cautiously optimistic about our potential for a good result."
Do you have a favorite VIR memory that you can share?
James Clay: "I have so many awesome VIR memories, so it's hard to pick just one. Ultimately, I love the zen of this track, and my favorite memory is probably not a racing one. In the fall, in the late afternoon, when the sun is setting early and the track is cool and fast, I've had the opportunity to lap the track a few times in impressive machinery, and there is just something about those solo laps, with no traffic or other disruptions, that approaches perfection for me."
Tyler Cooke: "My first ever car race outside of Florida was there in 2010, and the crazy elevation changes boggled my mind. It was definitely a track that started out with a good memory and has made many more."
Greg Liefooghe: "Last year's race was a lot of fun and a complete adventure. An unexpected storm brought complete chaos and we were able to take advantage of it and finish on the podium. It was definitely one for the history books."
What would you say to anyone who is thinking about coming out to your race at VIR?
Tyler Cooke: "The race is just a great one to watch. The cars fall off a lot because of the heat, so it really comes down to a driver's race and who can make the car last at the end."
Greg Liefooghe: "Depending on the speed of the car, the uphill esses can be boring or the absolute best set of corners in the country. The braking zone at the end of the back straight is another highlight of the track."
There will be a BMW Car Corral at VIR. Will you interact with it in any way? If so, how?
James Clay: "Our BMW people are always at our races in numbers, and it will be cool to see all the home crowd at this race. We have an official meet-and-greet on Saturday, but we're looking forward to seeing friends all weekend long."
Tyler Cooke: "James and I love talking to the BMW Corral. At the end of the day, they help us do what we do by giving us their support. We'll talk and show them the ins and outs of the race team."
Greg Liefooghe: "BimmerWorld has a ton of fans in the BMW Club, and with this race being our home race, friends and fans will be numerous. It'll be exciting to share our experience with them."
VIR has a wide variety of shooting facilities, including two skeet ranges. Have you ever participated in this type of activity? Have you ever done any other activity other than race at VIR? If so, what?
James Clay: "VIR has a lot more than just the track facilities. I've done karting, off-road courses, and both standard-range and long-range shooting. I'm still itching to get my hands on one of the old cop cars to run at nights with the lights off, which was at one time a standard part of one of their training programs."
Tyler Cooke: "I did some shooting and it was interesting. I'm not a great shooter by any means, but it was cool to take part in it. The go-kart track is a very fun time with all the elevation changes and tight corners. It makes for some great racing."
Greg Liefooghe: "We've had some fun go-kart races at the kart track. I definitely recommend it!"
Greg, last year you and Ari finished second in ST here in a Porsche. What will it take to get on the podium again this year with your BMW?
Greg Liefooghe: "We have a good car this year, and I think we'll just need to put all the pieces together."
Our race's sponsor is Biscuitville, a quick-service chain in North Carolina and Virginia that serves Southern-inspired food. What is your favorite Southern dish?
James Clay: "We just visited the Biscuitville corporate headquarters last week with a car, and they are certainly one of our favorite places to grab breakfast in the area. I'll narrow it down a little — my favorite biscuit Southern dish is biscuits and sausage gravy, or if I'm cooking country ham also, red-eye gravy."
Tyler Cooke: "Eggs and biscuits! I got to meet everyone at the headquarters' office, and they are some real race fans. I'm looking forward to seeing them all there!"
Greg Liefooghe: "What iz zis Southern food you speak of?"
FOLLOW BIMMERWORLD AT: https://www.facebook.com/bimmerworld
STAY UP TO DATE WITH BIMMERWORLD NEWS AT: http://www.bimmerworldracing.com
ABOUT: BimmerWorld is renowned as a leader in BMW aftermarket and tuning expertise and competes in the IMSA Continental Tire Sportscar Challenge series with a pair of BMW 328is (F30), where the Virginia-based outfit has become a routine winner and championship contender.
Tags