BimmerWorld Prepped For Sebring Race With Updated Turbo BMWs
March 16th, 2016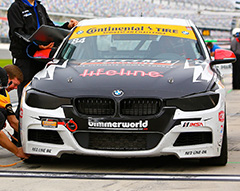 The BMW aftermarket and tuning experts at BimmerWorld have a new opportunity to show the pace and progress of their turbocharged 328i models this weekend at the historic Sebring Raceway circuit.
Coming off the season-opening IMSA Continental Tire Series event at Daytona International Speedway where the sister Nos. 81 and 84 BimmerWorld BMWs demonstrated front-running speed, team owner/driver James Clay and his staff of technicians have found more gains with the F30 platform for Round 2 in central Florida.
"The No. 84 OPTIMA Batteries BMW was awesome at Daytona, and it felt great to come out of the box with such a great machine and continue that pace moving deeper into the season," Clay said. "Last year, hot ambient temps made Sebring a challenge for our turbo engine, and conditions are looking similar for this year's race. The BimmerWorld team did a lot of work focused on cooling over the off-season, and hopefully the additional work since Daytona is the icing on the cake to give us a strong run."
Teamed with Tyler Cooke in the No. 84, Clay expects the OPTIMA Batteries F30 to be fast throughout the 3.7-mile road course, and to show the BimmerWorld-built BMW's natural capabilities in vital areas around the 17-turn facility.
"Tyler and I are both strong at the tracks we visit this season, which really opens up some options on running the car," Clay continued. "Sebring is good to a BMW, and BimmerWorld has won there multiple times. We showed tremendous braking potential at Daytona with our Performance Friction brake package, and that will be even more important at Sebring where a couple of key braking zones are the best places to make hard-fought passes. It's a track that suits us, and I just can't wait to get racing!"
Clay and BimmerWorld veteran Cooke will share the track with team newcomers Jerry Kaufman and Kyle Tilley in the sister No. 81 BMW F30. The duo impressed on their debut at Daytona, although their race was somewhat short-lived after a clash between Kaufman and another car ended their day. And with Kaufman's unexpected marriage proposal made moments before the race (his girlfriend accepted), could he have more fireworks in store for Sebring?
"The biggest lesson learned from Daytona is knowing when to go for a pass and when not to," Kaufman said. "Jumping up from 12th to fourth as quickly as I did probably gave me too much confidence in my ability to pass going into fast corners. Sometimes there is room to go two wide, and sometimes there isn't.
"Sebring is another unique track. It isn't very forgiving, so it will be even more important to get the pass done early. I don't necessarily have another proposal in mind, but if we win Sebring, don't be surprised if you see me driving to Disney World!"
FOLLOW BIMMERWORLD AT: https://www.facebook.com/bimmerworld
STAY UP TO DATE WITH BIMMERWORLD NEWS AT: http://www.bimmerworldracing.com
ABOUT: BimmerWorld is renowned as a leader in BMW aftermarket and tuning expertise, and competes in the Continental Tire Series with a pair of BMW 328is (F30) where the Virginia-based outfit has become a routine winner and Championship contender.
Tags